A Level Entry Fitness Tracker that can go the Extra Mile for an Affordable Price.
At the end of August Fitbit came up with some big news, 3 New trackers that want to take over the Fitness tracking world. The Fitbit Inspire 2 for the fitness tracking lovers, and 2 full-featured smartwatches that are ready for tracking into a new level the Sense and Versa 3.
The Inspire 2 it's the best entry-level fitness tracker, for people that are starting a healthier lifestyle, or for those that are not familiar with a fitness tracker.
With a similar design to its predecessor the Inspire HR, and some interesting upgrades that make the new Inspire a complete fitness tracker for a 24/7 experience.
Have in mind that this model does not include on-board GPS or voice controls, but for less than $100 you're still getting a good amount of high-end features.
Inspire 2 – What's New?
The biggest improvement it's on the Battery Life, that it was 5 days on the prior models, but now it's going to be up to 10 days. That will be the longest battery life on any Fitbit model.
Related: Fitbit Comparison
Another good news is that you will have one year access to Fitbit Premium, having in mind that its a paid subscription and that the 2 new Smartwatches just get 6 months of Fitbit Premium we would think that this is another big plus for the Inspire 2.
Those are the 2 biggest upgrades from the new model, its true that doesn't sound great but have in mind that the release price is $99 for a watch that already includes water-resistance up to 50 meters, 24 /7 tracking of your activity, and sleep, monitor your heart rate, and at the same time give you phone's notifications into your wrist.
Fitbit Inspire 2 Design and Display
The Desing is another key point that make the Inspire 2 stand out.
There's no only a wide variety of designs and colors, but they also offer a clip-on design that you can swap for your bands and fly solo (without the band).
In general terms, the design looks just like the previous Inspire models, sleek and refined, with a large and slim screen. The difference now is that instead of the Inspire HR's side button, they replace it for a sleek touch panel that makes it look more stylish.
Fitbit already announced that they will provide in future updates an "enhanced stylish, slim design, and a brighter, more vibrant screen.".So let's see how that evolves.
Display
The Inspire 2 display is black and white and comes with a plastic case to maintain both price and weight in the low end. You can find them in 3 different colors Black, Lunar White, and Desert Rose.
With the Fitbit Inspire 2, they improve the visibility so you can be checking your watch outdoors at any time.
When it comes to the Display, is good to know that they improve the screen quality, mainly for the outdoor activities when we found that the Inspire Hr was lacking on the brightness for an at a glance watch check, the screen was getting too much reflection from the sun.
Bands
Another cool aspect such as other Fitbit models its the exchangeable bands, so you can swap the look of your watch depending on how you feel or the clothes that you are wearing.
You need to choose from the black band or white with an option of pink if you would like. Then you can also buy extra bands made of silicone, leather, metal, and woven designs.
There's also a rose-gold, and silver stainless steel mesh options to dress things up. And just like the other Inspire you can use the Fitbit clip, that you can attach to your clothes in case you would like to have the tracker on your wrist.
Last but not least there's some additional print bands and Horween leather double wrap as well, the standard bands that you can buy for $20. In case you have another Inspire model these bands are going to fit as well, but the clip-on it's only suitable for the Inspire 2 model.
Fitbit Inspire 2 Fitness Tracker Features
As any Fitbit watch, the focus is on Fitness tracking and with the Inspire 2, you will have plenty. It will be tracking your overall health your daily movements and your sleep patterns from day one.
In terms of features you will find the basics such as tracking steps, distance, calories burned, and move reminders. But there are also some high-end features such as the heart rate tracking, the sleep stage, and REM tracker and more than 20 exercise modes.
You will also have Fitbit's SmartTrack software that will automatically recognize any sport you are practicing and start to track it.
When it comes to GPS there's no built-in so you will need to use the Connected GPS support to connect it with your phone and use the GPS from it.
A cool feature that now is a must is the swim-proof resistance, the Inspire 2 can hold up to 50 meters deep in the sea. And includes swim tracking as well.
The most important addition to this tracker is the new Active Zone Minutes feature, which will help you to build your health and fitness goals based on your heart rate. It will give you health recommendations that will help you achieve your exercise goals based on your heart rate trying to achieve goals in specific heart rate zones.
Last but not least you will also have some other fitness features such as women's health tracking and the guided breathing exercises that will give you a calm mindset.
Fitbit Inspire 2: Battery life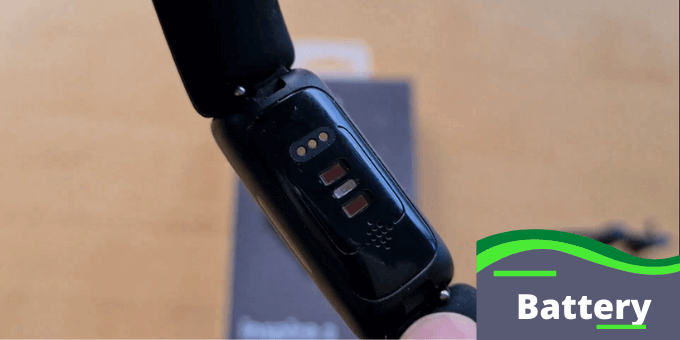 We mentioned in the beginning but its worth having a section apart for the battery life.
This is the first Fitbit models that can go as far as the Inspire 2. With 10 days of battery life, yes you read that wight, 10 days without the need of a charge it's double compared with the precious Inspire models, but even the longest that have seen on a Fitbit battery life was 7 days.
So with all that juice the Inspire 2 it's the king of battery life when it comes to Fitbit trackers.
Related: Smartwatches with long battery life
Of course, it is not right in the money on the 10 days, depending on your use an how much GPS you paired up there's going to be some different scenarios.
As well depending on how much you use it, but with regular use, tracking one or two sports 4 or 5 days a week, you can easily be using the Inspire 2 for 10 days.
Compare with other Fitbit and even the prior Inspire models the battery life is exceptional and compare with the competition it's 3 days more than the Samsung Galaxy Fit, although compared with the Xiaomi Mi Band 5 that you have 2 weeks of juice its not a fair fight.
Conclusion
The Inspire 2 for us is a needed upgrade on a basic fitness tracker, there's no much new compare with it predecessor the Inspire HR, but includes some cool features for a fair $99 price, that for a Fitbit tracker that can be submerged into the water, that can track your heart rate, and comes with an outstanding battery life it's a pretty good deal.
In case that you already have the Inspire HR I dont think that at the moment you will need to jump on the Inspire 2 boat, its a nice upgrade but it's not much more than the previous model.
On the negative side, we would like to see some extra features maybe for future upgrades like built-in GPS or some smart features such as NFC payments.
Related:
Resources: