Fitbit just Launch their latest and improved Smartwatch Fitbit Versa 2, with greater connectivity, strong battery life, and Alexa integration.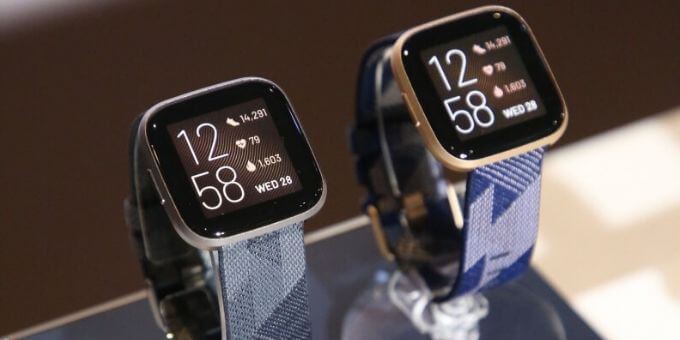 At a glance, the Versa 2 comes with all the great features that made the Versa one of the best smartwatches from Fitbit. It's still the most versatile and affordable on the market with no competition.
It includes some boost on the best fitness features and the addition of Alexa gives it extra smart functionality. It is still better as a fitness tracker than as a smartwatch but we still think is a great Smartwatch overall.
Pros +
Great Battery Life
Oled Display
Improved Design
Swimm Proof up to 50 mts.
Alexa Integration
Cons –
No Built In GPS
No offline Spotify playback
Design And Display
In terms of design, the Versa has different models ( the regular, special edition and the lite) but its always keeping the rounded design, which reminds us a bit to the Apple watch series. The first Fitbit smartwatch, the Ionic, was very criticized because of its design, so Fitbit didn't want another design debacle and keep launching the rounded design.
On a closer look the New Fitbit Versa 2 is a bit more stylish with cooler lines on the borders giving it a sleeker look
With a depth of 0.47 inches (12mm), compared with the apple watch is a bit thicker, but since the chassis tapers inward toward the heart monitor underneath, it actually looks slimmer.
Another cool addition is the OLED Display the features a 40mm screen where you can check a good number of stats in a colorful design.
They have removed the name from the bottom of the screen giving you more space for display stats.
One clear difference in the aesthetic part is that the original Versa had three buttons around it one on the right and 2 on the left. The Versa 2 comes with just one button on the left that can perform all your display needs by just pressing one or 2 times the button, all the other access are via the touchscreen.
Fitbit Versa 2 Price and Release Date
Fitbit announced the release date of the Fitbit Versa 2 on August 28 in the European tech summit IFA 2019, where the company showcased the gadget for the first time.
The Versa 2 is already available to buy now, and you can pick it up from Fitbit's website and on Amazon to buy online.
Features and Functions
At a Glance:
Amazon Alexa Built-in to get quick news and information, check the weather, set timers and alarms, control your smart home devices and more all through the sound of your voice.
Sleep Score, based on your heart rate, time asleep and restlessness, helps you better understand your sleep quality each night.
Spotify Included! download Pandora stations and add Deezer playlists plus store and play 300+ songs on your wrist.
Larger display and an always-on option, your information's always a quick glance away
Track heart rate 24/ 7, steps, distance, calories burned, hourly activity, active minutes and floors climbed
Works around the clock with 6+ day battery life
Call, text, calendar, and smartphone app notifications when your phone is nearby; Plus send quick replies and voice replies (on Android only)
One really important update with the Fitbit Versa 2 is the processor that makes it the fastest Fitbit Watch yet. You will no suffer any lag or wait of any kind, super fast and sleek is one of the main improvements that come along with this model.
One downside is the lack of built-in GPS, you will need to pair your phone GPS to get the GPS experience. So for those that like to track their runs or bike rides, you will need to bring your phone along.
The Alexa Integration
The Versa 2's newest addition is the Alexa integration because it makes the previously limited Fitbit OS a bit more functional.
To access Alexa you just need to hold down the button and you will have immediate access to ask Alexa anything that you would like.
You can use Alexa to check nearby shops, control your smart home devices, check the weather, set alarms and reminders for calorie food count and so much more.
Fitness and Sleep Tracking
One of the main attributes from Fitbit is that their trackers come full of fitness tracking functionalities and the Versa 2 is no different. While you can begin a workout regimen by picking an option from the workout application on the watch, the Versa 2 can tape activities instantly.
Nevertheless, there are caveats when using this SmartTrack modern technology: to start with, you require to have your phone with you so the GPS can videotape area details and, secondly, you will not have the ability to see real-time statistics (duration of the exercise, distance covered, and so on will only appear when the device acknowledges you have actually ended up).
When you do choose a workout regimen, only a few of them generate accurate stats and also swim monitoring is just one of them.
For something like a bike trip or a run, we found that without its own integrated GPS, the Versa 2 does not clock the correct distance traveled. As long as you have your phone with you, the Fitbit application determines stride size to offer you much more exact info.
It's sleep monitoring that we believed the Versa 2 excels at. First of all, the tool is light and also comfortable to use all night. Another thing to have in mind is the Fitbit's formerly confusing sleep statistics have been provided remodeling and also currently you get a rating for every evening's rest.
Battery
Contrasted to something like the Apple Watch, among Fitbit's large advantages is battery life. Without the always-on display screen active, we procured five-and-a-half full days prior to needing to charge. With the always-on display screen turned on, that minimized to simply over two complete days.
We're now surrendered to the reality that every Fitbit has its very own special battery charger, and also the Versa 2 is no various– unfortunately, it's not backward-compatible with the original Versa battery charger if you're upgrading.
More bothersome is the wire that feeds into the battery charger doesn't rest flush with the base of the unit, so your watch can never rest flat on a surface area when it's charging.
However, the fact that this watch can last the majority of a week on a single charge is excellent. It makes charging an occasional thing, not a day-to-day one, and that's specifically just how smartwatches (or any type of watches) should be.
Related:
Resources: