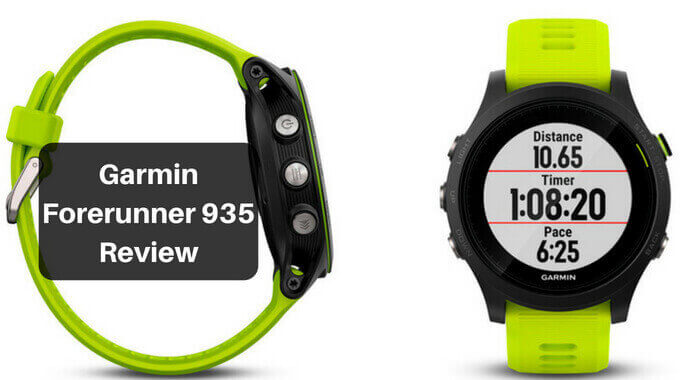 The Garmin Forerunner 935 is the number one watch when it comes to tracking your runs, as well for triathlon athletes. But is also so much more, this watch is one of the easiest to understand trackers and can help you improve your workouts and overall fitness and take it to the next level.
With all the high-end features and functions that you would love to have such as built-in GPS and heart rate monitor, as well comes with activity and sleep tracking, and can show your smartphone notifications on your wrist.
But that's not all!, the Garmin Forerunner 935 can track different types of sports, and comes with a barometric altimeter and compass for accurate tracking, and it also includes a maps options.
Is pretty much the Fenix 5 in a more compact plastic housing, is really comfortable and lightweight (49g) and even looks good. In short, it's got it all.
Garmin Forerunner 935 – Design
The Forerunner 935 is a compact device that is one of the most improved trackers from Garmin when it comes to design, compared with later models that were more chunky or plastic looking the Forerunner 935 is one step further than his predecessors.
With metallic buttons, a linear edging and clear colorful screen the 935 stands out, is also customizable since you can easily exchange the band's thanks to QuickFit, and get matching colors depending on the occasion.
One of the most comfortable tracker to wear the Forerunner 935 is one of those watches that you will forget that you are wearing it, you can have it on day and night with no problem and have a 24/7 tracking of your overall health and fitness performance. And having in mind that is also waterproof up to 50 meters (5 ATM) you can also use it in the shower!
When it comes to the screen you will have a perfect 64 colors, 240 x 240 resolution on a 1.2-inch round display. A cool addition on this tracker is the transflective technology that will take the ambient light and reflect it back, so you can have a look at a glance at your watch even when you are doing outdoors activities
The screen size is just right, you can check 4 data screens easily so for example if you wish to check at a glance the pace of your run, the calories burned, the heart rate track and time that the sun sets, you can have all the information just by watching at your wrist.
Garmin Forerunner 935 – Activity and Fitness Tracking
As we said at the beginning the Forerunner 935 is meant to track running and triathlon so excels when it comes to tracking running, cycling, and swimming.
The best way to track accurately an exercise that requires a lot of movement is by using the GPS, and this is when the 935 show his magic giving you built-in GPS to track every step and get the most from your tracking stats.
Although comparing with other high-end Garmin watches the 935 is not the fastest to connect with the GPS signal, which was something that we didn't expect on such an amazing tracker
When it comes to tracking your heart rate the Forerunner 935 is really accurate and can detect different stages and detect if you are working out hard, mid or low intensity and correlate that information with your heart rate variance, which is the difference between each heartbeat.
During your exercises, your stamina is going to decrease and your pulse starts to get uniform, the watch will capture this and collect the data and inform you how much energy you have left to finish the workout.
The menu layout is really easy to use and will display your favorite features at the top so you will not need to be searching for your apps, they are going to be easy to find and start the activities that you normally do.
Once you start to scroll down the screen you will find other activities and also fitness tests like the HRV Stress and TrainingPeaks guided workout modes, that will make you feel like you are couch by the best personal trainer.
The real difference between this tracker and the competition appears when it comes to Triathlons since you can change the exercises that you are doing by just pressing a button, so you don't lose any time trying to find the right sport to track.
The attention to details on the Forerunner 935 is what makes is stand out, you can simply go for one mode to the other with no hassle involved, the watch will also learn from your data and improve to get you even better usability. So is a great companion for newbies that will want to improve their health and fitness stats, and is going to be perfect for athletes that cant lose a second while working out on a maximum level.
Garmin Forerunner 935 – App
The app that comes along with the Forerunner 935 is really good and reliable, it will let you track all your health and fitness stats so you can improve week after week.
By using the Garmin Connect app you can track a wide variety of activities such as sleep tracking, steps, resting heart rate and even stress all available with the Forerunner 935.
The stress tracking is really amazing and the coolest thing is that it's cumulative, the tracker will help you relax when is necessary and it is also included a breathing meditative mode that will help you not only relax but also concentrate.
You have a great variety of apps to choose from the Garmin ecosystem such as the WorkItOut that will help you with your routines, or the ability to have alternative data screens to help you race better when running. You can also change the watch face for different and fun options.
While is good to have a variety of apps to choose from and improve your workouts, is also true that so many choices can be overwhelming, plus these apps tend to be really in-depth giving you all the information that you need and more, and understanding all the different uses for them it can also be too much information for first time users.
Garmin Forerunner 935 – Battery life
The Garmin Forerunner 935 has a battery life that is not easy to find on any other modern device. With 2 weeks of juice, you are going to need to charge the tracker 2 times a month!. When we use it on a regular basis, plus tracking whit GPS for about one hour 4 days a week, the tracker was on for 12 days, so the 2 weeks that Garmin claims is pretty accurate.
With the GPS enabled non-stop, the tracker can be 24 hours on, which is also impressive since most tracker will handle on the best cases 18 hours of GPS connected use.
When it comes to charging the tracker is featured with the latest generation of cable connector, that will just pop in and fits perfectly, and you can also use it for other trackers like the Fenix models.
Another cool thing is that to get it fully charged the tracker will need no more than 1 hour to be fully charged, which is a truly amazing thing so making come simple math you will charge the tracker 2 hours every month to have it on the whole month day and night, pretty good!
Should I buy the Garmin Forerunner 935?
If you wish to have the best data to improve your health and fitness, or you are a pro athlete the answer is YES, this tracker has all the high-end features that anyone trying to improve their fitness levels would need. Is true that is not the cheapest tracker, but for the high-end features that come along, there's no price comparison with any other tracker on today's market.
With probably the best built-in GPS tracking system and really in-depth apps to improve any type of health and fitness goal that you may have the Garmin Forerunner 935, is one of the best of the best.
The price is not cheap but you can't expect a tracker with this abilities to be cheap, is just impossible, for us is a good thing that is not as expensive as the competition, cause this tracker could be even more expensive having in mind the functions, features and built-in modes that make this tracker one unique watch that will truly take your health and fitness to the next level.
Verdict
If you need a tracker for any activity that you practice this tracker will truly help you to not only improve but keep improving in the long run. There's an upgrade for this watch that also includes a chest strap, that will make the greatest combo ever, more for pro athletes that will need in-depth data to check even the most precise detail to improve.
Is the Garmin Forerunner 935 the best running tracker on the market? No… it's even better!. Is whit out a doubt the best tracker for running, hiking,  triathlon, cycling and more!
With an incredible battery life, and a variety of apps to help you truly improve your stats the 935 is one amazing tracker that will give you more than you can expect.
Related:
Garmin Forerunner 935
Battery

Display

Performance

Software

Design
Summary
The Garmin Forerunner 935 is not only the best running tracker on the market, its also the best triathlon, cycling and hiking fitness tracker out there.
Filled with all the features, functions and sensors that you will need and more. Plus an outstanding battery life and a barometric altimeter that will track any types of outdoors sports
Check On Amazon–>