Once you start to research for the Best Battery Life Smartwatch, you realized that all the big names such as Apple, Samsung, or even Fitbit offer fully packed smart features, high-end fitness tracking functions, and all the perks, but the battery needs a charge every one or 2 days!.
And let's be honest the whole smart experience needs to be painless, and after all the gadgets or appliances that need to be charged, you don't want to be also taking care of the smartwatch battery.
So down below we put the list of the Best Pick in 2020.
We divide them between Regular Smartwatches and Hybrid Smartwatches. The Hybrid are the ones that can perform Smart functionalities, as well as, track your activities but when it comes to design they look more like a regular watch, instead of a modern-looking Smartwatch.
But that's not all! some Hybrid Smartwatches can last up to Years!
In this guide, we list the Top Picks. These smartwatches will last longer than any other smartwatch in the market, but at the same time, they provide a full range of health and fitness tracking functions, plus smart features that will give you a real Smartwatch experience.
We review them not only on their battery Juice but also on their features, functions, and price so you can get the Smartwatch With the Best Battery Life in 2020
Best Battery Life Smartwatches Comparison Table
We give you at a glance the list of the different smartwatches that we are going to review below.
On the list, you can see 7 options but we have the 17 Smartwatches in there you just need to adjust the comparison table, you can choose by features or just check the box and change the 7 for the number that you will prefer.
Regular Smartwatch Batteries don't last long
The truth is, no feature-packed smartwatch is going to last for weeks if you use all the functions continuously. Smartwatch batteries are just like the ones in our smartphone they will work depending on their use.
As you could see on our Top Pick at the beginning there's a lot of Garmin's in that list since they have the most powerful trackers when it comes to Battery, GPS, and outdoor watches.
We didn't include the Apple or Samsung Smartwatches either since they last for just a few hours and even though they have great features we are talking about longest battery life after all.
We didn't put the GPS Hours in some trackers since they are not GPS built-in but instead, they can be paired with your phone GPS and then work as a GPS tracker but is not an installed feature.
So without further ado, check our List of the Top Picks for the Smartwatch with the Longest Battery Life in 2020
Smartwatches With Long Battery Life Reviews
These smartwatches are not only smart but they can also perform great fitness tracking functionalities as well most of them have cool features such as caller id notification, NFC payments, waterproof and GPS just to name a few.
Garmin Forerunner 935 – Up to 14 Days
Smartwatch: 14 Days GPS Mode: 24 Hours Ultra Trac Mode: 50 Hours
The Forerunner 935 comes with all the Garmin perks such as running dynamics, wrist-based heart rate, training status, FTP, and VO2 max but for a better price than a regular High-end Garmin.
Check Today's Price on Amazon >
Its comfortable to wear and comes with all the outdoors features that Garmin is well known for, like a built-in barometer; altimeter and electronic compass, and of course premium GPS sync.
In terms of design is rounded and with the same button displacement that the Fenix Series, so thankfully there's no Button on the Face of the watch but instead, you will have them on the sides.
Features:
Evaluates your training status to indicate if you're undertraining or overdoing
Provides advanced dynamics for running, cycling and swimming, including ground contact time balance, stride length and more
Premium GPS running
Smartphone compatibility: iPhone, Android, Windows
Garmin Instinct – Up to 14 Days
Smartwatch: 14 Days GPS Mode: 16 Hours Ultra Trac Mode: 40 Hours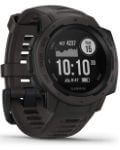 The Instinct is the solution for those that want a quality smartwatch experience but wouldn't like to pay the $600 + prices that comer with the Fenix series.
With all the good features that come with the Fenix series like 25 different sports that you can track: biking, swimming, running, as well as sports like SUP or rowing that are also included. Of course, you will also have Heart rate, sleeping, and all the regular tracking features.
Check Today's Price on Amazon >
In terms of looks is a rugged smartwatch that looks more like a G-shock from Casio, a really outdoors body that feels right in your wrist.
We already mention the battery juice at the beginning but have in mind that the Garmins watches are the most powerful trackers when it comes to battery life.
Features:
Constructed to U.S. Military standard 810G for thermal, shock and water resistance (rated to 100 meters)
Built-in 3 axis compass and barometric altimeter, plus multiple global navigation satellite systems (GPS, Glonass and Galileo) that will help you get GPS support even in the more outdoor adventures
Monitor your estimated heart rate, activity, and stress
Train with preloaded activity profiles
Stay connected with smart notifications
Use the Traceback feature to navigate the same route back to your starting point; Use the Garmin Explore website and app to plan your trips in advance
Matrix Powerwatch X – Battery LAST for Ever!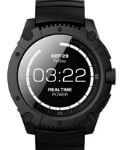 In case you where wondering Matrix Industries started just a few years ago. Their launch their first product, the Matrix Powerwatch in 2017.
Their technology uses body heat to charge your watch, by using these "Thermal gradients" the smartwatch can use the difference between the skin temperature and the outside air to generate a current that activates and re-charge the tracker over and over.
Check Today's Price on Amazon >
In terms of looks its similar to the Garmin models a bit bulkier if you want to put a tag on it, or sturdy, that's another good fit for the design description. But looks good, more casual and no so eye-catching.
In terms of tracking comes with all the basics such as step counting, calorie counter, sleep tracking, and notifications. Another cool factor about this watch is that it can be submerged up to 200 meters!
Features:
Thermoelectric generator core to keep your watch charged using the heat your body naturally produces
Pedometer
Sleep tracker
Market-leading water resistance (200m)
Easy-to-use and understand
Compatible with iPhone/Android/iPad/Tablets
Garmin Fenix 5 x Plus – Up to 14 Days
Smartwatch: 18 Days GPS Mode: 30 Hours Ultra Trac Mode: 64 Hours
The Garmin Fenix 5X Plus is one of the most full-featured Smartwatch with the best GPS for sports available.
Without a doubt is our number one choice for the Best Battery life smartwatch. With the greatest battery life features and GPS connectivity, It could have the number one spot, although is the most priced watch on our list.
Check Today's price on Amazon >
With a full range of sport available you can track all your activities. Another cool addition to this watch is the onboard maps that will give you all the data about your location and surrounding areas, so it's great for wandering around the city as well on the wildest outdoors.
Features:
Ultimate multisport GPS
Includes color TOPO maps featuring Trendline popularity routing to help you find and follow the best paths
Wrist-based Pulse Ox Acclimation sensor, Estimated blood oxygen saturation levels -especially useful when you're adjusting to higher altitudes
Rugged design, scratch-resistant domed sapphire lens plus stainless steel or diamond-like carbon (DLC) titanium bezel, and rear case
Easily store and play up to 500 songs on your watch, and connect with Bluetooth headphones (sold separately)
Garmin Pay contactless payment solution lets you make convenient payments with your watch
Suunto 9 – Up to 14 Days
Smartwatch: 14 Days GPS Mode: 25 Hours Ultra Trac Mode: up to 120 Hours
The Suunto 9 is a cool Smartwatch that comes with amazing battery life as well looks rugged offers allot fo sports features and its a powerful GPS tracker.
There's 3 versions of the Suunto 9 The Baro – Non-Baro – and Baro + Heart Rate, the price varies but the difference it's not big. Although there are some discounts from time to time on the Non-Baro model.
Check Todays price on Amazon >
With a cool design that will give you all your data at a glance. It comes in two colors: black with a slick-looking brushed dark metallic bezel and white with a brushed aluminum bezel.
Features:
Waterproof up to 100m
Multisport GPS watch for ultra runners and endurance
3 button color display and touchscreen
Over 80 built-in sport modes include running, cycling, swimming, gym and more
Accurate GPS tracking and navigation with Suunto FusedTrack
24/7 activity tracking with instant heart rate, calorie and step counter (last 7 days) and sleep tracking
Phone calls and notifications on your watch,
Garmin Vivoactive 3 – Up to 7 Days
The Garmin Vivoactive 3 is the most up to date in the line of Vivoactive watches. It does not have quite as lengthy battery life as the previous variations but it does have integrated heart rate tracking, VO2 max dimensions, and an entire host of other new attributes.
The battery does last for an excellent 7 days in regular smartwatch setting and 13 hrs in GPS mode.
Features:
Contactless payment system
GPS monitoring
Built-in heart rate screen
VO2 max physical fitness level
5 ATM MACHINE water resistance (50 meters deepness for 10 mins).
7-day battery life.
Countless downloadable applications, faces, and also widgets available.
Works with: Android, iPhone, Windows Phone.
Garmin Vivoactive – Up to 21 Days.
Featuring an ultra-thin as well as a high-resolution touchscreen, the Garmin Vivoactive is among the best GPS made it possible for smartwatches for task tracking and push alerts.
It can also be coupled with the "Garmin Heart Price Display" breast strap (marketed individually or in a bundle) to reveal an exact heart rate.
Check Today's Price on Amazon>
It notifies you for telephone calls, SMS messages, emails and also calendar entries, plus notices from mobile apps and also social networks. This smartwatch includes integrated sporting activities applications to track running, cycling, swimming, golfing as well as walking.
The Garmin Vivoactive additionally has a set of personalized watch faces as well as apps that are readily available for downloading and install at Garmin's Link IQ Shop.
Even with all these full-fledged, energy-sapping functions of a smartwatch and also fitness tracker, the Garmin Vivoactive offers a great battery life. It can increase to 21 days in one cost with your GPS turned off. The GPS is only involved when tracking exercise like runs so it's not in use really commonly.
Features:
Supports heart rate keeping track of with breast strap.
Built-in GPS for running, biking, swimming, as well as activity tracking.
Alerts for calls, SMS, e-mail, as well as calendar reminders.
Social network and various other mobile application notices.
Greater than 1,300 downloadable applications view faces as well as widgets.
Works with: Android, iPhone, Windows Phone.
TomTom Spark 3 Cardio + Songs – Up to 21 Days
There are 3 variations of the TomTom Spark 3, however, the Cardio + Songs variation has all the functions integrated. It is really a non-touchscreen smartwatch with built-in heart price monitoring as well as GPS features.
Additionally, it is a full-featured task tracker that tracks steps, range, time, pace, calories and also even more. The multisport setting enables it to gauge running, biking, swimming, treadmill runs, and exercises. It is waterproof to 40 meters so you can dive, swim or take a bath with it on as well.
Check Today's Price on Amazon>
The real destination of this smartwatch is the music player that features 3GB storage space which can hold more than 500 songs. In the Cardio+ Songs bundle, you will get a set of Bluetooth headphones consisted of non-stop songs. It supports a variety of various other earphones also.
Utilizing it like a task tracker the battery can last up to 21 days. However, with GPS enabled it can go 11 hours and with GPS + heart rate + music enabled it can last 5 hours at many. So the battery life depends on just how you will certainly use it. You just utilize the GPS when tracking the route of a fitness task like running or cycling.
Features:
Non-touchscreen screen for power conserving.
Integrated heart rate monitoring and GPS tracking.
Task monitoring, multisport setting, route exploration.
Songs gamer with 3GB storage (over 500 songs capability).
Bluetooth headphones for smooth songs (with Cardio+ Songs bundle).
Water-proof up to 40 meters.
Works with: Android, iOS.
Fitbit Versa 2 – Up to 6 Days
With the Versa 2, Fitbit confirms that less is more.
The health and fitness brand name has actually taken everything that made the original a compelling spending plan smartwatch, improves on those functions, includes a rather fiddly voice aide, and also spits out a near-perfect physical fitness tracker that comes with some smartwatch perks.
Check Today's Price on Amazon>
It is just one of the best fitness watches from Fitbit but the lack of a GPS chip implies you'll require to lug your phone any place you go.
With this wearable, Fitbit has actually again verified that you do not necessarily need excellent features to make an excellent physical fitness watch, as well as it doesn't need to be a burden in your wallet.
Related: Fitbit Best Battery Life
Unlike most smartwatches on the market, the Versa 2 isn't aiming to change your phone– as a matter of fact, you can call it a dumbed-down variation of a smartwatch. And that isn't necessarily a negative point.
The Versa 2 is directly focused on users crazy about fitness instead of those seeking performance from a wearable, making it an expansion of Fitbit's exceptional physical fitness tracker variety, however one that comes with some added benefits.
While health and fitness tracking are the main focus, the Versa 2 bridges the gap between phone and wrist by offering message and also schedule notices, ways to manage your wise house arrangement and play songs from your phone while on a run or exercise session.
Features:
With Amazon Alexa Built-in you can get quick news, check the weather, set timers and alarms, control your smart home devices and more.
Get your Sleep Score Based on your heart rate, time asleep and restlessness, Sleep Score helps you better understand your sleep quality each night; Also track your time in light, deep and REM sleep stages and get personal insights.
Control your Spotify app, download Pandora stations and add Deezer playlists plus store and play 300+ songs on your wrist.
With a larger display and an always-on option, your information's always a quick glance away.
Water-proof up to 50 meters.
Track heart rate 24/ 7, steps, distance, calories burned, hourly activity, active minutes and floors climbed
Works around the clock with a 6+ day battery life.
Get call, text, calendar, and smartphone app notifications when your phone is nearby.
Works with: Android, iOS.
Pebble Time Steel – Up to 10 Days
The Stone Time Steel has an aquatic grade stainless-steel chassis as well as a genuine Italian leather band strap, giving it a really stylish look and also robust build high quality.
It includes "Pebble Health" which is the integrated activity as well as rest tracker. It appears on the timeline with daily or weekly graphs of stats to demonstrate how much progress you're making.
Check Today's Price on Amazon>
Alongside that, Time Steel has support for a schedule, occasions, call, as well as notices, facilitated with a built-in microphone for fast replies in apps including SMS, Gmail, Facebook Carrier, WhatsApp and so forth.
The Pebble App Shop provides countless attractive watch deals with, plus hundreds of apps for every feasible function you can consider.
With all those functions as well as some more stashed inside it, the Stone Time Steel will have your back for greater than a week on a solitary charge, and also as long as 10 days in light use.
Features:
Stone Health and wellness: Integrated task and sleep tracker
Thousands of watch faces and app at Stone Appstore
Built-in microphone for fast replies in applications
Calendar, calls, music playback, notifications
Water-resistant up to 30 meters
Supported OS: Android, iPhone
Amazfit Bip – Up to 30 days
The Amazfit Bip Smartwatch by Huami provides a lot of great features that are proprietary making it a unique watch.
It works well with both Android and Apple so you won't have any problems when pairing it with your phone.
Check Today's Price on Amazon>
It also features all-day heart price tracking, GPS, rest tracking, and also extraordinary battery life that will go for up to 30 days! It's a wonderful value at $100, but it's down to just $79.99 right now on Amazon so you need to definitely check it out.
With such a great battery life, you might believe that the Amazfit Blip is devoid of the usual smartwatch functions, yet you would certainly be wrong.
Its has integrated heart tracking, GPS and GLONASS navigating system that will allow you to monitor as well as evaluate the steps that you have taken each day, the calories you have melted, and also the top quality of your rest.
It also features special sport modes that have specific monitoring functions for running, biking, strolling, and exercising on a treadmill.
Features:
Cool design: With a series of colors and alternatives, the Bip is designed to be used as an expansion of your individual style. Considering only 1.1 oz (32g), as well as with a bright, transflective always-on 1.28 ″ display screen, the Bip can be put on all day
Outstanding Battery life: Make Use Of the Amazfit Bip for approximately 1 month on a single 2.5-hour charge.
Don't Miss a Beat: Optical heart rate surveillance and built-in GPS allow you to accurately track in real-time your steps taken, range traveled, calories melted, as well as the quality of rest.
Get one-way notices for emails, SMS messages, and notifications of incoming phone calls, along with signals for Facebook, Twitter, WhatsApp, and more.
Amazfit provides a 30-day reimbursement policy, and also 12-month brand-new replacement guarantee. 190mAh Li-Polymer Battery
Best Smartwatches Hybrid With Long Battery Life
Vector Watch Luna – Up to 30 days
Don't get deceived right into assuming the Vector Watch Luna is a timeless watch. It's just a classical watch face set on the monochrome display. The round shape truly matches the traditional style but the faces are unpredictable.
You are provided a complete set of adjustable watch faces, in addition to information streams like the weather condition, a calendar, news, social networks (Facebook, Twitter, Instagram as well as more) as well as valuable applications like Uber, Evernote, remote music, camera shutter control, etc.
The Vector Luna likewise deals with activity and sleep monitoring as well. You can assess actions, range, calories and also even more, alongside the Google Fit and also Apple Health and wellness Package integration.
You can stay linked to the outside world quickly as well. The Vector Luna offers you the capacity to review e-mails, send as well as get SMS messages, see phone alerts, and approve or decline inbound calls from the wrist.
The Vector Watch's tagline is "The smartwatch with a 30-day battery life" and they really placed the battery life in the front line. It is truly tough to find a smartwatch nowadays which will hold the charge for an entire month.
Features:
Always on power conserving monochrome display screen
Task and also sleep monitoring with Google Fit and Apple Wellness Package integration
Complete bundle of personalized watch faces, data streams, and applications
GPS real-time data collected from phone
Accept/reject calls, see texts, emails, phone notices
Locate phone, camera control, remote music
Water immune as much as 5ATM
Sustained OS: Android, iPhone, Windows Phone.
Skagen Connected – No Need of Charge
So lets clear the battery situation, how can it work without a charge? It actually uses a Coin Cell battery (1 CR2) as a regular watch, so you only exchange the ION battery and then you use it regularly.
In terms of design the Skagen is minimalistic and looks and feels like a quality watch. The body is 42mm and it will fit comfortably on any wrist size even the smaller ones.
Check Today's Price on Amazon>
When it comes to tracking the Connected model can track your steps, sleep, and calories, and pace. It will give you phone notifications on your writs as well and it's waterproof up to 3 ATM ( 30 meters).
Features:
Smartphone notification
Activity tracking
Sleep and fitness tracking
Phone finder
Water resistant up to 100ft (30m)
Music control
Custom goal setting
Kronaby Apex Connected Movement – Up to 2 Years
So 2 Years of Battery Life its what brings you right here into this page, this is the holy grail of battery juice!
2 whole years, although you will pay the price for this wonder, at around $400 its one expensive option, but nonetheless a good one, when you have in mind the battery life, and the intent of this page: Finding the BEST Battery Life Smartwatch in 2020.
Check Today's Price on Amazon>
The battery its also a coin cell one (CR3032) that will last 2 years and then you need to exchange it for an extra 2 years. And the good thing about it is that you can replace it and just get 2 more years of battery, and the coin itself costs just $2.5 so after all for a cheap price you will get 2 more years.
Check the Coin Cell Battery Price and Reviews
WHen it comes to durabilty the watch its well consturcet and even a bit thick in order to house all the technology built on the watch, alotuhg you would not feel uncofortable during you day since its not even heavy.
Its also a really confortable watch and the srtaps are srutdy and high end.
Features:
Battery Life up to 2 years
Alarm, Music Control
Smart control, you can control your phone's camera, control smart applications like lights, find your phone, pin a location, find out the temperature and more!
Compatible with Android 5.0 and iOS 9
Notifications, Reject Call, Activity tracking, Timer, Walk Me Home, Date Find Phone, Remember This Spot, IFTTT, Auto Time Zone
Activity tracking with Apple Health and Google Fit integration
Withings Move ECG – up to 18 months
With a year of battery life the Move ECG its a cool and strong competitor for the best hybrid smartwatch in 2020. Its simple, looks beautiful, and can track your health and fitness at a high-end level.
With a Built-in ECG monitor this tracker can track your heart rate on the highest level possible since it comes with a built-in electrocardiogram (ECG) monitor.
Its also waterproof up to 50 meters!, you can use GPS paired with your phone and it will also track your sleep patterns.
Check Today's Price on Amazon>
The battery it's also a coin base one that will last up to 18 months depending on use but once its finish you can just replace it for a cheap price at a watch store or replace it your self.
Features:
Continuous heart rate monitoring
Automatic walk, run, swim, bike & 10+ activities recognized. Plus calories burned & distance.
Get notifications for calls, emails, and events
Small digital screen to show HR, steps, calories, alerts, etc
Water-resistant up to 50 meters
Sleep Tracking based on light & deep sleep cycles, interruptions, depth & regularity, Smart Wake-Up with a silent alarm.
Compatible with both iOS and Android️
Ticwatch Pro 2020 – up to 30 Days
This cools smartwatch to the first TicWatch Pro that Mobvoi launched back in 2018. with a more conservative design that regular smartwatches this tracker has it all!
With a 1GB RAM, cool GPS Layered Display, and a battery that can last up to 30 days puts the Ticwatch Pro as a good contender for our Top Picks list.
Check Today's Price on Amazon>
You will also have high-end features such as NFC payments, Wear OS by Google, and the most common but not least important features such as 24H Heart Rate, Sleep Tracking, Music and Water Resistance.
You can use this watch for both IOS o Android when connecting with your devices ( for using their APP or connect other apps, as well get a smart experience with your surroundings such as appliances or other smart devices)
The Battery life here can go up to 30 days depending on use. Meaning that in a single charge you will have two modes to choose the Smart Mode will get you 2-days of battery life and the Essential Mode will achieve 30-days of battery life. In case that you Switch to Essential Mode once you are using the Smart your life span will go up to 5 days of juice.
Features:
Wear OS by Google
IP68 Water Resistance
Compatible with Android/iOS
1GB of RAM, which helps the watch run fast and smooth (no lag).
Tracking Your Workout –
Built-in GPS,
24h heart rate monitor, calories burned counter, speed and cadence monitor. Google Map available.
TicMotion Technology enables the watch auto-detect running, fast walking without any operations on the watch.
NFC & Sleep Tracking
Support & Warranty – There is a 30-day money-back guarantee for any reason, 12-month warranty for quality-related issues
Huawei Watch GT 2 46mm- Up to 14 days
When it comes to battery life this Huawei is not the strongest but is not a weak choice either, 2 weeks on a charge its a pretty good battery life span.
Although, have in mind that if you use the GPS ON non-stop the battery will last only 30 hours ( that is a pretty decent GPS battery power), and if you use the Bluetooth also non stop the battery juice will last only 10 hours.
Check Today's Price on Amazon>
In terms of design the Huawei Watch GT 2 takes a very classy design that will blend in most social situations, from work, the gym, or dinner with friends. But at the same time, you will have 3 different options to choose from Classic, Sport, and Elegant.
You can choose between 44mm and 46mm sizes, the bigger size comes with some extra perks like the Bluetooth calling feature and the 2 weeks battery life. That's why on the title we add the 46 mm, just the bigger size model comes with the 2 weeks of juice, the 44 comes with just one week of battery power.
The Screen is 1.39-inch, 454 x 454 AMOLED, and its waterproof up to 5 ATM (50 meters). The screen is surrounded by two buttons on the side to help you browse the watch functionalities.
Features:
Huawei Lite OS
Bluetooth 5.1
NFC (China only)
4GB storage (2.1GB avail.)
Integrates seamlessly with both Android and iOS
Swimproof up to 50m
Classy design
Built-in GPS/GLONASS/GALILEO
Amazing battery life
Feature-packed
Very accurate sleep tracking technology
Related:
Resources: