Fitbit Charge 4 vs Fitbit Charge 3 – There's actually an Upgrade?
So the biggest news on the Fitbit World was that now the Charge on its 4th version included a Built-in GPS.
Let's remember that since the Charge 2 this series it's one of Fitbit Best Seller without a discussion.
In forums and on the comment sections there's some folks that will give you a hard time if you think that the Charge 4 its an "upgrade" at all.
So here we are going to give you a detailed review of Features, Price, new additions, and everything that you should know about the difference between the Fitbit Charge 4 vs Fitbit Charge 3.
Fitbit Charge 4 Whats New
Let's go right to it, what are the upgrades that come along and how worth it are they for your tracking needs.
Built in GPS
So here it's the big one! the main difference that will make it or break it for most folks out there.
There are more upgrades that you only will have on the Charge 4 but the Built-in GPS its the most important feature without a doubt.
Now you can have the most accurate data with the exact metrics that the GPS tracking allows, without the need of carrying your phone with you.
So this is a big difference, mainly for those that will like to get the best data for their runs, cycle routes, hikes and different types of sports, where you would like to track distance, pace, or route and want the most precise data.
So it's a great addition in case that you would need it.
Spotify
This is another big upgrade that you have only with the Charge 4, now you can display your Spotify lists on your watch. again, without the need of a phone making this fitness tracker smarter in a way.
NFP Payments
Here we get into another heat it topic on forums the Fitbit Pay was already included on the Charge 3 Special edition so it's not an upgrade that you will find only on the Charge 4 from the Series, but it's from the get-go, and you will have it also on the regular edition.
By having Fitbit Pay on your tracker, you now can pay using your card ( Visa, Master Card, American Express, etc) right from your watch. So it's another smart feature that you will have on the Fitbit Charge 4.
Sleep Tracking
So this is another big update that you will have on the Charge 4 that may not be so interesting for some folks but if you would like to get a Fitbit to track your sleep the Charge 4 may be the one.
One of the most wanted features on the sleeping department was the turn off notifications, that will wake you up on the middle of the night making the whole process annoying, now you can adjust even turn off notifications so you are not disturbed during your night sleep.
Then we have a real important aditino the Estimated Oxygen Variation Chart that together with the data from the SpO2 monitor will give you data on each of your night sleeps with a graph line that will show you how much your blood oxygen saturation varies throughout the night. This is great for detecting sleeping problems such as Sleep apnea.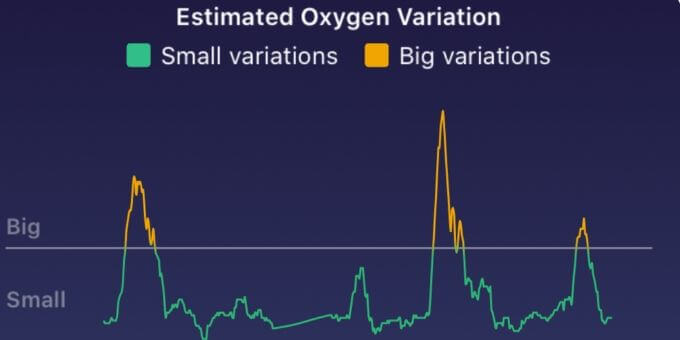 You may have already heard that there was a Sleep apnea tracker or something like that but the reality its that it started on the Ionic, and now it's for the first time being active on the platform.
Design and Display
So you can even say that these 2 are identical but there are some tiny differences once you put them side by side.
The Charge 3 dimensions are: 35.8 x 22.7 x 11.8mm and weighs 29 grams
The Charge 4 dimensions are: 28.8 x 42.7 x 12.5mm and weighs 30 grams
The New Charge 4 seems larger on paper but on reality the tempered design makes them look similar. Both trackers come with an identical grayscale touchscreen and single physical button on the side that will be used as a control.
In case that you would like, we have Individual Reviews for each model:
In terms of resolution, they offer the same OLED 100×160 that has the Fitbit logo underneath. Although the Charge 4 display its better when it comes to light on the screen, so at a glance, you will have a better resolution.
When it comes to Water Resistance both trackers can go up to 50 meters underwater. The quality of the screen its also the same in both models, built with a very lightweight material, including an aerospace-grade aluminum case, and Corning Gorilla Glass 3 display. The housing and buckle are made of anodized aluminum in both models as well.
Battery Life
In paper the Batter life sounds like its the same in both trackers: up to 7 days of battery with just one full charge.
But please have in mind that the biggest name for the upgraded Charge 4 is Built-in GPS, so if you would like to just use the GPS mode on the battery life will drop up to just 5 hours.
So If you use the GPS on for 5 hours straight, you will need to re-charge the tracker, but if you just use it 20 mins, you will have extra juice for some days.
Price
When it comes to price the official price it $149 on both trackers, but there's a discount that always puts the Price of the Charge 3 on around $119. There are some discounts from time to time that will make the price even lower so you can find an even cheaper price.
Charge 3
Check Today's Price on Amazon >
Charge 4
Check Today's Price on Amazon >
Fitbit Charge 4 vs Charge 3 Similarities
Being just an upgraded version, the Charge 4 share a lot of features in common with its predecessor, from the basics such as step, distance, and calories burned tracking, as well as higher-end features such as heart rate monitoring, night blood oxygen monitoring, Sleep Tracking and automatic activity recognition.
There some other cool features that they have in common that make a good point on all the good that is included on the Charge 3 like Female Health tracking, VO2 Max, Guided Breathing.
Some other cool features and functionalities that we found they also share are:
Water resistance up to 50 meters
15+ exercise modes
Smartphone notifications,
Guided breathing sessions.
Conclusion
So the biggest difference it's over and over the same: GPS, how much you would be interested in this upgrade?
If you are a first-time buyer, makes more sense to get the Charge 4 having in mind that there's updates all the time on the platforms and its always god to have the latest models, and in terms of price there's not a big difference, and overall you will also get a better experience with some extra smartness (NFC Payments, Spotify).
For us if you are a runner or a cyclist also makes a good choice going with the Charge 4, the GPS for these folks its really a great difference.
But if you are not in on any of those 2 demographics, we think that you will get a similar experience with the Fitbit Charge 3 and for a better price.