When you start to look for the Best Fitbit for Men, you realize that there are a lot of choices out there.
Depending on Who Is going to wear it, the choices get even wider. While most fitness trackers are great to pick up all your activities and give you accurate data, the Fitbit's models always stand out.
Just for Today – Fitbit Versa Lite $90 OFF – Go to the Deal on Amazon >
But the Fitbit family is getting bigger every season. That's why we give you the Best Fitbit for Men in 2021 depending on the needs and the type of man that is going to be wearing it.
Best Fitbit for Men in 2021 – Top 10
✅ Fitbit Charge 4 – Best for GPS
✅ Fitbit Sense – Best Smartwatch
✅ Fitbit Versa 3 -Best for Weightlifting and Sports
✅ Fitbit Inspire 2 -Best Level Entry Fitness Tracker
✅ Fitbit Ionic – Best Rugged Smartwatch
✅ Fitbit Charge 3 – Best for Run
✅ Fitbit Versa 2 – Best for Sports
✅ Fitbit Inspire HR – Affordable HR Monitor
✅ Fitbit Blaze – Fashion
✅ Fitbit Charge 2 – Most Affordable
Best Fitbit for Men Comparison Table
Best Fitbit For Men Depending on Their Needs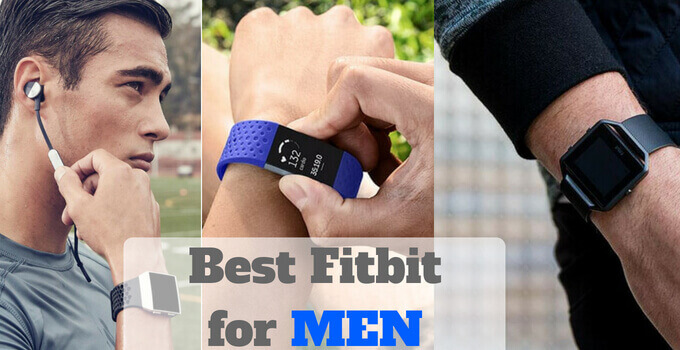 Finding the Best Fitbit For Men depends a lot on the routine and workout plan that each man follows. The right Fitbit for someone that walks five days a week is not going to be the same as that of a person that goes to the gym twice a day.
Below we list the Best Fitbit for men in 2021 depending on their needs.
The Best GPS Tracker and our first choice its the latest Fitbit Charge 4.
The first High-end Fitness Tracker with GPS built-in. The Ionic also comes with high-end features and a Built-IN GPS, although, its an oldest model, and its a smartwatch instead of a fitness tracker.
With the Charge 4 you will get the most accurate data using the precision that comes with the GPS tracking. It's a cool tracker for athletes, runners cyclists, and folks that take their tracking seriously.
But have in mind that besides the GPS you will get the latest Fitbit technology, with high-end features such as NFC payments, SpO2 monitor, Spotify, and the novelty of the new Estimated Oxygen Variation Chart that will give you a data report on your sleep patterns preventing and helping you with problems such as sleep apnea.
Then you will also have the most common but not least important features such as waterproofing up to 50 meters, battery life up to 7 days, Heart rate tracking, and of course, regular tracking such as steps, calories, and all the basics that you will need.
Features:
Built-in GPS track your outdoor activities such as runs, rides, hikes and more
Active Zone Minutes, feel a buzz when you reach your target heart rate zones during exercise
High-end Heart Rate tracking
Play your favorite songs and playlists with Spotify
Track workouts in real-time with 20+ goal-based exercise modes.
Water-resistant up to 50M
---
The Sense its the new Flagship model from Fitbit, offering the best Smart features that we have ever seen on a Fitbit tracker.
The main Smart Features are NFC Payments, Female Health Tracking, and Alexa voice command. But the Main New Feature is the Stress monitor that uses electrodermal activity (EDA) responses to measure your stress levels.
You can run a 2 min quick scan and determinate your stress levels and learn and improve using the data on the App. SpO2 its also present on the best Smartwatch for men, a cool feature that will Monitor your Blood Oxygen Saturation, by using it you can spot signs of different sleeping problems such as sleep apnea.
Besides the Smart features, you will also have some powerful fitness features Such as Built-in GPS, making it the best Outdoors buddy, waterproofness up to 50 meters, and High-end Heart rate tracking.
Sleep tracking with deep analysis is also available and over 20 exercise modes that you can track automatically such as Run, Bike, Swim, etc.
Features:
EDA Scan to detect electrodermal activity and measure your stress levels
Fitbit ECG app
Free 6-month Fitbit Premium
The battery lasts 6+ days—plus, fast charging gives you a full day's charge in just 12 minutes
Built-in GPS to us for runs, hikes, rides, and more without your phone
Amazon Alexa Built-in to check the weather, set reminders, control smart home appliances, and more from your watch.
---
Fitbit Versa 3 -Best for Weightlifting and Sports
The New Versa 3 is one of the most advanced smartwatches from Fitbit, featuring high-end features for both smart and fitness tracking.
It's great for men that like to track their fitness on a high level, includes Built-in GPS, so its great for the outdoors, and tracking routes, making it a great partner for running and cycling.
Smart Features such as NFC Payment, Alexa voice control, and Calls from your watch are also included making the Smart Experience a reality.
The Fitbit Versa 3 comes with Music, you can store and play your favorite music and podcasts on Deezer or Pandora and play it all from your wrist. You cal also control Spotify from the smartwatch.
There's really a lot of good reasons to get the Versa 3, from price, features, and looks its one of our favorites Fitbits new Comers.
Features:
Built-in GPS tracks your outdoor activities such as runs, rides, hikes, and more wIthout the need of carrying your phone.
Active Zone Minutes, feel a buzz when you reach your target heart rate zones during exercise
Improved Heart Rate tracker with PurePulse 2.0, Fitbit's enhanced heart rate technology
Free 90-day Fitbit Premium
Battery Up to 6 Days featuring Fast Charging, get one day of battery in just 12 minutes.
Track workouts in real-time with 20+ goal-based exercise modes.
Water-resistant up to 50M
---
Fitbit Inspire 2 -Best Level Entry Fitness Tracker
The Inspire 2 its the updated version of the Inspire HR, today one of Fitbit's best selling trackers. With the Inspire 2, Fitbit decided to take the affordable experience up a notch, giving us a Fitness tracker that can track your heart rate, your sleep, and comes with Fitbit's SmartTrack power all for less than $100.
Another cool addition to this model only is the possibility of using Fitbit Premium for a whole year. Yeah, that's right one year of Fitbit Premium Subscription, there's no other Fitbit that comes with such an extended subscription so it's worth mentioning.
But the biggest improvement of all on this Fitness Tracker is on the battery power. The new Inspire 2 comes with twice as much battery juice than before, featuring a 10 days battery life making it also a first from Fitbit.
When it comes to design is sleek and simple like most Fitbit users like, with exchangeable bands and 3 different colors Black, Lunar White, and Desert Rose. There's also a Clip-on option for those that dont like to carry the tracker o their wrist.
Features:
Active Zone Minutes
Use 20+ exercise modes to track goals like distance, calories burned, and more
1-year Fitbit Premium
24/7 heart rate to track resting heart rate and measure calorie burn
10 days of battery life for daily progress without constant charging.
Track your time in light, deep, and REM sleep, then get a Sleep Score to better understand your sleep quality each night
Get call, text, calendar, and smartphone app notifications right on your wrist.
---
Fitbit Ionic – Best Rugged Smartwatch
This is the most Rugged Smartwatch from Fitbit, and it is was the first smartwatch from the company as well. They include updates every year, so now in 2020, you will get the most up to date version of the most sturdy of the Fitbit Bunch.
When it comes to tracking abilities this smartwatch can do it all, great for outdoor sports such as hiking, or camping, With awesome features such as built-in GPS, full hear rate monitor, automatic exercise detection, swim-proof, SpO2 sensor, and much more!
This tracker comes with the cool Coach feature that will give you tailored workouts that will show you exactly what to do, and every time you complete one you can supply feedback so Fitbit Coach can work out whether you need something easier or harder next time to improve your exercises and fitness levels.
You can also download all your favorite apps and store up to 2.5 G of music from different music apps such as Spotify or from your own devices. Of course, this tracker has a powerful Bluetooth 4.0 connection, and a 4-day battery life that comparing with any other smartwatch in the market is at least two times better than the best models out there.
You have a lot of choices when it comes to bands so you can use it all the time without losing any tracking of your day
Features:
Start dynamic personalized workouts on your wrist with step-by-step coaching
Store and play 300+ songs or download stations from Pandora or playlists from Deezer
Use built-in GPS/GLONASS to track pace, distance & routes and get Pure Pulse continuous heart rate tracking & real-time zones
Access your favorite apps for sports, weather & more and make payments on the go with a built-in NFC chip
Track runs, swims (Fitbit Ionic is water-resistant to 50 meters), rides, workouts, all-day activity and sleep with 4+ day battery life (varies with use & other factors)
---
Men that like to run have different necessities as well.
They need a tracker that can perform the basics like count steps and pace but the data that is going to make a real difference is without a doubt the possibility to track the heart rate, so they can know how their heart goes through the different speeds and resistance levels.
The Fitbit Charge 3 is the best for that. As an advanced and upgraded version of the best seller Charge 2, comes with all the best features that its predecessor but with a few upgrades that make it one of the best trackers in today's market.
It comes with all the features that a fitness fanatic will want and more!. With high-end features and programmed modes like bike, run, swim, circuit training, yoga, just to name a few.
The Charge 3 will also provide you with real-time stats during your workouts so you can improve daily your routine. Plus it is water-resistant and swim-proof up to 50 m so you can wear it to track your swims.
Plus this is one of the first Fitbit trackers that comes with a touch screen and that's one of the features people really love. It can also monitor your calories burned, heart rate, and sleep patterns that will help you to improve your sleeping quality.
The Fitbit Charge 3 also comes with the move reminder and a powerful 7 days battery life.
Features:
Better measure calorie burn, understand resting heart rate & more with 24/7 heart rate tracking
Battery life up to 7 days
Choose from 15+ exercise modes like run, bike, swim, yoga, circuit training and more.
Automatically record time spent in Light, Deep and REM sleep stages and see activity trends, health insights and personalized guidance in one place with Fitbit Today
Swim-proof and water-resistant up to 50M so you can track swims and wear in the shower.
Also, connect to smartphone GPS for real-time pace and distance during outdoor runs and rides
Stay connected to your day with everyday apps for weather and more and get call, text, and smartphone app notifications on your wrist
---
To track your workout you need a reliable tracker that can handle different types of routines and can track your sessions as well.
When you go hardcore and need to track your Weight-lifting activities you need that the smartwatch can count accurately so you can have the best from your overall performance and improve weekly
The latest addition to the Fitbit family is the cool and improved Versa 2, that comes with all the latest high end features just like the Ionic and has also the same smart features as the Ionic except the built-in GPS, with a better design and price the Versa 2 is a complete tracker.
It will help you improve your workouts and excel. Is great for men that like to weightlift since you can record and track every movement from each of your series on your routine
The Versa 2 will also track your heart rate 24/7 and will keep tabs on your calorie burn throughout the day.
It has also the move reminder that will remind you to take 250 steps every hour. This reminder mode does not disturb you as it is completely up to you to adjust the timer and if you are busy or do not want the watch to remind you every hour, then you can switch it to 'do not disturb' mode.
It can also track your sleep patterns and help you improve the quality of your sleep. It's also water-resistant up to 50 m. The Fitbit Versa 2 can also store 300+ songs and you can also download songs. And includes Alexa!, so now you can give commands to your smartwatch
It has 15+ exercise modes like swim, run, and more. When it comes to battery juice is not the best from Fitbit can go without a charge for 6 days.
Features:
Includes all Versa Lite Edition and Versa features plus: a built-in NFC chip to make secure payments without your wallet and an additional black classic accessory band
Alexa Integration!
Store and play 300+ songs
Track your all-day activity, 24/7 heart rate, & sleep stages,
6+ day battery life
Use 15+ exercise modes like Run or Swim, etc
Water-resistant to 50 meters
Get call, text, calendar and smartphone app notifications
Automatically track select sports & workouts with SmartTrack
---
For those man's that need to track their activities but would like to have a tracker that can be worn everywhere at any time. That can also look good when they have a nice dinner or a meeting they need a Fitbit like the Blaze.
The fashion-conscious, Blaze is not just a fitness tracker. Featuring a sleek watch-like design and customizable wristband, this smartwatch will look good with any type of wardrobe
The Bands from the Blaze come in metal and leather in 3 different colors as well a customizable watch face, so you really can put your style on the tracker. You can also use the music controls and customize the soundtrack to your desire.
In terms of design, the Blaze is made up of 2 different parts. The first being a band attached to a stainless steel frame. All the guts of the tracker are together in a small, standalone black rectangle that comes with a color touchscreen display on the front, heart-rate monitors on the back and 3 buttons on the sides. So you need to put the tiny tracker into the frame, and then you're good to go.
The basic model will come with an elastomer sports strap, available in blue, black, or plum. When you want to use a different band, you don't swap the band itself; you just pop the tracker out and insert it into a new frame-and-band combo.
Fitbit promises 5 days of battery life, and when we review the gadget last for almost 6 days, of course, if you're doing long workouts every day, you'll probably burn through the battery faster, but even so, the battery lifespan is pretty good for a tracker.
Features:
See simplified heart rate zones for quickly checking exercise intensity during workouts with PurePulse(TM) continuous, wrist-based heart rate monitoring.
Enable connected GPS to map your routes and see run stats like pace and duration on display (when your phone is nearby)
Use multi-sport tracking to track runs, cardio, cross-training, biking and more. Effortlessly and automatically record other workouts to your dashboard with SmartTrack
Track steps, distance, calories burned, floors climbed and active minutes. Stay connected with call, text & calendar alerts and notifications from your favorite apps(when the phone is nearby). Start a FitStar workout on your wrist and get step-by-step instructions and graphics to ensure you complete each move correctly
---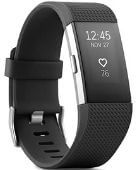 The Charge 2 is the new version of the Charge HR featuring a handful of improvements in some key areas.
For example the built-in PurePulse technology, which keeps tracks and reports of your heart rate while you're on the go. Plus, it can still monitor your sleep so you can take that post-jog afternoon nap.
Another plus that comes with the Charge 2 is that with a tap-activated OLED display, (that is much larger now) you don't have to pull out your phone to check the time or see who's calling you. Now you can check it all on your wrist and it also will show you the time and the day.
Perfect for those man's that like to be in the zone and hitting the last mile before they get home, they don't want the distraction of having to whip out their cellphone to check who's calling.
The Charge 2 has the design of a fitness tracker, not a bracelet or anything that looks like a "fashion" type of wearable.
Another handy feature is the multi-sport mode, men can tap on the display once for running, tap on it again for biking, and so on depending on what they need.
Another improvement from The Charge HR is that the Charge 2 comes with dedicated functions for recording workouts. So you can track not only your running but also, hiking, biking, and elliptical workouts. And by using the interval mode, the tracker will tell you when to stop and start an activity.
Last but not least another great feature is the Cardio Fitness Score. It's a combo hardware-software feature. The tracker will use your resting heart rate, some of your exercise data and your profile information, and it will give you a heart-health score, that you can find on the heart rate section of the mobile app.
Features:
PurePulse continuous, automatic wrist-based heart rate tracking to better measure calorie burn all-day
See call, text & calendar notifications on the OLED display; Automatically track how long and how well you sleep and wake with a silent vibrating alarm
Maximize your workouts using simplified heart rate zones (Fat Burn, Cardio, and Peak)
Cardio Fitness Score; Use Connected GPS during run mode to see real-time stats like pace and distance on your wrist
Track all-day activity like steps, distance, calories burned, floors climbed and active minutes
---
Inspire HR – Most affordable HR Tracker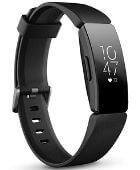 The Inspire HR is the most interesting tracker that Fitbit released in 2019 for just $99 and with an accurate HR monitor is the best when it comes to tracking your beats without hurting your wallet for an affordable price.
You can also get the regular version of the Inspire that comes without HR but for an even cheaper price.
The design is similar to the Fitbit kids tracker Ace, and because of the slim body also reminds us of the beloved Alta. The best thing about the Inspire HR is the variety of bands that you can swap and gt a different look for different situations, from sport to chick you have a cool range to choose from.
When it comes to features and function the Inspire HR is swim-proof up to 50 meters, can track your all-day activity and sleep tracking, it also shows notifications from your phone and gets up to five days of battery on a single charge.
Features:
24/7 heart rate to track calorie burn accurately, as well as resting heart rate and heart rate zones during workouts
Track all-day activity, including steps, distance, hourly activity, active minutes and calories burned
Automatically track sleep, plus due to the heart rate feature, get more insights into your light, deep & REM sleep stages
Enjoy up to 5 days of battery for daily progress without constant charging. Varies with use and other factors. Charge time (0 100%): Two hours
Automatically and conveniently record workouts like walks, swimming & bike ride in a snap with SmartTrack.Stores heart rate data at 1-second intervals during exercise tracking and at 5-second intervals all other times
Water-resistant up to 50 meters.
Finding the Right Activity Tracker for Men
While the fitness tracker category has been around for the past years, we are just now seeing the best smartwatches of 2017 hit the market. At least one of every ten adults in the U.S. are now wearing a smartwatch as part of their life to track their activities
This makes clear to us that activity trackers are just as common as headphones on the industry, but also, and more importantly, helping build a health-conscious culture dedicated to self-improvement.
These trackers can read our activities in ways that no personal trainer in the world could ever do. Giving us reliable, physical stats based on our daily movements and personal habits. And in some cases, they do it in a really cheap way.
Best Fitbit Watch for Men – Buyers Guide
For men, the best Fitbit is not just the one that can count calories and steps. They need extra features and something that they can use for a long time. So check the below features to have your needs cover and truly find the Best Fitbit Watch for Men in 2021
Display:
Depending on your personal needs you can choose between a Fitbit watch with an OLED display that will give you detailed metrics on the screen, as well as mobile notifications and in cases like the Sense, Versa 3, Ionic you can also make and receive calls, or if you like a less-distractive approach you can choose a LED display that will give you the time and 2 or 3 stats that you can configure.
Battery life:
Fitbit trackers are well known for their good battery juice that can at least go up to 5 days, so you are going to be good with any of the Fitbit watches that we recommend at the beginning.
Although if you would like to get the best battery life, you need to be aware that features such as GPS consume the battery quickly, so in case that you use it, remember to turn it off once you are done with it.
Te Best Battery at the moment is on the new Fitbit Inspire 2 that can last up to 10 days and comes with the new fast-charging battery (also included on the Versa 3, and Sense) that can charge your battery for a whole day in just 12 minutes.
Design:
Depending on your style it must be comfortable and durable
This one is a personal decision, you should wear the tracker that makes you feel comfortable 24/7, in terms of durability the Ionic and the Charge 4 are well known for their last long built. But most Fitbit watches are going to be durable and reliable.
When it comes to Bands every model comes with the regular bands that are more sporty looking, then you can choose the special models that cost a bit more, or you can buy different bands to exchange depending on the occasion, that for us that is the smart way to go
In terms of style, the Blaze is the one that we choose as mot fashionable, for us the Ionic is also really manly and robust, but there are some folks that hate the Ionic design and prefer the rounded Versa, so at the end of the day the choice is yours!
GPS:
In terms of GPS, there's a few that come with Built-in GPS such as the Versa 3, Sense, and Ionic, all the other Fitbit Trackers come with the Connected GPS that works paired with your phone GPS. Having GPS navigation will help with the accuracy of your tracker, is really convenient when you want to track your pace and distance.
Heart Rate Monitor:
Increasing your beats per minute is key to shedding weight, hence the need for an HRM. From the Best Fitbit for men picks, most of the trackers include a built-in HR monitor, but the most affordable one is the Inspire HR that for less than $100 will give you a reliable way to track your heart rate.
Mobile App:
Not only is it commonplace for current trackers but also essential for managing fitness goals.
The Fitbit app is one of the best in the market, although is not big in apps as the Apple watch that has a huge app ecosystem the Fitbit app comes with more features and functions that you can handle and is really intuitive and easy to use.
Waterproof:
Most trackers are water resistance, take into account a device that can sustain water damage.
From our list, you need to pay attention to the difference between Water-resistant or splash-proof, the trackers that come with the 5 ATM mark or 50 meters water resistance are the ones that are really waterproof and can be submerged.
NFC Payments
This is one of the latest features that come along with smartwatches and will give you the ability to pay right from your wrist, you just need to connect your credit card with the phone and you are good to go. The only trackers that have this feature are the Ionic and the Versa special edition.
Conclusion
At the end of the day, the best Fitbit for men will depend on each man, and their routine. We consider that finding the right tracker will depend on 3 main factors, Sports taht oub need to track, Durability and Price.
So depending on the man consider also the best tracker that suits his health needs and workout preferences.
With this review, you are going to be able to find the best Fitbit for men in 2021 remind yourself to check this guide before making a purchase so you can get the best tracker for your needs.
As well as check for daily promotions that normally comes with some discounted prices on Amazon.
Related:
References: