When comparing the Fitbit Surge vs Charge 2 the similarities make our decision harder, but by understanding the differences you will be able to get the best tracker for your needs.
The Surge comes with a comfortable and sleek design that comes along with high-end features that put it on the top of the market. On the other hand, the less expensive and longtime bestseller Charge 2 can be as good, and in some cases better than the Surge.
To help you understand which model is the best for your needs, we put together the below review where you will find an in-depth look at both models, as well as a comparison on their features, similarities, and differences so you can find the one that fits your health, fitness needs and your preferred budget.
Fitbit Charge 2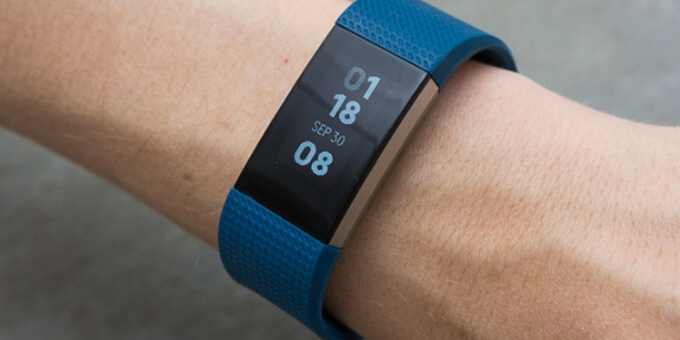 The Charge 2 appears into the market as an upgrade from the original Charge model, with a big plus when it comes to features to give you the best health and fitness tracking functions. At the same time, it is durable and yet compact, with a small band that you will not even notice you have it on.
Another upgrade from the regular version is the larger display that will give you more data at a glance and interchangeable bands that will make it look better in any situation.
A great feature that comes along is the heart rate tracking that will check your beats 24/7 and is really accurate.
Besides, you will be able to track your steps and your sleep patterns.
Something to have in mind is that the Charge 2 has been one of the best sellers of Fitbit for a long time even today, so there's plenty of good things that come along. Check below and understand its best features.
Fitbit Charge 2 Best Features:
In the multi-sport mode, you can record steps, elevations climbed, as well as automatically track your entire workout or sport, so you can analyze and understand every aspect of your routine and how to improve it.
The nonstop heart rate tracking will give you feedback on your beats during your day, monitor any changes and understand what your optimal heart rate is depending on your routine.
It comes with an OLED display that will give you notifications from your phone, like calls and messages, as well as access to your calendar so you will never miss a call or an appointment.
Also, the interchangeable bands will give you a different look depending on your daily needs
With its cool and slim band, you will be comfortable all day and night so you can track your day without getting annoyed by the watch.
You can automatically sync the Charge 2 with your smartphone or computer and check your overall health and fitness daily progress.
Another cool addition that will change your lifestyle is the sleeping patterns data. Those will give you stats on your sleep so you can understand when and why you wake up in the middle of the night and will help you improve your night sleep so you have a better and more energetic day.
Check today's price of the Charge 2 >
Fitbit Surge
The Surge is called by Fitbit as the "super watch" and is a really good tracker for the long-term buyers, with a robust build and high en features that make it look much more like a smartwatch than a fitness tracker.
The Surge comes with built-in GPS that will track your movements in a fast and accurate way. It can also track your heart rate and all your daily activities, as well as understand and track your sports and exercise with no need for you to preprogram anything.
When it comes to notifications, it has an integrated caller ID as well as text messages and a calendar.
It is true that the Surge design is larger than most trackers but its build with a flexible and high- quality materials that makes it very comfortable to wear.
Fitbit Surge Best Features:
Without a doubt, the first best feature that makes the Surge stand out is the built-in GPS that will give you accurate tracking of your movements, compare split times, go over routes used and track pace, distance, and elevation with amazing precision. This will allow you to leave your phone at home if you don't need it.
By a MEMS 3-Axis accelerometer, the Surge can use the Multi-sport tracking function that will record individual stats for cardio, cross-training, running and different sports so you learn how many calories you are burning and understand how hard you're working at each exercise.
The cool 1.3-inch LCD touch-screen display will allow you to check your calls and text notifications so you are always aware of your life without worry. You are also able to control your music from your phone as well.
Pure pulse heart rate tracking is also part of the Surge so you will have a track of your heart all day and night. In this way, you can understand and improve your heart rate during exercises and check if there's a way to improve your movements.
When it comes to its battery life, there are no many watches that can compete with the 7 days that the surge offers.
You can also boost your workouts with SmartTrack automatic tracking and music control on your wrist.
Check today's price of the Surge >
Fitbit Surge vs Charge 2: Similarities
As we said at the beginning, they both have some similarities just like the ability to work with the amazing Fitbit app, but that's not all. Check below and find all the features that they share.
Functions
Both the Surge and the Charge 2 can measure your heart rate, steps, calories intake burned, the distance you travel, your sleeping patterns and the number of active minutes that you have.
In terms of functions, these trackers can help you improve your overall health and fitness levels, as well as lose weight.
Bands
When it comes to bands, they both have lightweight straps that will make them comfortable and easy to use. The Charge 2 comes with a more slimmer band that is made of an elastomer material which is really flexible and easy to exchange.
You will be able to get the Charge 2 in 6 different colors: black, blue, gunmetal, lavender rose, gold, teal, and plum. In terms of sizes, you can choose from small and large. The bands are exchangeable giving you more options depending on your daily activities, clothes or mood.
On the other hand, the Surge comes with a larger band which holds the LCD display, but, as we mentioned before, it is also lightweight and flexible thanks to an elastomer material of regular sports watches. It bends with your wrist so it fits perfectly.
When It comes to sizes, you can choose small, large and extra-large. In terms of colors, you can find the Surge in black, tangerine or blue. One thing to have in mind is that you can only get one color and you can not change the bands, so in this case, the Charge 2 has the advantage for people that would like to customize their watches.
Dimensions
As we said before, the Charge 2 comes in 2 sizes: small (5.5 – 6.7 inches) and large (6.7 – 8.1 inches). On the other hand, the Surge is available in 3 sizes: small (5.5 – 6.3 inches), large (6.3 – 7.8 inches) and extra-large (7.6 – 9.1 inches). Both models are lightweight, the Charge 2 weighs 30 grams and the Surge 32 grams.
Water Resistance
Just like most Fitbits, these trackers are water resistant, which means that you can get some splashes of water or sweat on them, but you can not swim in a pool or take a shower.
Battery Life
One of the similarities is the type of battery that both trackers come with. It is a powerful lithium-polymer battery really durable and takes around 2 hours to be fully charged. In terms of battery life, the Surge can last up to 7 days while the Charge 2 can go for 5 days without a charge.
Fitbit Surge vs Charge 2: Differences
The main difference is in the functions and features that come along. The Surge has some extra characteristics that are reflected in the price difference. The most relevant one is the built-in GPS that will improve your tracking accuracy when it comes to steps, runs, and cycling activities.
The GPS function offers a more well-rounded exercise experience. It makes sure you know precisely how many calories you burn or how far you travel. It also lets you track your routes when running, biking or hiking so afterward you can see where you were and how you did throughout the course. In addition, the GPS will help you compare times side-by-side so you can learn how to improve your routine.
Another big difference is the Surge display. It is a big LCD touch-screen that will show you your stats such as the time, calories burned, heart rate and steps. You can receive calls and text messages on your wrist, customize the watch screen to show you the stats you prefer, and listen to the songs that you have on your phone.
The display from the Charge 2 is an OLED screen smaller when compared to the Surge's, but it is bigger than other Fitbit's such as the Alta or Flex models. It can also show daily stats and missed calls and texts.
While both allow you to see your statistics, the Surge is the clear winner thanks to its advanced features and the bigger screen.
Having said that, the Charge 2 has some additional perks that you will not get with the Surge. The Charge 2 is much sleeker and more customizable than the Surge. It also has reminders to move and guided breathing, which the Surge lacks.
Which One is Right For You?
After this Fitbit Surge vs Fitbit Charge 2 review, you can see that there are a lot of great features and functions. The final decision will depend on your needs more than anything else.
For those looking for an accurate tracker for running or biking, the built-in GPS on the Surge makes a big difference that will give you extra precision on your tracking stats.
The Charge 2 comes with a lot of good features such as the heart rate monitor and sport tracking modes that will help you track different sports automatically. It doesn't have a built-in GPS, but you can use the GPS from your phone by just connecting the 2 devices, though you will need to take your phone with you. The price difference is close to %30 so, for that, the Charge 2 takes the advantage.
However, at the end of the day, both models are good and effective. Fitbit costumers love these 2 models and even though they are not new, they are still part of the best seller list having thousands of 5-star reviews.