Here are the best options on Fitness Watches for Women, we divided in categories: Fitness trackers, Smartwatches for running as well Fashionable trackers, so any type of women can find the smartwatch that fits perfectly for her.
It seems like almost every day there is a new smartwatch entering the market. And while many of these new trackers are pretty slim and stylish, most of them tend to have a masculine appeal. And although there are a few smartwatches that could be considered unisex, the vast majority of trackers are not something that most women would feel comfortable using on their wrist.
The good news is that companies have recently begun to take notice of this fact and are starting to release trackers that are more targeted towards women. If you are looking to get a new smartwatch for your self or trying to give one as a present, you should be able to use the list below to get an idea about the best smartwatches for women on 2018.
Fitness Watches for Women Table
When it comes to smartwatches for women, the same trackers that are on the market label as best for running or fitness are normally the best for mans, that's why companies in 2018 are trying to expand the market, but mostly online, if you go to a store is even more difficult to find the tracker that fits perfectly with you.
Below is our review for the best smartwatches for women's depending on their needs all designed with female fitness enthusiasts in mind. Our criteria is based on a combination of visual appeal, smaller sizes and functionality to find the real best companion for long-term and not a gadget that you will need to replace after a year of use
Best Fitness Tracker for Women
Moto 360 2
The Moto 360 2 is the most powerful fitness tracker from the Motorola brand. Comes with a great design and lots of different colors but for women we like the Rose Gold model being just gorgeous
Launched in 2016, it has a sharper screen than its predecessor and it's faster too. The 42mm case is perfectly sized too; it isn't too big for a slender wrist. When it comes to battery life isn't the best tracker out there it only will be working for 36 hours and then you need to charge it again.
In terms of fitness tracking this watch can measure and track all types of fitness metrics like count your steps, the distance traveled, as well the calories that you burn during your day. It also features an optical heart rate monitor that is an amazing way to keep track of your overall health and fitness statistics to take you to the next level.
The Moto 360 2 runs on Android Wear 1.3, that's the latest version of Google's smartwatch-optimized operating system. You still need an Android phone running Android 4.3 or higher to pair to via the Android Wear app. But there's now also an official Android Wear for iOS, so it'll work with iPhones as well. The experience, however, is very different to pairing it with an Android phone,
It has a fast processor and a good display that comes with an ambient light sensor that is great since the backlight will automatically adjust depending on the light levels of the surrounding area. It also comes with an IP67 dust and water resistance rating, meaning that the watch can be submerged and showered with without any concerns.
The 360 2 also comes with a quick release function that will give you the option to change the bands at any time.
Misfit Phase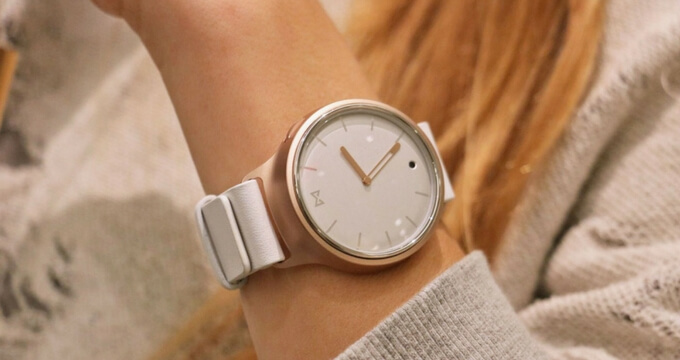 For those that like the new hybrid tracker the Misfit Phase is a great option featuring an analog display as well built in fitness-tracking sensors.
When it comes to design the Misfit Phase is incredible probably one of the best-looking trackers out there, you can wear it at all times and it looks sophisticated. The 41mm case is thin, and the easily interchangeable 20mm straps give you lots of ways to change the outlook of the watch. And, thanks to Bluetooth, you can get smartphone push notifications on your wrist.
When it comes to battery life there is no tracker like it the Misfit Phase will last… wait for it… 6 Months!.
Being a Misfit device, the Phase tracks your activity down to a tee. It's incredibly accurate and the companion app is intuitive and feature-packed.
One thing that we didn't love about the tracker is that it doesn't have an operating system or a touchscreen display. The tracker doesn't have any in-built apps so you need to control everything by using your smartphone. Let's say that is a normal thing for a hybrid smartwatch but is something to consider if you like the idea of running apps from your wrist.
In terms of fitness tracking the Misfit Phase is an amazing hybrid smartwatch that offers the best fitness features that you will need and more!. The watch can be used to track your calorie count, track steps and distance, monitor sleep duration and quality, and tag specific activities like yoga or jogging, all with an easy-to-use app on your smartphone.
Since the tracker doesn't have a touchscreen display they use an innovative way to showcase the information on the watch itself. All you have to do is switch to Activity mode, and the watch hands move to show your activity progress for the day. The tracker will use a single LED that can be color-coded and the watch vibrates to let you know about incoming calls, texts, and app notifications, that you can set up with different colors to know what is going on. You can also switch to the Smart Button mode to find your phone, take a selfie, play and pause music, control smart home devices, and a whole lot more.
As we said at the beginning the tracker is endlessly customizable, having different strap options like sports bands, cloth straps, and much more. The only fitness features that we think that are missing from the Misfit Phase are the heart rate sensor and GPS tracking, but for the fitness enthusiast that would like to have a good-looking tracker on their wrists, the Misfit Phase is the way to go.
Apple Watch Series 3
The new version from the Apple series comes with a lot of improvements from its predecessors, some of them are LTE compatibility, a wireless chip, faster processor and a barometric altimeter.
Built into the display, there is cell phone connectivity. The tracker will use the same number that your smartphone.
When it comes to fitness tracking there is a new barometric altimeter sensor (as we mentioned at the beginning). This means that the tracker now is able to count floors climbed and estimate your altitude. And just like the oldest models the Series 3 has GPS and all day heart rate tracking
The Apple Watch Series 3 offers so many features besides being a complete fitness tracker, its health and fitness features should be seen as a bonus rather than the main reason for purchase.
It was not created to be a sports watch, is a smartwatch to use all day long that comes with enhanced features when it comes to running, cycling and swimming as well. With built-in GPS you can track distance and pace for running and cycling, plus it's now water resistant with swim tracking to 50m so you can wear it in the pool.
The tracker is one of the most comfortable to wear and probably is one of the smallest and lighter smartwatches on the market. You can choose the 38mm and 42mm sizes depending on your needs.
The Series 3 has an eSIM for LTE connectivity (in case you need it) plus a new faster W2 processor, and new resting heart rate data via watchOS 4. Apple's own Workout app is still data light for runners. The optical HR monitor can be used for heart rate training zones and there's both Apple Pay and music storage (via Apple Music) on your wrist, even when you leave your phone at home.
Best Women's Running Watches
If you are a woman that likes to run or you already have a running routine or try to prepare your self for a marathon, a basic fitness tracker simply won't cut it. While they're great for people starting out on a fitter and healthier lifestyle, they lack the more advanced features that appeal to more seasoned athletes and runners.
If you want to improve your running, you need to consider a more specialized sports watch. Below are the best models for women available on today's market.
Garmin Vivoactive 3
The Vivoactive 3 is one of our favorite running watches for women. Is one of the most completes trackers out there and one of the new generation that is coming to stay. Besides Running can track a lot of different activities including cycling, swimming, and golf.
It comes with 15 built-in sports profiles, some of the latest include snowboarding, yoga, cardio, elliptical and stair stepper. The tracker will also let you mix it up by creating customized workouts. Other new features include VO2Max and stress/workout tracking.
As all the best tracker for running this one comes with heart rate tracking and GPS.
In terms of customization the watch offers various options the bands can change easily, the display can be changed as well and you can even use a personal photo to customize the face. And even more! the side button can change position to wear on either right or left of your wrist.
While the Vivoactive 3 is not the smallest GPS tracker out there, it balances its size perfectly with the number of features. And fits a women's wrist pretty well.
A cool feature that also serves a safety purpose is the ability to broadcast your activity by using Garmin's Livetrack. You can send a link to your email contacts or you can share it on Facebook and Twitter. The link allows anyone follow your location on a map in real time.
The Vivoactive 3 provides the most features for the best price. Combined with its GPS capabilities and a stylish design, it's our top choice when it comes to trackers for women for running.
Another feature that is worth to be mentioned is the addition of Garmin Pay, a first for the company. Which means Garmin customers can finally pay for purchases with their timepiece. The new functionality is enabled by FitPay and supports Visa and Mastercard debit and credit cards from major issuing banks.
Fitbit Charge 2
When it comes to fitness watches for women, the Fitbit Charge 2 comes in at a close second. It has all the features that you will need from a tracker to run with a great design and all the Fitbits conveniences.
Fitbit put an extra effort on the design for the Charge 2. This device not only looks more like a piece of jewelry and less like a regular tracker but you will also have the option to change out the bands if you'd like.
The tracker also sports a bigger display giving you more room for smartphone notifications.
The Cardio Fitness Level feature is also available to help you stay healthy and relaxed over time. It will also give you a cardiovascular rating based on an estimate of your VO2 Max. But that's not all! the Relax mode is also part of the Charge 2, by using this mode you will have a guided breathing coach that will walk you through short breathing exercises to help you lower blood pressure, reduce stress and anxiety.
Overall, it's an all-around great running tracker for women and fashion-conscience buyers in general, especially considering its $150 price point.
The Charge 2 comes with an accelerometer, along with an altimeter and heart rate tracking so you can watch your runs in the best way possible. The heart rate tracking is continuous and accurate. The Sleep tracking feature it's also available.
The tracker also links to the GPS on your smartphone to provide more precise data on pace and distance when you're running, as well will record a map of your route in the app. And let's not forget about the Multi-Sport tracking and smartphone notifications.
Plus there are a few new features that tap into your heart-rate readings. The most useful one is called Cardio Fitness Level. It gives you a snapshot of your fitness level using a personalized Cardio Fitness Score, which is based on your VO2 Max. You can also see how you compare to your gender and age group.
Garmin Vivosport
The Vivosport is an amazing tracker to watch your runs, featuring inbuilt GPS. It's the best pick for those women looking for a small, lightweight smartwatch that could track accurately their activities.
When you are not using the GPS to track your runs and other outdoor activities, the watch will count your steps and records indoor activities as well.
The display is really easy to read and the battery life can go as far as 7 days, but if you are connected all the time using the GPS it will only last for 8 Hours.
You have a Heart rate monitor and the tracker can also monitor your stress levels giving you the opportunity to understand what triggers your stress levels
And just like the Vivoactive 3, you can use the Livetrack to broadcast outdoor activities to friends and family.
Another great feature to track your runs and overall health is the VO2 Max, and you can also use the fitness age mode that will give you an estimate of how old you are based on your fitness level.
The tracker is available in two sizes with two different color choices.
It works with both Android and iPhones, syncs up to Garmin Connect and activity tracking is really impressive with a moveable goal. It also brings new features like rep counting along with the onboard GPS to make this one of the slimmest, yet most feature-packed trackers you'll get your hands on.
Fashionable Fitness Tracker for Women
Fitness trackers are pretty cool and they will help you improve your health in numerous ways. HOWEVER, when you are tracking your fitness levels and you need to go for a night out they start to look pretty bad, they don't match any style or clothe and you are going to leave it behind before to look ridiculous.
But the tracker designs are evolving with time, gone are the days when they look bulky, plastic and weird and on today's market, you can find some wearables that come with fashionable accessories in a range of sizes, style, and finishes. Screens, no screens, leather, semi-precious stones, 18k gold, nothing is too much for this new batch of stylish fitness trackers.
So without further ado, here are our top wearable choices for the tech-loving fashionistas and style-conscious women.
Bellabeat Leaf
The Bellabeat's Leaf fitness tracker is a beautifully designed watch that can also be worn as a necklace, bracelet or brooch. Most trackers try to be unisex but unlike any gadget, this piece of smart jewelry is dedicated to women's with design options in silver with light wood and rose gold against a dark brown wood.
This tracker not only will track your fitness activities and sleep quality, it will also keep track of your stress levels and your menstrual cycle. This more holistic approach to health tracking for women was pretty popular when it first appeared on the market with the first batch of this device selling out within 48 hours.
The Bellabeat's Leaf will also remind you to calm down in case it recognizes stress by vibrating. It will also vibrate if you want when you have not been active enough to keep your health running. The tracker syncs to the Bellabeat app, which analyses patterns and offers breathing exercises or advice on how to be more active.
Offering an amazing battery life this tracker will last for 6 months!
Bellabeat is one of the very few companies that is focused solely on providing intuitive wellness tools for women to help them lead better, healthier lifestyles. They come with a ton of accessories including leather and vegan fiber straps and a dark Marshwood with gold leaf limited edition. This tracker is definitely an incredible fitness tracker for the fashion women.
It also monitors the quality and quantity of your sleep and lets you know your sleep patterns and provides guidance on how to get the most out of your rest. It also guides you through goal-oriented breathing exercises that allow you to take control of stressful situations.
The Bellabeat Leaf can be worn with a necklace around your neck, or with a bracelet around your wrist. Not only is it a fantastic activity and lifestyle tracker, but is a great fashion accessory as well which won't stand out as most other fitness trackers will.
Samsung Charm
The Charm is a simple to use lifestyle tracker designed to look like a piece of jewelry. It features a small LED to make you aware of incoming or missed calls and messages, as well as push alerts from applications that you can select via the smartphone app. Color-coded notifications display information about charging, connectivity status and battery level.
Charm also doubles up as a basic activity tracker. Simply sync it with a smartphone via Bluetooth and pair it with the accompanying app to see your data.
The watch can track your daily activities including walked steps, burned calories, and the number of slept hours, and beside of that, the device can bring your smartphone notifications via the only LED light on top, notifications include calls, messages and social media apps like Facebook, Whatsapp and more.
The device includes an onboard memory, so even if you don't have your smartphone with you, the wearable will continue to gather fitness data.
The Charm is one of the most fashionable trackers out there with a really simple design that you can wear at any type of situation and is one of the most affordable trackers on the market today costing just $42.98.
To suit both men and women the tracker comes in two versions, bar and square-shaped. There are also three colors to choose from, Rose Quartz, Gold and Black.
HUAWEI Watch Elegant
Huawei's Elegant is an upgraded version of their 2015 smartwatch. Huawei has partnered with Starsky gemstone company to add a little bling to this new product. The watch has a rose gold plated body and a top ring design.
The tracker is small enough with 44 mm in diameter, that would be enough to fit a small wrist. Features a 1.4-inch AMOLED display, with a 400 x 400 resolution, and will provide you one of the best smartwatch display experiences available right now. It also comes with a scratch-proof sapphire coating so you don't need to worry about bumps and drops.
The watch is powered by Android wear and is able to receive phone calls and texts. It also has built-in voice command and a built-in accelerometer and heart rate tracking. The watch has many pre-loaded activities as well, such as running, mountain climbing, and hiking.
The Huawei also offers notifications and fully-fledged apps and fitness tracking. Google Now works well as a personal assistant and at least as well as Siri on the Apple Watch, plus Google Maps integration, and even calls from your wrist.
The watch has a lot of unique features that you won't find on other trackers like the new OS software that supports gesture navigation, letting you flick your wrist to scroll through your notifications, Wi-Fi connectivity and emoji replies to messages. It doesn't take too much of a flick to activate a scroll, but the watch takes about a second to respond.
The tracker includes a 300mAh battery crammed into the case and users report a good two days battery life with normal use.
What does a Fitness Tracker do?
Fitness trackers have traveled a long way since the basic stop-watch. The tracker on today's market can track your every move, provide insight into your current fitness, and motivate you to keep exercising every day.
The basic tracker will be able to count your steps as well monitor your sleeping habits. They set daily step goals to provide a specific number of steps you should walk by day. As your fitness improves, the step goal gradually increases.
Besides having a count of your daily steps most trackers will also track total distance walked and calories burned. Ans in some cases they will provide you with reminders to get up and move when you've been inactive for too long.
The best fitness trackers will monitor your heart rate, normally with a heart rate monitor built into the watch itself eliminating the need to wear a chest strap like older heart rate monitors.
They will also track running, cycling, swimming, and other types of outdoor activities. They can track how far you went, how long it took you, and your speed. This data is usually tracked in real-time so you'll know how far you've gone mid-run or ride. they will normally use GPS to track all these activities in the most accurate way.
Almost every fitness watch today syncs wirelessly with a phone. This allows you to see all the data it's recorded in easy-to-read graphs and charts.
The phone-watch connection also means that phone notifications appear on the fitness watch.
The latest fitness trackers can also play and store music, make payments wirelessly directly from the watch, and have watch bands and watch displays that can be customized.
There is a difference between GPS watch and fitness tracker?
A GPS watch will sync via GPS satellites to accurately track data of your outdoor activities like running and walking. But the fitness tracker will use an accelerometer to count the number of steps taken on a daily basis along with monitoring sleep patterns.
How can the trackers calculate calories?
A fitness watch uses an algorithm that takes your age, weight, height, and combines that with how much you exercise (either steps or a more intense activity like running) to calculate the number of calories burned. More advanced watches will also incorporate heart rate into the calculation.
But you have to remember that these calories are just estimates. They should be used as a general guideline and not a true number of calories burned.
How to choose the Best Fitness Watches for Women?
A simple way to choose the fitness tracker that fits you the best is to decide what types of activities you like to do, then combine that with how much you are willing to spend.
The most expensive trackers will be able to count steps and monitor your sleep and heart rate and using GPS to get the most accurate data when tracking your fitness activities. 
So it's really deciding if basic step tracking is good enough for you. Or do you want to use it for running or other outdoor exercises?
These are the main factors you should consider when choosing a watch:
PRICE
A basic fitness tracker that can monitor your basic fitness activities will cost about $75-$100. The cost rises as the number of the features increases.
WEIGHT AND WATCH SIZE
A basic tracker is a fairly simple device and will not include a lot of sophisticated features so in terms of weight are the lightest weighted. Instead, a Fitness tracker that has more tracking abilities will come with more modes and normally include batteries that last longer. This type of trackers are heavier and bigger.
DAILY USE
What metrics are the most important for you to track? do you wish to track how far you walk every day? Then a fitness tracker should be fine. Would the watch also be used regularly for running, hiking, or cycling? Then think about getting a watch with GPS.
ADD-ONS
In addition to counting steps and outdoor activities with GPS, some of these fitness watches for women add on extra features. These are usually different features like fitness scores, counting floors climbed, or tracking intensity exercise minutes. If these are important to you, check each tracker for specific types of features.
BRAND ECOSYSTEM
Each brand of fitness tracker will have it's own software and app that goes with it. They are all unique and generally do the same sort of thing. We wouldn't say that one is dramatically better than the other. But you need to have in mind that in case you ever switch tracker brands, it can be hard, or even impossible, to move your old data to the new software system. 
Conclusion
So you can now have a bigger picture of the different fitness watches for women available. It true that the first tracker that appear where focus mainly on tech geeks and man's but the market now started to gradually come around to the point of being more balanced with more trackers entering the market focusing only on women's.
Hopefully, with this list, you will be able to find a product that suits your needs and get the best tracker for your daily activities.