Right after Fitbit launched the Fitbit Charge 4, people start to complain that the only difference from the series Charge 2 is the GPS and some features that you don't even need.
That already the Charge 3 was an unwanted upgrade and that we are getting charged extra for just GPS.
So we put the legwork into it and we give you a full review of these 2 models. The former Best Seller Charge 2 (that was one of Fitbit's biggest Best Sellers ever) against the new and GPS ready Charge 4.
Fitbit Charge 4 vs Charge 2 Which One is the Best?
We are going to rate both trackers not only for features and functionalities but as well in terms of price and quality, so to plain it simple, the best quality for your buck.
Design and Screen
So let's start by the looks of both trackers, in the aesthetics department they look different, it's true that both are slim and have a similar display, but that's close to all that they have in common.
There's a bigger OLED display on the Charge 4 that you will not get on the Charge 2. Although it's true that with the Charge 2 you will get an OLED display as well the one in the Charge 4 is a touchscreen, while the Charge 2 only has a tap response.
With a cool aluminum frame that gives to the Charge 4 a lighter and more comfortable feel and a less-obvious inductive button than the one that comes along with the Charge 2.
The Bands that come along with both trackers are also different, the one that you will get on the Latest Charge 4 is slimmer and will give you a better comfortable feel with your skin.
The band on the Charge 4 are thinner and follow the natural angle of the wrist better.
As a last tip: have in mind that if you own bands for the Charge 2, they won't work with the Charge 4.
GPS
The Biggest Difference its Here, and that's why you should pay extra attention to this section. For us is the main reason that will give you the answer on which one is the best for you the Charge 4 or 2?
The GPS on the Charge 4 comes built-in, meaning that you can track your GPS routes and get the most accurate data just by using your watch.
The GPS for the Charge 2 it's paired with your phone GPS, that means (as you may already guest) you need to carry your phone with you to get the GPS type of data.
The GPS data is more accurate and its really a big deal when you like to track your runs, cycling hiking, and different sports that you would like to get data on your movement in a really precise way.
So that's the "big difference" the GPS, for runner or bikers is a really helpful addon, your phone is an extra weight that you don't want to carry. But if you don't care about the most accurate data or you just want to track the regular calories, steps, pace, and all the basics you are more than ok with the Biggest Fitbit's Best Seller the Charge 2.
Specs
In terms of specs the biggest difference here besides the GPS its the NFC payment that will allow you to pay using Fitbit Pay just with your watch. You can connect it with any major Card company ( Visa, American Express, Master Card, etc).
Another big difference is the SpO2 sensors that you will get only on the Charge 4. The sensors will track your blood pulse and estimate oxygen level variability in your bloodstream.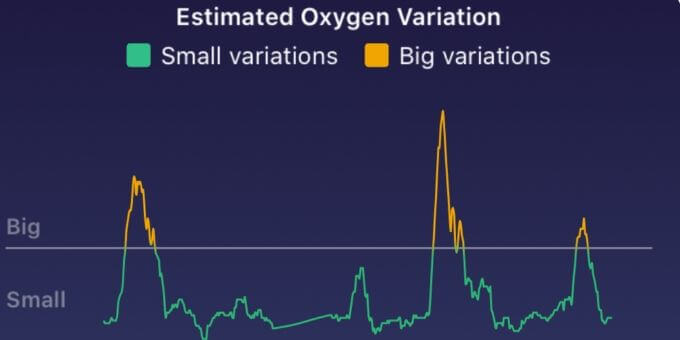 This is helpful to track your sleep and get a better understanding in cases such as sleep apnea can be a really helpful tool.
Features
When it comes to features the first to mention is waterproofness!
The Charge 2 it's only splash-proof, while the Charge 4 is Swimmproof up to 50 meters. This feature is an important one for us since, the splash-proof tag that comes with the Charge 2 is just that, splash-proof, for some sweat on your wrist, or some splash when cleaning some dishes.
But what happens if you forget it and tale a shower with it? or get into the pool with it. It's just not only good for swimmers but also for daily use. Once you want to track your whole day, week, or month having to take out your watch every time you take a shower it can also be a bit uncomfortable.
Then we have the Spotify, Active Zone Minutes and Smart Wake that come along with the Charge 4 only and some other extra features such as swim tracking, goal-based exercise, run detect with auto stop and accept or reject calls just by tapping your watch.
The Charge 2 comes with some good features as well such as Activity and sleep tracking, auto-exercise recognition, multi-sport tracking, and smartphone alerts.
Battery Life
The Battery Life its also a particular situation since they one int the Charge 2 can go up to 5 days, and the one in the Charge 4 can go for up to 7 days.
So up to there it's all good and dandy for the new Charge 4, but as we said before the most important feature here it's the Built in GPS.
And if you want it for this reason, have in mind that the juice can go up to 7 days, without using the Built-in GPS, the battery if you just use the GPS ON goes to just 5 hours!. So this is a big deal on the difference between these 2 batteries juice.
Fitbit Charge 4 vs Charge 2 Similarities
There some cool featured that we didn't mention yet but they also have in common like monitor your resting heart and heart rate zones, the pedometer features, moves reminders, the Goals settings.
They also can track all your activities, and use Pulse HR to track and record your heart rate properly.
And they also have the same type of display OLED although the Charge 2 is a tap display instead of a touchscreen, and they also both have interchangeable straps or bands like you would like to call them.
Price & Value
So there's a significant difference when it comes to price, but as you see there some extra perk that you will get for the extra price.
But is it worth it?
Depends, if you want to track your laps, runs, cycling routes, or whatever reason you need the GPS power for tracking, go with the Charge 4 no doubts is hands down the best for your money.
But if you just want a tracker that you can rely on good monitoring and great tracking for the basic, such as walk, burn calories, or tracking your sleep, the Charge 2 will give you all that and much more.
Related:
Resources: