The Fitbit Blaze watch is the company's first major attempt at making an everyday watch.
It's somewhere between a smartwatch and a fitness tracker and picks a little from both. but is it the right fitness device for you? Read on to find out.
Check Today's Price on Amazon >
The Fitbit Blaze has been offered as the ultimate "smart fitness watch". Meaning that is this the way that Fitbit introduces us with an all-in-one wearable that can provide effective health and fitness tracking, in addition to basic smartwatch functionality. It's actually a move that's been adopted by a lot of wearable manufacturers.
At first glance, the Blaze looks like a not-so-attractive cross between the Apple Watch and Fitbit Surge. However, after a few weeks of testing, we realized that there's a lot of good features on the Blaze that make it a solid (although pricey) option for casual runners and those just getting into exercising.
PROS AND CONS
Pros

(What We Like)
Animated workouts on screen

Interchangeable bands

Good fitness-tracking features

Excellent battery life

Comfortable design
Large, readable display
Good-looking accessories
Works with iPhones and Android phones.

Colour screen is a nice touch

Accurately monitors heart rate

Tracks daily step count effectively

New sleep tracker adds a useful new element

Companion app makes recorded information easy to read

Offers a ton of extras including on-watch workouts, guided breathing sessions, etc.

Low price
Cons

(What We Didn't Like)
Lack of notifications

Strange design

Unreactive display

Periodic syncing issues

Has trouble tracking steps/distance on a treadmill

No inbuilt GPS will be a pain for runners

No third-party notification support

It's wide

Limited feature set compared to other smartwatches

The display doesn't stay on

Splash-proof but not waterproof
Fitbit Blaze Watch Features

The Blaze monitors calories, distance, sleep, floors, steps, besides other workout statistics. You will find all this data in more detail in the Fitbit app, which continues to be our favorite fitness app. The Blaze also makes it simple to view basic data on its display by scrolling through its various screens: Today, Exercise, and FitStar.
The Blaze also makes it simple to view basic data on its display by scrolling through its various screens: Today, Exercise, and FitStar.
We give you detailed information on each feature so you can find out if the Blaze is the smartwatch that your wrist is looking for.
Fitbit Blaze – Design
The Blaze looks more like a smartwatch than a fitness tracker. It has a 1.2-inch, detachable 240 x 180-pixel color screen, metal frame, and rubber textured strap.
It comes with three buttons on the frame; one on the left side and two on the right side.
The Blaze comes with a modular design where the tracker portion quickly pops into and out of a frame connected to the band. The key reason for this design is to be able to quickly switch from a workout-friendly, sweat-resistant elastomer strap to a more stylish leather or stainless steel link band.
The color screen, too, is a feature that differentiates the Blaze from Fitbit's previous trackers. Past and current Fitbit wearables, such as the Surge and Charge 2, have had basic monochrome displays that have at best proven functional.
The move to color makes a big difference. Although the Blaze doesn't feature the stellar AMOLED screen tech seen on other fitness trackers the colors are suitably rich and make it easier to read the information on the watch.
This is helped further by the fact that Blaze's custom UI displays data in color-coded segments, differentiating key bits of data such as heart rate and your step count. The 240 x 180-pixel resolution also ensures that icons and text are generally sharp enough to read comfortably.
Out of the box, the Blaze comes with a blue, black, or purple elastomer strap, while the premium bands sell separately as accessories. Black, camel, or gray leather bands come with stainless steel frames for $99.95, and the stainless steel link band and silver frame cost $129.95.
Changing the bands is really simple, thanks to easy spring release buttons. But the bands themselves aren't terribly impressive. The elastomer band is less comfortable than the Fitbit Charge HR's strap due to a rougher texture that can tug on arm hair.
Features and Performance
So what does the Blaze do?
It tracks steps, calories burned, resting heart rate, stairs climbed, active time, and both sleep stages and quality of sleep. What is even better is that it has several sports modes, which will track different exercises using the built-in heart rate monitor, and act as a running watch so long as you take your smartphone along to lend its GPS.
As we said before the Blaze comes with the FitStar app that Fitbit bought in 2015, with three guided sessions that appear on the watch: warm-up/down, 7 Minute Workout and 10 Minute Abs.
While the fitness tracking features are fine for casual exercisers, we were not that impressed by the Blaze's supposed "smart" features.
The Blaze will push alerts for incoming calls and messages and upcoming events on your calendar when paired to a smartphone. You can also set it to control your phone's music player.
The Exercise screen lets you manually begin exercises, including elliptical training, bicycling, running, treadmill, and weights. You can also select other types of workouts like hiking, soccer, and tennis to appear as options using the Fitbit app.
Each workout comes with a specific real-time performance stats on the display, followed by a summary of your workout at the end but you can't open and view past workouts on the Blaze itself. To do that, you need to refer to the app
Fitbit Blaze: Heart rate monitor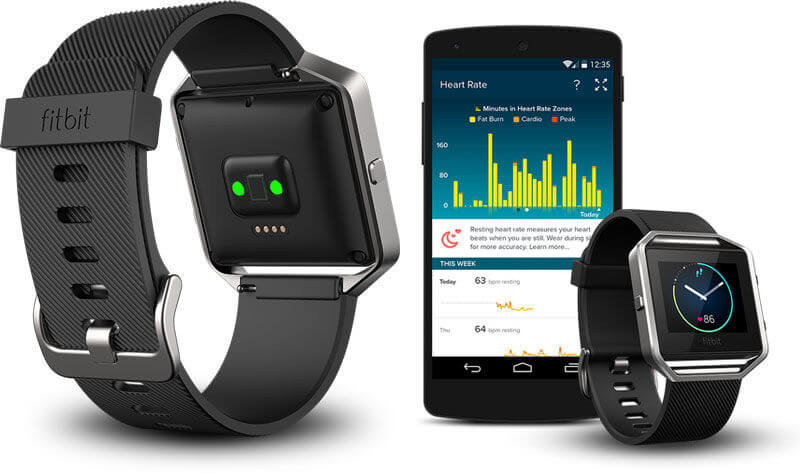 The Fitbit Blaze features the PurePulse optical heart-rate technology, which uses safe LED lights on the underside of the wristband to detect blood volume and capillary-size changes under pressure. Meaning that whenever your heart beats, your capillaries expand and contract based on blood volume changes. PurePulse LED lights on the Blaze reflect onto the skin to detect blood volume changes.
The Blaze allows you to see your heart rate right on your wrist, which is better than having to refer to the app as you have to with other trackers, and there's no need to strap on a heart monitor to your chest.
Heart rate measurement is great for the more active fitness enthusiast, as it will help you plan how to burn energy/calories quicker by maximizing training and maintain intensity during workouts. It is also helpful for everyone as a way to analyze all-day and resting heart rate trends.
The Cardio Fitness Level supplies an overview of your cardiovascular fitness. Dependent on estimated VO2 Max – calculated from your user profile, heart rate and exercise info. This allows you to observe your level of fitness and compare with others in your same gender and age, and get instruction in order to improve over time.
The 24/7 and resting heart rate tracking. It's great, and it faced a number of spot checks against our pulse when sitting down. The resting heart rate tracking (a superb measure of your improving fitness )It is also spot on, and we love the way it's tracked within the app.
The Fitbit's resting heart rate tracking is great, and its optical heart rate monitor can color your workouts and make calorific burn more accurate from your sessions. Whether it's a big gym session, weekend run or walk to the bus stop.
Fitbit Blaze – Battery life
Battery life is one area in which the Blaze definitely excels. While comparing with other color screen smartwatches and fitness trackers that struggle to offer more than two days use on a single charge.
The Fitbit Blaze is an absolute trooper by comparison. Fitbit quotes the Blaze as offering five days of battery life from a single charge.
Fitbit boasts that the Blaze has a battery life of up to five days. but in reality is going to depend a lot on how much you are using it, just like an iPhone battery may last several days if you don't actually use the thing, but start Tweeting or texting or YouTubing and the battery deplete rapidly. While the same isn't entirely true of the Blaze the same general principle holds: The more you use it, the faster it depletes.
Note: In order to recharge the Blaze, you have to pop it out of the wristband, put it inside a charging cradle and snap the cradle closed.
Bottom Line
The Fitbit Blaze is a competent fitness tracker for casual users, with a few smartwatch functions bolted on.
If you want a smartwatch, get a smartwatch. If you want a fitness tracker, get a fitness tracker. The Fitbit Blaze tries to bridge the gap between the two but doesn't quite get there.
You can't respond to notifications, there are only a few watch faces from which to choose and there are no third-party apps. In terms of price it is not the most expensive but it could be cheaper having in mind how old it is.
The Fitbit Blaze's color display and guided workouts make it a big-screen alternative to the Charge 2 that's worth considering.
CHECK BEST PRICE TODAY
Fitbit Blaze Watch
Battery

Display

Performance

Software

Design
Summary
The Blaze continues Fitbit's tradition of making quality fitness trackers. The Fitbit Blaze's color display and guided workouts make it a big-screen alternative to the Charge 2 that's worth considering. Check On Amazon–>