So, you want to buy a Fitbit. But which one fits your fitness needs, your style and budget?
Fitbit has become synonymous with fitness tracking wearables. The tracker's worlds it was dominated by Fitbit since day one so in USA Fitness Tracker we put an extra effort in our Fitbit reviews (you can also check our Fitbit Comparison).
Is true that the are many other trackers that can count your steps, keep tabs on your sleep and monitor your heart rate but there still no other smartwatch that can compete with the Fitbit brand.
Best Fitbit Reviews 2020
Fitbit is not the number one company when it comes to tracking your activities just because. It was one of the first companies that start out when the need for tracking your health and overall fitness was a necessity, and its devices have developed over the years adding new features and improving designs.
They already have a wide range of fitness trackers available, going from fitness newbies to more seasoned enthusiasts. Models include the Flex 2, Alta HR, Charge HR, Blaze, Surge and now Ionic.
With so many models available which Fitbit you should buy? That's what we cover on our Fitbit reviews where we give you the information about all the models available today (2018) the most important features as well as who will get the most out of each tracker. When considering a Fitbit, be sure to have in mind your future requirements as these might change as you become fitter and more exercise-oriented.
Which Fitbit is best for me?
If you're trying to get a new Fitbit and get lost in the sea of options we feel your pain. The line-up from the company keeps evolving and is getting quite crowded right now, making it really hard to choose between so many features and differences depending on your type of workouts.
So if you are wondering which Fitbit is the best for me? wonder no more we create the most comprehensive Fitbit review so you can understand and compare each model and find the right fitness tracker that suits your needs.
Fitbit Reviews 2020
Fitbit Charge 2 Review
Ideal for: Intermediate fitness enthusiasts looking to make improvements
The Fitbit Charge 2 is the update to Fitbit's best-selling tracker, the Fitbit Charge. But the difference between the original Charge and the new one is that the former was available in2 versions the Charge HR and standard Charge when now there's just one Charge 2. This is because the heart rate monitor now comes as standard, helping to simplify things.
But that's not the only improvement on this model, for example, the Charge 2 includes a much larger display. This allows you to get a greater information at a glance as well as basic notifications from your connected smartphone. The bands are also now interchangeable, so you can transform your tracker as you wish, depending on the occasion. Bands range from the elastomer to fancier leather options.
The charge 2 also features new data tracking with VO2 Max. The Cardio Fitness Level addition is one of our favorite new add-ons. It's a proper fitness metric that's new to the company's ecosystem, and one that we would like to see evolve over time to become even more useful.
The Charge 2 also offers a guided breathing exercise, making sure you're not inhaling too deeply or exhaling too quickly.
The last update (December last year) includes some cool features like the workout pause, viewable heart rate zones, battery indicator, new clock faces and vibration support for Fitbit's guided breathing.
Check Our Full Review of the Charge 2
Features
Heart rate
Steps
Sleep
Breathing
Multisport workout modes
Interchangeable bands
VO2 Max
ConnectedGPS (with smartphone)
SmartTrack
Larger display
Guided breathing
Cardio Fitness score
---
Fitbit Blaze Review
Ideal for: Advanced fitness enthusiasts looking for more diverse workouts
This is a hybrid fitness watch, but this time with particular emphasis on the 'watch' part of it. Since it comes with a traditional square-ish body, an interchangeable strap, and a colorful display that can feed in texts and calls like a phone. The Blaze offers heart rate data and built-in workouts all on your wrist.
This tracker packs in a heart rate monitor on its rear and Fitbit is rolling out an update that brings some of the newer Charge 2's features across, including the Breathe mode and Cardio Fitness score. The FitStar is another feature that provides recommended routines based on your activity level and delivers a library of bodyweight and cardio exercises.
This is not just a fitness tracker is also a sleep tracker, activity tracker, heart rate monitor, Smartwatch, and fashion accessory all in one.
The Blaze is extremely lightweight and comfortable. It looks very stylish on your wrist. You can style the unit even more by buying separate watch bands – leather, and metal bands are available.
The last update adds cardio fitness levels and guided breathing features the same that comes with the Charge 2 to make the Blaze a more feature-packed option. It also comes with the Sleep Stages that can tracks how long you spend in light, deep and REM sleep.
Check Our Full Review of the Blaze
Features
Heart rate
Breathe mode and Cardio Fitness
Guided workouts
Exercise tracking modes
Integrated FitStar
Notifications
Steps
Sleep Stages
Connected GPS
Interchangeable bands
---
Fitbit Alta HR Review

Ideal for: Fashion conscious exercisers who want smartphone notifications
Just like the Flex 2, the Alta HR covers perfectly all the basics in terms of activity and fitness tracking. The Alta HR is an updated version of the Alta, which includes a heart rate monitor without sacrificing its slim shape (interchangeable strap with leather options, and stainless steel body)
Unlike the Flex 2, it comes with an OLED screen, so you can check your vital statistics and data directly from your wrist together with some basic smartphone notifications.
The coolest additions from the Alta HR are the new Sleep Stages and Sleep Insights. These use the heart rate monitor and accelerometer data to track your sleep in a perfect way, including data on how much time you spend in each sleep phase. 

Beside all these improvements, the Alta HR is still trying to keep things simple. There's no workout recording, VO2 Max tracking, ConnectedGPS or surprisingly, guided breathing. But it still has the SmartTrack feature so if you want to take it for a run, it'll pick it up automatically. And of course, it has that tiny Alta display that shows your incoming calls, SMS notifications and calendar updates.
The Alta HR is Fitbit's most stylish tracker, and the variety of third-party bands and straps makes it extremely customizable. It's not for serious athletes, but instead for those who would like to keep track of their health, fitness, and wellbeing without all the complicated stats.
Check Our Full Review of the Alta HR
Features
Heart rate monitor
Steps
Optical heart rate
Smartphone notifications
Sleep tracking
Sleep Stages and Sleep Insights
Screen and notifications
SmartTrack automatic exercise detection
Swappable bands
Interchangeable bands
---
Fitbit Surge Review
Ideal for: Serious advanced runners who need GPS tracking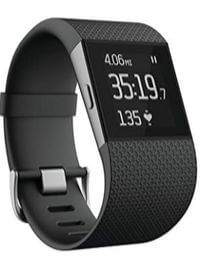 Fitbit named the Surge, as a "super fitness watch." Unfortunately, that doesn't mean that you are going to become super fit just by using it – you'll still need to put yourself to workout.
The Fitbit Surge comes with most of the features that the other Fitbit tracker have including all-day activity, automatic exercise tracking, sleep tracking, and up to 7 battery life. But the real addition, which will make it appeal to more hardened runners and cyclists, is the GPS.
The style is quite beefy in terms of its size, which make it look more like a watch than any other smartwatches out there. Never less it does have fitness-friendly qualities like a rubber and adjustable strap which is available in different colors and sizes and is really comfortable.
The touch-sensitive display screen is great. However, this model comes with a monochrome screen with backlighting. It is still very visible outdoors, though. Buttons are on the side of the gadget. A single button on the left allows you to scroll through all the different modes. On the right, there are 2 buttons that allow you to perform specific functions with the interface.
The Surge has the capability to track distance and pace in a precise way, giving you more biometric detail, as well as the ability to map out your route without having to have your cell phone. If you're building up to a marathon pace or looking to run your fastest 10K, accurate distance and pace recordings will be vital alongside the heart rate data to monitor your fitness and effort.
Check Our Full Review of the Surge
Features
Get continuous, automatic, wrist-based heart rate and simplified heart rate zones
Track workouts; view workout summaries; plus all day activities including steps, distance, calories burned, floors climbed and active minutes
Monitor your sleep automatically and wake with a silent alarm
See call and text notifications on the touchscreen display
Sync stats wirelessly and automatically to your computer and over 150 leading smartphones
Heart rate monitor
Built-in GPS
7-day battery life
---
Fitbit Charge HR Review
Ideal for: Advanced trainers that need to check they Heart Rate meticulously
The Charge HR has become the most popular smartwatch out there. Is an activity and sleep tracker as well an all day heart rate monitor. Created to perform 2 things Catalog your daily activity markers and motivate you to workout more.
This model is not water-proof, so you can't swim with it or even take a shower. It is sleek and stylish and comes in a variety of sizes and color profiles. It is so comfortable that you may well forget that you are wearing it. Features an efficient monochrome LED screen. You can double tap on the face of the unit to illuminate the display. You can also use the wrist turnover feature to illuminate the display.
The Charge HR is really easy to use. Comes with just 1 button to control all the functions. Bluetooth is built in to wirelessly and automatically sync your data to your technology. It also has Android,  iOS, and Windows compatibility and it will give you access to your cell phone calls.
This fitness tracker has the ability to track your steps, calories burned, floors climbed, distance traveled, active minutes,  as well sleep and heart rate. The default goal is steps, but this can be changed to focus on any of the other metrics. There are no move reminders on this device.
The Charge HR works in conjunction with the Fitbit Aria scale. This allows you to track your weight, body mass index, lean mass, and body fat percentage. It displays weight statistics and progress trends in easy to read charts and graphs. The statistics are synced wirelessly to your fitness trackers and your Fitbit app.
Check Our Full Review of the Charge HR
Features
Automatically and wirelessly syncs to tablets, computers and 150+ leading iOS, Android and Windows smartphones using Bluetooth 4.0.
Water Resistance: Charge HR is sweat, rain and splash proof.
PurePulse Heart Rate
Activity Tracking.
Auto Sleep + Silent Alarm
Exercise Tracking.
Caller ID.
OLED Display.
Charge time: One to two hours.
Syncs with Windows Vista and later, Mac OS X 10.6 and up, iPhone 4S and later, iPad 3 gen. and later, and leading Android and Windows devices.
---
Fitbit Flex 2 Review
Ideal for: Fashion-conscious exercisers with Waterproof needs  
The Fitbit Flex 2 improves over the original Fitbit Flex with a far
slicker design. The tracker itself is smaller and you can customize it with interchangeable bands and accessories. You can even wear the Fitbit Flex 2 as a pendant through an optional necklace accessory.
In terms of tracking the Flex 2 covers the bases; monitoring steps, calories, active minutes, hourly activity and sleep. You also get the benefit of Fitbit's SmartTrack tech to automatically recognize and track workouts, including walking, running, cycling and aerobic workouts.
The most amazing addition is the water resistance to 50m, which was the first for Fitbit (now they also have the Ionic). You can use the Flex 2 while swimming and built-in lap counting are included. It also has automatic exercise recognition, too. You can expect up to 5 days of battery life, which is great.
The Flex 2 is 30% smaller than the original, but the real story is that this is the wearable tech heavyweight's first swim-proof tracker. With its new water-resistant design, you get swim tracking features, letting you automatically track pool sessions and delivering metrics on laps, duration and calories burned.
Check Our Full Review of the Flex 2
Features
Interchangeable bands
Optional pendant accessory
Water-resistant to 50m
Lap counting
Track steps, distance, calories burned and active minutes
Ultra-thin, removable tracker hides in bands, pendants, and bangles
SmartTrack automatically recognizes select workouts and records them to your Fitbit app
Get call and text notifications on your wrist with unique vibration patterns and color-coded LED lights
Track sleep and set a silent alarm to wake with a small vibration
LED display lights up to show progress toward your daily goal
---
Fitbit Flex Review
Ideal for: Intermediate fitness enthusiasts looking to make improvements
The Fitbit Flex has a simple and minimalistic design. At its core is a rubberized band. However, the heart of the unit is the small module inside of the band.
This device is easily removable and is about the size of a small USB stick. Inside this device are all the components that run the Fitbit Flex.
The Flex has 5 LED lights on the front, an internal battery, and a proprietary charging port on one end. This tracker will measure your steps taken, calories burned, distance traveled and even your sleep quality.
The battery life is about seven days, with the device taking 1-2 hours to charge. To charge the Flex you have to plug it into a proprietary charger. There is no button to push with this device. Rather, you tap the screen below the LED display to move between functions.
The Flex gathers all of the necessary data. To view it, it is synced to your computer or mobile app.
The Fitbit Flex is water resistant, rather than waterproof. That means that it will be ok in the rain or occasionally in the shower. However, you wouldn't want to go swimming with the Flex on your wrist.
Check Our Full Review of the Flex
Features
One syncs automatically and wirelessly to tablets, computers and 150+ leading iOS, Android and Windows smartphones using Bluetooth 4.0 wireless technology.
Water Resistance: Charge has been tested up to 1 ATM meaning it is sweat, rain and splash proof.
Charge time: One to two hours.
Battery life: up to 7 – 10 days.
Battery type: Lithium-polymer
Syncs with Windows Vista and later, Mac OS X 10.6 and up, iPhone 4S and later, iPad 3 gen.
Tracks steps, distance, calories burned and active minutes
Monitor how long and well you sleep
LED lights show how your day is stacking up against your goal.
---
Fitbit One Review
Ideal for: Being active, sleeping well, and eating smarter
The Fitbit One is a small and compact device that comes in a silicone case. The tracker has a similar size of a USB stick. It's design is sleek and stylish. It comes with a USB dongle that allows you to charge the tracker in your computer.
The One comes with a good battery charge (up to 14 days). The sleep tracker, which you operate by wearing the device inside of the armband sleeve at night, will tell you how many times you woke during the night, and will assess the quality of your sleep.
The Fitbit One also comes with a velcro band to allow you to wear the tracker on your wrist. This allows you to wear it at night in order to track your sleep.
The tracker also comes with a small black receiver which you plug into a USB port on your computer. This acts as a receiver to allow you to sync the data from the tracker to your computer.
The Fitbit One will display the times, steps, floors climbed, distance traveled and calories consumed. This unit is easy to use and compact. It can easily fit into your pocket. Your data can be accessed through various means, including an app which you can download to your iPhone. It connects to your computer via Bluetooth. It also connects to the MyFitnessPal app.
As well as recording your data, the Fitbit One gives some impressive analysis. For example, it will analyze when you are most active during the day. It will then present the information in chart or graph form to give a visual representation of your physical day.
Overall, the Fitbit One is a highly functional compact fitness tracker that offers a full range of capability at a very competitive price point.
Check Our Full Review of the One
Features
Tracks steps, distance, calories burned and stairs climbed
Monitor how long and how well you sleep
Wakes you (and not your partner) with a silent alarm
Syncs automatically with your computer or select smartphones and tablets via Bluetooth 4.0
Set goals, view progress and earn badges
---
Fitbit Zip Review
Ideal for: Intermediate fitness enthusiasts looking have a long last battery
The Zip is a clip-on as opposed to a wrist-worn activity tracker. The package comes with the actual FitBit Zip device, a clip-on carry case, and a small black receiver, similar to the Fitbit One. This is to sync the device with your computer.
The Zip has a Bluetooth functionality that allows you to connect it to your SmartPhone. You simply tap the device once the app is open to synchronize between the tracker and SmartPhone.
The device will tell you how many steps you have walked, how many miles you have covered, the number of active minutes, and how many calories you have burned.
The battery should last about six months. However, it is not a rechargeable battery and you will have to purchase a new one when the current one runs dies.
So what do you get? As with the rest, the Zip will track your steps, calories, and distance as well as telling you your active minutes for the day. There's no sleep tracking and no altimeter to record elevation. There is a clock function on the small display, and it also wirelessly syncs to your phone and comes in some funky colors.
Sweat, rain, and splash proof with a whopping six-month battery life, the Fitbit Zip is well worth a look although it's got some competition from the Misfit Flash, the Jawbone UP Move and the Withings Go.
Check Our Full Review of the Zip
Features
6-month battery life
Clip-on
Tracks steps, distance, and calories burned
Syncs automatically with your computer or select Bluetooth 4.0 smartphones or tablets
Set goals, view progress and earn badges. Battery type: 3v coin battery
Share and compete with friends throughout the day
---
Fitbit Ionic Review
Ideal for: Advanced runners wanting a smartwatch experience  
The Ionic is the newest Swim proof tracker from Fitbit, comes w
ith all the usual frivolities in the exercise tracking department, so expect your steps and calories to be counted alongside the option to make use of the altimeter, accelerometer, compass, GPS and heart rate monitor for more rigorous activity.
While the Fitbit Ionic is considered Fitbit's first truly 100% smartwatch, the reality is at launch it's a little lacking on the smartwatch smarts capabilities.
We are not saying here that is not the Fitbit's most advanced tracker yet, or that it won't improve over time, however, we expect more apps to become available in the near future.
But even today, the exercise and activity tracking is still the best you will get from any other Fitbit tracker. It also features a gorgeous and crisp display, unlike anything is ever seen on a previous device from the Fitbit family.
As you can expect from a high-end tracker features a built-in GPS, onboard storage for your music and also contactless payments so you can leave your phone at home when you workout. You also have the ability to get all your phone notifications delivered straight to your wrist for greater convenience.
For those looking for a more structured workout, the Coach app is also available to provide you with plans for varying difficulties and durations during your exercises.
Have in mind that it's not just activity Fitbit is helping you with here, though, with its sleep technology, 4-day battery lifespan, and the new Fitbit Pay also starring on the device.
The futuristic design could be a tricky point for some folks, but this is a sporty smartwatch that represents the best of what the company has to offer. Unfortunately, there are some features that are set to arrive after its launch in October, as well as the introduction of a more fleshed out Fitbit app store, but without a doubt, this is a more than a solid overall smartwatch package.
Check Our Full Review of the Ionic
Features
Swim-proof
Built-in GPS
Heart rate
SmartTrack
Sleep
Coaching and guided workouts
Fitbit Pay
Notifications
App store
Heart rate monitor
Onboard music storage
---
What is a Fitbit?
A Fitbit is an activity tracker. Some of them can be worn on the wrist, while others attach to your belt or sit in your pocket. The wrist trackers look like a wristwatch and, indeed, many brands do display the time. However, the key functions of the device are to record and display measures of the user's . . .
Distance traveled in steps

Calorie consumption

Heartbeat

Sleep activity

Steps Climbed
Fitness Trackers are remotely connected to an App which provides for detailed analysis of the collected health and fitness data. There is also social media connectivity, which provides challenges and competition with friends.
Fitbit History
Fitbit is the brainchild of a couple of ordinary guys, James Park and Eric Friedman, who back in 2007, was overwhelmed by the advances in wireless and sensor technology. They were among the first to connect these innovations with the world of health and fitness. As a result, they set about creating a portable product that would transform the way people moved and exercised.
Six months later, the brand was born. The first prototype was shown at "TechCrunch 50" on September 9th, 2008. The reaction was overwhelmingly positive with reviewers impressed by the device's wearability, price and lack of subscription requirement.
The first device was designed to be clipped onto clothing. It tracked steps taken, calories burned, distance traveled, and sleep. In 2011, a new version of the device, the Fitbit Ultra was released onto the market. It featured the following extra features . . .
An altimeter to allow measurement of floors climbed

A digital clock

A stopwatch

Different color options
Powered by a lithium polymer battery, the Ultra was still a clip-on device. The shape of the tracker had to narrow towards the top, which proved to create problems with the plastic shell. The attachment process created tension which caused cracking of the plastic at this weak end of the device.
New versions of the brand over the next couple of years brought such advances as a better digital display, a wireless sync dongle and Bluetooth 4 technology with the Fitbit One. The Fitbit Zip, which is a mini tracker, incorporated the first disposable battery on an activity tracker.
Its first wrist-worn activity tracker appeared in 2013; the Fitbit Flex. The Flex remains the most water resistant of all the Fitbit trackers.
Is Fitbit the Best Fitness Tracker?
There are a number of very high-quality fitness tracker companies in the marketplace including Garmin, Jawbone, Misfit. So, what is it that makes FitBit stand out?
The brand was the original Fitness Tracker innovators. Since 2007, they have remained the leaders in tracker innovation. They were the first to introduce automatic wireless synchronization, the first to provide an open API, the most advanced GPS sensor, the lightest and most stylish devices. Fitbit trackers also have the longest battery life of any devices in the market.
In a recent survey that focused on inaccuracies among popular fitness trackers, its products had the lowest inaccuracy rates of any brands tested.
They also allow for advanced social connectivity. You are able to easily plug into your social media support group for the support and encouragement that can make all the difference.
Fitbit fitness trackers are easy to wear and they look really stylish on your wrist. The apps that support the Fitbit are solid, reliable and feature packed. In addition, they offer price points that will cater to every need.
With all of these factors in mind, it is our humble opinion that, yes, indeed, these devices provide the best quality, style, and price of fitness tracker devices on the market today.
Wich Fitbit Monitor Heart Rate?
Not all the Fitbit tracker can monitor heart rate. If you are wanting to monitor your heart rate, you are going to need one of the following :
Fitbit Charge HR

Fitbit Blaze

Fitbit Surge

Fitbit Alta HR
Which Fitbit is waterproof?
How waterproof are the Fitbit trackers? Can you use your Fitbit in the shower, or swimming pool? What happens if the tracker gets wet, and how do you dry it?
Fitness trackers are great for walking, running, and a wide range of sports, but swimming is not one of them for most trackers. 
While there are fitness trackers that are waterproof – take a bow the Misfit Shine and Flash, plus Garmin Vivofit and VivoSmart, plus the Basic Peak, and Tom-Tom Multi Sports GPS Watch – others can take a dive… or rather they can't take a dive.  
Fitbit has now two waterproof trackers, the Flex 2 and the Ionic Both are swim proof up to 50 meters in depth, the equivalent of five Atmospheres (or 5 ATM). The Fitbit Surge is also rated as 5 ATM but Fitbit is adamant that it is not waterproof like the Flex 2.
Fitbit Flex 2 – click here to view today's best prices on Amazon.
Fitbit Ionic – click here to view today's best prices on Amazon.
Fitbit advice always to don't go swimming with your tracker on your wrist, which has been tested up to 1 ATM which means that is sweat, rain and splash proof.
You can check Our Full review also: Best Waterproof Fitbit in 2019
The company says that, except for the Flex 2, and now the Ionic all the other trackers are not swim-proof, and also recommends taking it off before taking a shower "because, as with any wearable device, it's best for your skin if the band stays dry and clean."
The Fitbits trackers are not going to stop working just by a splash, and originally the company was ok if you use it in the shower: "It should be able to brave all the elements of your everyday life ­– whether you're in the shower or out in the rain," they said about the Flex on its launch.
However Fitbit now always advise about not taking a shower with their trackers, even washing the dishes is not recommended.
The Charge 2, HR and Blaze wristbands are rated as 1 ATM (or atmosphere), meaning they should be able to be submerged in water up to 10 meters in depth. The Fitbit Surge is rated at 5 ATM, so it theoretically can be submerged to 50m depths, but again Fitbit says you shouldn't swim or even shower in it.
So what this means?
We believe that Fitbit recommends taking its trackers off before even a shower because it's worried about possible skin complaints if the wet rubber has a long contact with the skin – and not that it will break the tracker itself.
The company had problems with its short-lived Force trackers due to allergic reactions to the band from some users and had to withdraw the product after just a few months. It does not want another scandal like that, so it's playing safe – and so you probably should too.
Fitbit is always careful to point out possible skin problems instead of damaged trackers: "It's not good to keep a wet band on your skin for long periods of time. Be sure your skin is dry before you put your band back on."
So a Fitbit can probably handle a relatively deep dive, but the company won't guarantee it will keep working afterward.
What happens when a Fitbit gets wet?
When we tested out we had no problems swimming with the original Flex, apart from the eventual rubber degradation mentioned above. We also test the Charge Hr on a Pool (for 30 seconds) and worked fine
On the DC Rainmaker blog, the triathlete and blogger reported no problems after 3 months after swimming with his Fitbit Surge and tested its water resistance scientifically. Read his Surge waterproof results here.
So we would expect, but not guarantee, that a Fitbit tracker should be able to survive a shower or dip in the pool, but we wouldn't recommend it if Fitbit says not to. Also, as the trackers won't register your swimming efforts there's little point taking it in the pool unless you don't want to waste your step count to and from the changing room.
Prolonged wetness – such as leaving your Fitbit in a washing machine – might well lead to damage; see Fitbit's drying tips below.
Drying out a wet Fitbit
Fitbit advises that in case that the One or Zip clip-on trackers get wet you should cover it in uncooked rice for 24 hs to extract the moisture from inside the device. We presume you should do the same if any of the other Fitbits gets drowned since we also test it on phones and has the same effect.
First off, get that Fitbit out of the water as fast as is possible and dry with a towel, or anything dry that will soak up as much of the dampness as it is possible. Fitbit says: "If your band gets wet – like after sweating or showering – rinse and dry it thoroughly before putting it back on your wrist."
We're not sure that rinsing is the best advise having in mind that you want to dry the gadget. We are sure this talks about an overly sweaty rather than just a wet tracker.
We don't recommend you stick the tracker under a hairdryer if it's set on hot. Try the rice trick for at least 24 hours.
And try to get rid of the moisture before connecting it to a power source for charging. If you charge a wet device can do more harm than good.
Which is the Best Fitbit to Buy?
The range of Fitbit trackers is wide, between prices and user needs that go from the budget Fitbit Flex 2, right up to the premium Ionic.
The budget model used to be the Fitbit Zip, but now the Flex 2 just become the most affordable of the Fitbit family that not only measures your steps, estimates your calories and distance traveled but is also swim-proof, so for all those reasons we think the Flex 2 takes the advantage on today's market.
Fitbit Reviewed
The Fitbit One used to be $30 more expensive than the Zip but today is around $150 dollars more so if you want a Fitbit that you can attach to your clothes now the Zip is a better option and comes in 4 different colors. Measuring your steps, calories, and distance, it has a clock on it. 
As we said before the Fitbit Flex 2 is now the cheapest wristband that Fitbit produce. It comes in a range of different colors. It doesn't really have a display. It simply has several different LEDs that show you your progress throughout the day. It doesn't have a clock, However, it will track your sleep.
The Fitbit Charge and the Charge HR look exactly the same. The difference with the Charge HR is that it has a more traditional watch-style buckle, whereas the Fitbit Charge has a clasp with a plastic popper which holds it in place. Unlike the Charge HR, the Charge doesn't have a heart rate monitor. In every other respect, however, it is the same.
The Fitbit Charge HR is about $40 more than the Charge.
The Alta 2 is the replacement for the Alta. The screen big. It works by tapping as opposed to pushing a button. The Alta 2 costs the same amount as the Alta Hr. A big difference is the heart rate tracking. This allows you to measure calorie burn, and use zones (Fat Burn, Cardio, and Peak) to find the right workout intensity for your goals.
The Fitbit Blaze is the first color screen tracker that Fitbit has released. It is cheaper than the Surge but doesn't have a GPS. The tracker has a touchscreen, so you can swipe between screens. It will connect to your phone in order to use its GPS. Apart from not having built-in GPS, the Blaze does everything else that the Surge will do. So, as long as you are happy to take your phone with you, you can have the same capability as the Fitbit Surge for about $50 less.
The Surge is the brand's flagship tracker. It is being promoted as a super fitness watch rather than a Smartwatch. Unlike the Blaze, it doesn't have a color screen. When you select an activity, the GPS is switched on. This means that the GPS is not constantly on, which saves battery life.
With all of those trackers, you get to use the same app. Depending on the device that you've got, you'll get a different number of readouts. Virtually all of the trackers will monitor your sleep. Some will not measure floors climbed because they don't have an altimeter. They all do active minutes and steps and they all estimate calories burned.
The Fitbit App
The Sleep mode is a favorite function of many people. It will tell you how many hours and minutes of sleep you got in the night, how many times you woke up and how long you were restless for. The way that this is calculated is that the Fitbit App takes the time that you went to bed and woke up. It tells you how long it took you to fall asleep. The minutes that you are awake and restless are subtracted from the time that you are in bed. The bar graph will show you the times you woke up and the times you were restless. You can toggle the bar graph to provide either the asleep view or the awake view.
So, how accurate is Fitbit sleep tracking?
Under advanced settings, you'll see an option called 'sleep sensitivity'. By clicking it, you'll find two options:
You may find that sensitive will pick up things that will skew the accuracy of the data, such as your cat walking on you as you sleep! It will pay to have this set to normal.
You are able to manually log your food and water intake as well as your weight. You can either scan your food or manually enter it. If you are on a weight goal, it will also calculate, from your food inputs, how many calories you have available to eat throughout the remainder of the day.
If you choose a weight loss goal, you can enter how much weight you would like to lose. At the bottom of the dashboard, you'll find challenges. These are little goals that you can set for yourself. You can also send stickers and challenges to friends.
By clicking on the account icon at the bottom of the dashboard you are able to set up your goals. You can choose how much activity, sleep, and calories you wish to consume in a day.
The Fitbit app is a very user-friendly, basic application that allows you to generate a wealth of information from your fitness tracker. This can provide you with the motivation to reach out and achieve your fitness goals in a healthy, self-competitive way.
Are Fitbit's Worth It?
It will depend on what you want it for? If you are after a device that will precisely and accurately monitor your heart rate steps and mileage, you will probably be disappointed. Earlier this year, the brand faced a lawsuit by disgruntled buyers who were dismayed to find their heart rate readings were wildly inaccurate. Steps taken will also be off by a percentage.
If, however, you are after a device that will provide you with a baseline from which to build, you're in luck. The real point of the device is not the accuracy but the motivational factor that you receive when you get your data. Tomorrow you'll want to do more than you did today, and you'll be able to monitor your progress toward that accomplishment.
The bottom line is, if you are an internal motivator with a high exercise drive, you probably don't need the extra motivational boost that such a device will give you. But, if you're among the vast majority who find it hard to build up the enthusiasm to exercise, then a Fitbit may be just the thing you need to help get you to your fitness goals. Check out this guide to help you find out more.
Related:
Resources: