We give you a list of the most affordable Fitbits in 2018, depending on your needs from fitness, style, and features from the Best Fitbit models.
Cheap Fitbit 2018
Fitbits are the Best fitness trackers in the market, improving year after year and bringing new models with the latest technology when it comes to fitness tracking. But the most high-end trackers can be costly, so we do the legwork and find the Cheapest Fitbit on the market in 2018, we check for the best deals as well so you can get the most affordable tracker of the week.
We do weekly updates to this page so be sure that these prices are the best that you are going to find online.
So without further ado, these are the best Fitbit for the Best Price:
Cheap Fitbit with a band
For those people looking for a reliable Fitbit that also can be strapped on your wrist, and don't mind about not having a screen to check stats, the Flex is the best option on today's market at just $59.95 you won't find a better deal.
The Flex is available in 10 different colors: black, gray, blue, lime green, blue, pink, hot pink, orange, pale green and red. Additionally, you can remove the tracker and accessorize it for a different look.
This is a really Flexible tracker when it comes to customization and is also literally flexible, and having in mind that can tracks steps, distance, calories burned and active minutes is a great deal for less than $60. It can also monitor your sleep. The biggest downside is the lack of screen, instead, you will get a LEDs light that will flash depending on your goals and stats.
But Here is something to have in mind, FOR NOW, the Fitbit Flex 2 has a discount of 45%. So you can get the updated version of the Flex that is also waterproof up to 50 meters, so you can swim shower and even dive with this tracker and is even a cheaper option than the regular Flex at just $54.99!
Have in mind that this is a limited offer so get it before is gone!
Cheap Fitbit without a band
For those that prefer to not be wearing a tracker on their wrist, the Zip is the most affordable option. You can get it for just $59.95 (shipping can take a few days) from Fitbit or $89.99 on Amazon.
The Cool thing about the Zip is that the Battery life can go up to 6 months without need of a change and the replacement.
On Fitbit you can only get the charcoal model if you would like more option colors you can go to Amazon where you will also find Zip trackers on lime green, blue, and hot pink as well the charcoal model.
The Zip can be easily attached to your cloth or your belt by using the clips that come on the back of the body, or you can use it on a pocket or a backpack. Is really small so you can even carry the tracker on your hand while you're walking.
You can tap the display and will give you useful information such as you statistics for the day, as well the time. It has a smiley face that will be happy if you achieve your goals or we take out his tongue in case that is mad at you.
The Zip can track your steps, distance, calories burned, and active minutes.
However, it can not track your sleep so if this is a feature that you would like to have is better to go with a different model.
Cheap Fitbit with a Screen
With a cool OLED screen, the Alta can at a glance shows your daily stats and the time. By just taping the screen you can cycle through your stats.
This model can track your sleep as well as your steps, distance, calories burned and active minutes, and get credit for your workouts with SmartTrack automatic exercise recognition.
It has also a silent alarm that will vibrate to wake you up.
When it comes to notifications the Alta can show you calls with caller ID, text messages and calendar alerts. Is available in 4 different colors: Blue, Light Blue, Black, and Purple and you can buy a variety of interchangeable bands to get a different look for any occasion.
Just like the latest models the Alta can recognize and record your exercises. Meaning that if you are working out and do 4 sets of 8 repetitions the tracker will recognize when you pause between sets. So you can keep exercising without the need of pausing the tracker to get the most accurate data.
With a Battery Life that can go for up to 5 days, the Alta is our number one with a screen cheapest Fitbit on today's market.
Cheap Fitbit with a Heart Rate monitor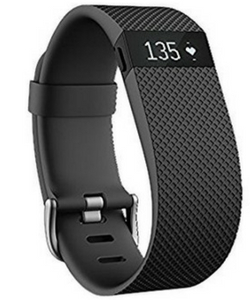 Similar to the Alta, the Charge HR comes with an OLED screen but smaller compared with the previous model, although can show your stats and notification just like the Alta.
Is true that the screen is smaller and the reality is that the price is the same on paper, but with the Alta, we found a deal because we do already the legwork to go through all the available offers on Amazon and Fitbit.
But here is the biggest difference the Charge HR can track your heart rate!. Using the latest technology called PurePulse you will get continuous and automatic heart rate monitoring and you can check your heart zones stats.
It can also track your sleep and has a battery life of 5 days and can be fully charged in just 2 hours.
Its available in 6 different colors: black, pink, blue, plum, tangerine and teal.
Just like the other models you can get customizable bands that you can buy to get more options.
It comes in four colors: black, gray, blue, and red, and like the Flex, is customizable with different accessory wristbands — though you'll have to purchase those separately, of course.
Other neat features the Charge has included the ability to set alarms and an additional tracking metric: floors climbed. This is particularly useful if you climb a lot of stairs every day.
Cheap Fitbit Smartwatch
In 2017 Fitbit launch his first Smartwatch the Ionic, that impressed the market with amazing smart features such as the ability to pay from your wrist and the latest fitness tracking functions that could change the entire game when it comes to improving your fitness level even for professional athletes.
But the market didn't love the Ionic since the square design wasn't or everybody, and the price was high for the Fitbit line up, although for a Smartwatch the Ionic was cheaper than the well-known smartwatches such as the Apple Watch.
So for those that didn't like the design or price from the Ionic, the Versa appear to the market to show them how versatile the Fitbit company can be.
With almost all the same features that the Ionic except the built-in GPS, but comes with a new added feature that is the first that is included on any smartwatch and is the female health tracking that can keep an eye on women's cycle and understand data to give you information on when your body is prone to get a headache or different symptoms, and of course dates for when the cycle is going to occur each month.
Another cool feature besides the Fitbit Pay is the Fitbit coach app that will give you personalized data and routines for you to workout and improve your fitness levels.
The Versa is still costly but is $100 less than the Ionic at $199.95. So for an incredible performer when it comes to fitness and health tracking that can also perform smart features the Versa is today not only the cheapest Fitbit smartwatch but also the cheapest smartwatch on today's market!
Cheap Fitbit for Swimming
The Flex 2 is the best choice when it comes to getting underwater, you can submerge this flexible tracker up to 50 meters (5atm) with no problem and it can also track your steps, calories, active minutes and distance.
Another cool addition is that can automatically track workouts such as runs, aerobic and elliptical sessions, thanks to the cool SmartTrack feature.
The listed price is $99.95 but this week is available for just $54.99 so there's no better deal on a Fitbit for swimming having in mind that the only other Fitbits that can be submerged on the pool are the newest smartwatches Ionic and Versa and they cost at least 4 x more!
You can also get notification on your writs such as calls and messages, but the downside is that the tracker doesn't have a screen so you will only get Led notifications and is not the best way to receive notification or even stats, the only way that you can check your fitness data is by using the Fitbit App.
So when it comes to the cheapest Fitbit for swimming there's no better than the Flex 2
What is the cheapest Fitbit?
For now, the cheapest Fitbit is the Flex 2 that not only is on sale but offers a good deal when it comes to features, having in mind that can track your exercises, help you improve your fitness levels and can also track your swimming workouts.
We will keep you updated in case that some other Fitbit has the advantage when it comes to the most affordable Fitbit to buy in 2018