Fitbit is well known as the number one fitness tracker company and with his Fitbit Ionic model was ready to take over the Smartwatch world as well.
With a clear focus on health and fitness, the Ionic sticks to what Fitbit does best but takes things to a new level with onboard music, built-in GPS, contactless payments and more.
If you want to learn more about the other Fitbit models and check how the Ionic compares check our Fitbit comparison, which includes a comparison table so you can learn which one suits you the best.
Check Today's price on Amazon >
When it comes to features the Ionic has no competition, with all the newest and high-end features that can come together in a smartwatch. Including on-screen workouts via the Fitbit Coach trainer, heart-rate monitor, built-in GPS, water-proof up to 50m, music playback support, it has a bright, colorful OLED display and even built-in NFC for making contactless payments.
Fitbit Ionic Release Date
The Ionic was first released at the end of September 2017, as an upgrade from the Surge and Blaze models, although in the looks department is more similar to the Blaze.
Similar to the Surge are is core features like built-in GPS, the GLONASS system that uses global satellites to provide you the best accuracy when tracking and recording your workouts, the antenna is integrated inside the tracker case giving you the most powerful connection.
The Ionic also features SmartTrack, which will auto-recognizes your activity and record it on the Fitbit app.
In December the Ionic had a software updated to include support for extra payment options on the Fitbit Pay like NFC payments and a variety of first and third-party watch faces.
The eccentric third-party faces are pretty similar at the ones that used to come with the Pebble watch faces, which makes a lot of sense having in mind that Fitbit acquire the Pebble company on December 2016 and took out part of their staff.
Fitbit Ionic Price
The Ionic is Fitbit's most fully-featured watch to date, but it's also the company's most expensive at $249.95.The Adidas Edition costs the same in most countries, but is more expensive in the US, at $299.95.
We've seen the price drop during black Friday or sporadic deals such as Prime day when the price drops $80 off.
Check Today's price on Amazon >
For those looking to get a hybrid tracker but with 65% of fitness tracker more than a smartwatch, the Fitbit Ionic it can be a great buy having in mind that you also are getting into the Fitbit world with a big ecosystem of challenges and health guidance that fitness fans are so into it.
Fitbit Ionic Design and Screen
In a market surrounded by circular smartwatches, the new Fitbit Ionic stands out with its Square shape. It's a smartwatch that looks far better in the flesh than in pics, with many detractors softening on seeing it.
A great point about the Ionic his lightweight, when you see the tracker looks a little bulky but don't let that fool you the tracker weight 1.76 oz (48 grams). Another cool thing is how comfortable the tracker is to wear, even when on your wrist in bed or during exercise. By having slightly tapered sides the contact with your wrist is going to be minimal making it perfect to wear.
It's available in 3 colors: Silver Grey body with Classic Blue Grey band; Smoke Grey body with Classic Charcoal band; and Burnt Orange body with Classic Slate Blue band. The Adidas Edition features a sports band in Ink Blue and Ice Gray with a Silver Gray aluminum case.
On the top of the Ionic, there's a convex Gorilla Glass 3 touchscreen that looks amazing. The regular version will come int the box with 2 textured rubber wristband, one small and one large, but you can swap this out for the optional, $59.95 leather wristband or the two-tone $29.95 rubber sports band if you would like to change the look of your Ionic. The bands come with a quick-release feature that will allow you to swap out the straps with ease
A big number of features are accessed via the touchscreen display, but the Ionic also comes with 3 textured buttons on the sides of the watch, one on the left that can start and put off the screen and also serves as a back button, and 2 context-sensitive function buttons on the right edge.
We found the buttons worked for making the UI simple, plus it's a touchscreen, so you can cycle through the apps by swiping.
The display is one of the sharpest and brightest we have ever tested on a smartwatch with a 348 x 250 resolution across its 1.42-inch screen. It has a top brightness of 1000 nits, which is as bright as an HDR TV. Even under the toughest of bright outdoor conditions, you are going to be able to check your stats, the tracker also comes with sensible auto-brightness adjustments.
It's a good fit for everyday use too, being comfortable to wear at a keyboard, which should encourage you to wear it all day to ensure the most accurate readings possible.
It's waterproof, so you can take this in the shower or even go swimming with it – more on that in the features section.
The body of the Ionic is made of aluminum and is one of the most fashionable and cool looking designs from the Fitbit family till now
The Fitbit Ionic definitely looks and feels sporty, designed to be lightweight (important for sports) and comfortable, although there are additional bands available if you'd like to wear it on an evening out, for example.
Fitbit Ionic Features
1.42-inch LCD touchscreen
348 x 250, 1,000 nit display
5ATM water resistance (50m)
GPS, altimeter, digital compass
24/7 heart rate monitor
10 hours of GPS battery life
5 days of battery life general use
The Ionic comes with all the fitness features that you can imagine, as well as all the ones that we like and love from the other Fitbit models plus some upgrades as well.
The Heart Rate Tracking is even more accurate than the other models since the new algorithm update and a design that sits much closer to the skin.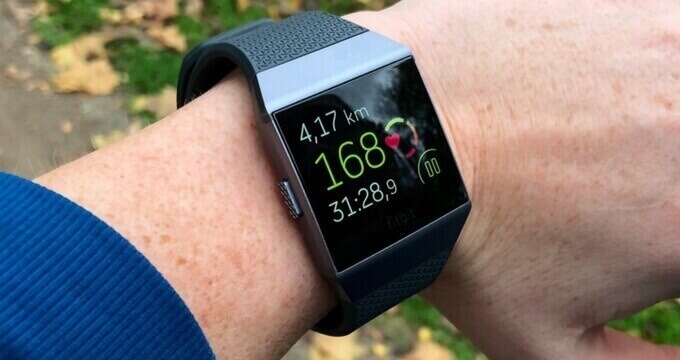 When we test the tracker we found that the Ionic was much faster and accurate than the other Fitbit models. This is particularly useful for exercising, and Fitbit will use your heart rate for a lot of the information that's displayed in its workouts app.
Related : Compare Fitbit Models
Another important feature that comes along it the built-in GPS, and just like the hear tracking this one comes with a boost on tracking abilities since the antenna bands are placed in optimal positions to ensure a better tracking connection.
Connecting to GPS sometimes took a little longer than we'd have liked, but we never lost connection while running or walking. Being able to look through your data after you've been on a long run or ride is a big feature too.
New features for running include an automatic pause option, which will notice when, for example, you've stopped to cross at some traffic lights and pause your workout, then restart when you begin exercising again.
Another addition to the Ionic is the Coach feature that you can get access from the tracker and it will provide you a similar service to the Fitstar app you can download on your phone.
These are tailored workouts that will show you exactly what to do, and every time you complete one you can supply feedback so Fitbit Coach can work out whether you need something easier or harder next time.
You can choose your workout sessions from 7-to-60 minutes, including audio coaching and seven Fitbit Radio stations. You can also decide between various trainers and activity levels. Your next session will evolve based on your ability and goals.
The Ionic comes pre-loaded with 10-minute abs; 7-minute workout; and a 20-minute Treasure Chest (including jumping jacks, pushups, shadow boxing, shoulder tap pushups, high knees, jumping jacks, bicycle kicks and more).
The aim here is to help you improve, and while it seems like quite a basic system it should encourage you to try different types of exercise.
The Ionic is set to be a useful device for those with diabetes. When you match the tracker with a Dexcom G5 Mobile sensor it'll be able to display your glucose levels so you can monitor them. It's an interesting concept, and it could make the Fitbit Ionic a must-have device for those with diabetes.
Fitbit has also included a SpO2 sensor here to monitor blood oxygen levels, that we discuss below.
The Ionic has a 5ATM Water Resistance (50m) and is easy to wear in the water and the sheer number of spacing holes on the strap that is meant to stay put even on smaller wrists. So you're all set for swimming.
As with other sport-specific features, how useful this is will depend on whether you're a serious swimmer or someone who takes a more casual approach to get in the pool.
In case you are one of those swimmer enthusiasts, then the Fitbit Ionic is going to be a great fit with his easy to use interface and accurate tracking of your length, distance, and pace. Another cool factor is that the app will show you your swim exercises in terms of your overall daily fitness goals.
A soft point of the Ionic is that you can not input drills, so a length of kick won't be tracked, for example, and a really impressive weak point is that the tracker doesn't have automatic stroke detection which is pretty common in swimmer proof trackers, so in case you change the stroke in the middle of a length can lead to data registering incorrectly.
The Swim tracking feature is self-explanatory; you pick your exercise in the app and swipe to swim and you are ready to go and don't you worry about swiping inside the water cause you can swipe with no problem inside the water
When it comes to input the length of the pool is pretty straightforward and having in mind that the screen will stay off inside the pool unless you've set a cue – showing you distance, laps and time every 100m for example – is a good distracted when you are swimming.
The tracker would automatically recognize your exercises, including swimming, so in case you forget to press your exercise you are going to be tracked either way.
With the Fitbit Ionics you'll get everything you'd expect from a Fitbit, including tracking of Steps, Distance, Calories burned, Floors Climbed and Active Minutes, as well as automatic Sleep and Activity Tracking. Reminders to Move will help you to stay out of sedentarism and move at least once an hour (in the daytime!) for 250 steps.
The other feature that comes along with the Ionic is the SpO2 sensor, that will estimate the amount of oxygen in your blood. The way that the sensor works is by sending and then absorbing a light wave that will go through your blood vessels in the fingertip.
When your blood oxygenation is on a good range the levels of energy supplied to your muscles is bigger so during the exercises and pauses you are going to have a better performance overall. When you have a low score in your SpO2 value, for example, lower than 95%, it could be a sign of poor blood oxygenation (hypoxia).
Fitbit hopes this will also help identify signs of apnea, a sleep disorder that causes pauses in breathing or periods of shallow breathing during sleep. When you have apnea you will face problems like excessive daytime sleepiness and impaired alertness and can be a real sign of diabetes. This lack of oxygen to the body can also be fatal. Studies show that up to 10 % of people that suffer from apnea are unaware of their condition.
Like the Alta HR, Charge 2, and Blaze, the Fitbit Ionic is amazing at having a track of your different Sleep Stages. By making use of the heart rate tracker plus other sensors the Ionic will recognize when you are in a Light, Deep or REM stage of sleep. The good thing with the Ionic is that is pretty comfortable to wear in bed, you would not notice it when you are sleeping.
Having a proper night sleep is a great energy booster and is key when it comes to long-term overall health, so having a good sleep can change a good part of your daily routine. Some tracker like the Apple Watch that is a clear competitor doesn't come with a battery long enough to track your night sleep, so the Ionic makes a great win when it comes to tracking your sleep.
The Ionic can track lots of other activities including gym-based workouts such as running on a treadmill or weight training. Activities include Run, Swim, Bike, Treadmill, Interval Timer, Weights, and Workout.
The tracker will recognize when you're running and automatically get into the Run Mode and start the GPS tracking so you can check your run stats on the display. It even automatically pauses when you do, so your pace and duration are more accurate and take into consideration that annoying wait for the lights as you cross the streets.
A downside that we don't like when it comes to checking your screen for stats is that you can not put the display to stay on permanently. When you move your wrist to check your stats not always the screen will turn on, so cycling, running or swimming can be frustrating with the Ionic as you'll find yourself occasionally looking at a blank screen.
When it comes to wellness and relaxation the Ionic is on top of that as well just like other models this tracker will help you find moments of calm through the day by following personalized Guided Breathing sessions based on your heart rate. You can choose between-two-minute and five-minute breathing exercises.
Fitbit Ionic Battery Life
When the tracker made his first appearance on the market the company claim that the Fitbit Ionic would last for 4 days without the need of a charge, but on the December update, they change it to 5 days.
When we test the tracker on February 2019 we use it for one hour of run and one hour in half of workout every day, as well we put it on full brightness, with the notifications on and using the GPS tracking for the workouts, after all that use, we could have the Ionic live for 3 days almost getting to the 4 days range.
We were far to make it into the 5 days that the company claims, but when we use the tracker for only one hour of work out a day and without the notification on 24 hours a day, the tracker made it to almost 5 days but didn't make the full last day.
Alotuhg something to have in mind is that if you put the GPS on without turn it off the tracker will last only 10 hours.
The Ionic comes with a low-battery indicator, so you shouldn't be caught unawares, and you'll also get an email telling you when it's time to charge.
5 days is normally what you will get with the Fitbit models so it's pretty good for this fully featured tracker.
Fitbit Ionic Apps and compatibility
The Ionic comes with the same app that every Fibti uses and is good to go with your computer and your phone as well and is compatible to use with the latest iOS models as well all the Android and Windows Phone devices.
To check the different apps available the Ionic offers an App Gallery where you will find all the Fitbit's services as well as the third-party apps that come along.
Fitbit also opens his software building tools for third-party developers, so more companies can get into the app ecosystem so hopefully, we'll see other services such as Spotify get involved in the Fitbit space too.
In the beginning, all the apps that come with the Ionic App Gallery are set to be free, but there may be paid-for alternative apps at some stage in the future.
You have the possibility of choosing a variety of watch faces that are available in the app but you can not customize and personalize the watch face, so if you don't love the ones that come pre-programmed you don't have a choice to change it.
Fitbit has included mobile payments on the Ionic through its own service called Fitbit Pay. This is based on tech from a company called Coin, which Fitbit bought a few years back, and will allow you to use NFC to pay on contactless terminals with your wrist.
Fitbit is partnering with all the major card companies like Visa, American Express and Mastercard for this, but you'll need to check to be sure if your bank is providing this service.
You hold down the button on the right-hand side of the Ionic for a few seconds to make a payment, and you'll then need to enter a PIN number that you've previously set up and then place your Ionic near to the reader.
It's a very similar experience to either Apple Pay on the Apple Watch or Android Pay on Android Wear devices, and it's especially useful if you need to grab a bottle of water when you've gone running without your wallet or phone.
It likely isn't going to replace your wallet, but it's a useful extra way of being able to make payments when you're out exercising.
Even the best tracker out there can be a waste of money if their app shows you the data in a confusing way, at the end of the day is the statistics and metrics that are going to make a real change in your habits.
And this is when you realized why Fitbit is the number one company when it comes to tracking your activities, the App excels when it comes to understanding your metrics in a simple and easy to use way, as well it comes with the richest in details statistics, and you can go as deep as you wish to get the most specific statistics about your different health metrics.
There's a lot more, too – more than you'll get from Apple health, for instance. You can use the Friends league and have a healthy competition with your friends and have the motivation to go further on your exercises
You can also compete with your friends or yourself as well in different daily or weekly challenges and virtual adventures in real-life locations, such as the New York Marathon.
And there are hundreds of milestone badges to reward you along the way.
In addition, you will have the expert guidance that comes on the app and there's a great number of choices that will help you and advise you about the more efficient ways to workouts, do cardio or how to get a better sleep, just to name a few.
Verdict
The Fitbit Ionic is a great tracker and the best up to date from the Fitbit family, and that says a lot by itself.
We really like the design and features but there some people that don't like the design so that depends on your style.
When it comes to smartwatch features the Ionic doesn't excel, is a great fitness tracker but not as smart as you can expect
Although there are a lot of positives things that come along with the Ionic model like the battery life, Fitbit Pay and built-in GPS that uses the GLONASS system.
Who's it for?
With the Ionic Fitbit put together some smartwatch features to a fitness tracker, so you will get the smart benefits of things like Fitbit Pay, but the tracker excels when it comes to tracking your fitness levels. So if you are looking for a tracker that goes the extra mile in terms of fitness tracking, the Ionic can be the one for your wrist.
It's also a good buy for those that already know the Fitbit brand and have previously used the app. If you're looking for something a little more substantial than a Fitbit tracker on your wrist but you don't want to switch to another platform, this will suit you well.
Should you buy it?
We are really glad that Fitbit starts with an intent on the smartwatch world. Although is more expensive than a regular fitness tracker, it does come packed with a big number of high-end features that will appeal to a wide range of people, from hardcore fitness people to even the casual once a week gym enthusiast.
It is true that for now the range of smart apps is not as wide as you may need but is still a great companion for those looking for a more healthy lifestyle. Featuring built-in GPS, music player, contactless payments and on-screen notifications you can easily go to workout and leave your phone and wallet at home without any problems.
The Ionic is lightweight and comfortable and looks modern and stylish. With a good range of straps that you can choose from and have a different outlook depending on the occasions – either at the gym, the office or out on the town.
While it can not compete with the best smartwatches on the market when it comes to smart apps, the smart-enough Ionic seems like the first proper health smartwatch on the market, and there are more updates and smart features to come.
Check Today's Price on Amazon >
Related:
Resources: