The Charge HR make his first appearance on the market in January of 2015 as an update from the original Charge and is still one of the most remarkable trackers from the Fitbit brand.
Between the most remarkable features from the tracker, you have continuous heart rate monitoring, detailed activity tracking, sleep tracking and information on your resting heart rate making an absolute winner when it comes to understanding your body and exercises in a comprehensive way.
But having in mind that today's wearables come with tons of new features and modes, how good is in comparison with other trackers on 2018? Is the Fitbit Charge HR still worth it?. We are going to give you the most detailed review where you will find out all about this model.
Fitbit Charge HR
Battery

Display

Performance

Software

Design
Summary
Fitbit's aging Charge HR activity tracker may not be the best value on the market. But with a battery life of 5 days, a sleek and simple design, and accurate step tracking, the Fitbit Charge HR is still a great entry-level activity tracker for the fitness minded.
Check On Amazon–>
Pros
-Accurate heart rate tracking
-More secure strap than Charge
-Easy-to-use app
-Entry-level price point
-Durable build
Cons
-Display is easily scratched
-Heart rate monitoring could be better
-Lacks data analysis
-A little itchy to wear on occasion
-Not waterproof
Fitbit Charge HR Design
The design from the Charge HR is simple and sleek. Is a wearable that you can use for different types of occasions since it doesn't look like a bulky sports watch. The Black version is the one that looks more sober and elegant, the other color options are more flashy so depending on what you are looking in terms of style from your tracker there's a variety of choices. The color options are Blue, Tangerine, Plum, and Tea.
The material of the tracker is mostly a soft rubber that sports a Small (21mm-wide) OLED display that shows you time, steps, calories burned, flights climbed, distance traveled and heart rate. The monochromatic screen will match the color of the band making the tracker not stand out too much.
The display is quite easy to read no matter if you are doing outdoor sports or just inside your home. By default the tracker is always off, You can have the Quick View feature turned on so the tracker will show you the time at any time you raise your wrist or whenever you tap on the display. This feature does impact on the battery life a bit, but not that much so is not a problem.
The body of the tracker comes with a new textured finish, but don't let it full you is one of the most secure watch strap clasps out there.You can choose between the small (5.5-6.5 inches) or large (6.3-7.6 inches) band sizes.
A downside for us is that this tracker can be ideal if it only could be Waterproof!. Is only splash proof so you can get some accidental splashes on your tracker but you can't take it into the shower or go swimming with it.
Also, we found that some customer had complained about the strap, which is made of the same elastomer rubber-like material as the Charge models,  they report some sort of skin irritation when wearing it.
Fitbit Charge HR Features
The most important feature that comes with the Charge HR is the Heart rate monitor that will track your continuous heart readings on the OLED display. So the watch will track your heart rate while it is resting, which should be around 68-80 beats per minute for a regular person, and it will also have a precise tracking of your heartbeat whenever you are working out harder or running, so you will understand how hard or intense your workout was. These statistics are incredible not only to maintain your fitness levels but also your cardiovascular overall health.
This tracker comes with the popular PurePulse technology that comes with the most sophisticated models from Fitbit, is a light-based optical sensor that will use a pair of green lights flash against the skin to detect the changes in the volume of your blood and produce readings.
All the Features that come together with the original Charge are in this model as well like the three-axis accelerometer and altimeter that can accurately track your pace, steps, distance, and elevation, as well estimate the calories burned from that data.
You will also get the automatic sleep tracking feature that will make use of the accelerometer to detect movement or lack of movement to know whenever you are being sedentary. You will also get the silent alarms to gently wake you up in the morning.
As we mentioned before tracker is only 1ATM water-resistant, meaning that is only rain and splash-proof. Fitbit advise you to not wear it in the shower or the pool. You can get some accidental drop in water, but the tracker shouldn't be submerged for more than a few seconds. The lack of waterproofing features can be a deal breaker for some fitness-minded folks out there since there's a lot of other trackers on the market that can be submerged in water and worn in the shower.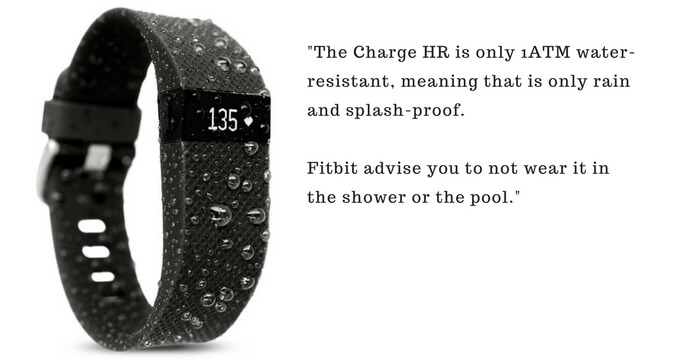 Another cool feature that comes along with the tracker besides tracking your daily activities you can get all your phone notifications on your watch. Although you will need to turn on a setting in the Fitbit app in order to get call notifications sent to your wrist. The Charge HR will buzz whenever you get a call, and the name of the caller will scroll across the display.
Besides the ability to track your daily activities, the Charge HR can give you call notifications on your watch as well. You will need to turn on an extra setting in the Fitbit app in order to get the notifications sent to your wrist. The tracker will buzz when you get a call, and the name of the caller will scroll across the display.
Fitbit Charge HR Performance
When it comes to basic tracking abilities the Charge HR can track your steps taken, calories burned, distance moved and floors climbed in a really precise and accurate way. But the tracker really excels when it comes to step tracking, is pretty accurate and very good at differentiating actual steps from random legs or arm movements.
The tracker will recognize your workout automatically and will start to track without you needing to turn on the tracker when your exercise begins. Whether you're going for an intense run, light jog or a simple walk, all of your data will be there inside the app when you're done. All this features together plus the automatic sleep tracking detection makes the Charge HR one of the most convenient activity trackers out there.
The major difference between the Charge HR and the original model that cost $100 is the addition of the heart rate monitor. The heart rate monitor is positioned on the underside of the tracker and slightly pokes into the top of your wrist when you're using it. The heart rate monitor will not make the tracker too uncomfortable to wear, but it's still slightly noticeable compared to the standard Charge.
Is good to have in mind that a heart rate tracker on your wrist is not going to be as precise as one that you can wear around your chest. Even though they're pretty annoying and can get in the way, chest straps are the way to go if you need the most accurate data.
In the Fitbit app, you can set your device's HRM to be always on or off, but our advice is that you can keep it in the Auto mode. When the tracker is on Auto it will be active when you're wearing it and inactive when you're not. If your device is struggling to find your heart rate at key times of the day, you can always turn it to always on in the settings. Alternatively, if you'd like to maximize battery life or aren't too fond of HR tracking, switching it off will definitely be beneficial.
Fitbit Charge HR App
The Fitbit app that is good to use in phone and desktop is still one of the best fitness tracker companion apps on the market, since is really easy to use and simple to understand. The data is displayed in a single column broken into the different categories, and tapping on the small arrows scrolls through the days. Beside the possibility to track your activities on automatic, you can also manually log your weight, water intake, and food consumption, which now supports barcode scanning.
It's compatible with the leading smartphone platforms, including Windows Phone, and like the Charge, data is wirelessly synced over Bluetooth 4.0, so make sure your phone supports the latest Bluetooth standard.
Syncing data to the desktop app is still unfortunately done via the small Bluetooth USB dongle. To be sure that you are getting the most precise data, it's worth going through the settings, where you can modify some of your preferences like adjust your sleep sensitivity or whether you're wearing the Charge HR on your dominant hand to compensate for extended use. You can also customize the display and turn off automatic heart-rate tracking.
What sets most Fitbit trackers just like the Charge HR apart from the competition is the comprehensive third-party app support. The Fitbit app offers integration with the likes of MyFitnessPal, MapMyRun, and Endomondol, which is a great companion for food calorie, counts especially for those that are in the need to lose some pounds. There's also support for apps that tell you how to lose weight, how to sleep better and how to keep active at work.
– Maybe you are interested in: Fitbit to Lose Weight
A cool factor that we like from the Charge HR is that you have a daily view of your fitness goals and achievements, as well as weekly and monthly overviews of your levels of fitness and overall health. You can also get the comparisons to both your peers, via step "challenges" and social motivation.
Social motivation is a great addition to the Fitbit ecosystem. This is where you can set different challenges like scoring the most steps in the week or during a holiday. The Fitbit Friends section also supports messages to share some words of motivation or brag when you achieved one of your milestones.
Fitbit Charge HR Battery
When a tracker has high-end features such as heart rate tracking we always worry about battery lifespan. Fitbit claims that the Charge HR can last up to 5 days and we found that is prety accurate we teste the tracker for normal exercises for 1 hour a day and the tracker was on for 5 days with out the need of a recharge but the heart rate was off, when we did the same with the heart rat mode on the Charhe HR was able to hould up for 4 days, but is underesandable since you have the cnostant hear rate monitor with the green light that uses a lot of the power from the tracker
Something that we didn't love about the battery is that when you check on the Fitbit App the dashboard is only going to show you levels of battery instead of the exact number. So you can see if the battery is high, medium or low, and that's it.
You'll also get a notification on your tracker when your battery is about to die, but there's no exact percentage to be found. I don't know if I'm just being nitpicky, but you'd think it wouldn't be too difficult to display this information in the app. Annoyingly, charging is done via a proprietary charging cable, which can power the tracker back up to full charge in a couple of hours.
Verdict
The Fitbit Charge HR is a good fitness tracker and pretty accurate so when you are on the hunt for an accurate step tracker that's easy to use, simple, durable and doesn't cost too much, this could totally be the right one for you. But if you're looking for a  waterproof tracker or a precise and an accurate heart rate reading, you might want to look elsewhere.
The Charge HR is one of the best all-around fitness trackers on today's market. But you should know that this isn't a gadget for hardcore athletic monitoring, is not a simply pedometer either. This tracker is a good fit for people that are evolving on their fitness as well those looking to get a better handle on their exercise routines. The app provides enough information to help you improve your workouts, and the fact that it can tell when you're sleeping or exercising is simply amazing.
Right now, the Charge HR is available on Amazon at different prices depending on sizes and colors ranging from $79 to around $125. In case you want the same features but not care that much for the Heart rate monitor you can get the original Charge for a few bucks less.