One of the newest models from Fitbit is now available to buy. As an upgrade from the beloved Charge 2, the new Charge 3 comes with extra functions that will improve your tracking experience.
But how good are these new functions that come along? There are also some features that are no longer on the Charge 3 that you may miss.
Below we give you a full review where you will find which tracker is the best for your needs.
Fitbit Charge 3 vs Charge 2 Comparison Table
| Feature | Charge 2 | Charge 3 |
| --- | --- | --- |
| Heart Rate | Yes | Yes |
| GPS | Only Pair with your phone | Only Pair with your phone |
| Waterproof | No | Yes - 50 Mts |
| Included Bands | 1 - Small or Large Size | 2 - Small and Large Size |
| Interchangeable Bands | Yes | Yes |
| SpO2 Sensor | No | Yes |
| Battery Life | Up to 5 Days | Up to 7 Days |
| Price | $159 | $149 |
| BUY | Click Here | Click Here |
Similarities between the Charge 3 and Charge 2
In terms of design, these 2 share a ton of similarities. Makes sense since the Charge 3 arrives as an improved version of the older model.
But the thing is that they had to make an amazing job with the new model since the Charge 2 was Fitbit best seller since the day that came to the market.
Below we name the most important similarities that these 2 have in common.
Activity Tracking: Both models can track your daily activities like steps, pace, calories, distance, floors, and more important heart rate.
Sleep Tracking: With the powerful Fitbit platform that is one of the biggest on the market when it comes to tracking your sleep patterns and the most in-depth sleep analytics.
Connected GPS: By pairing with your phone GPS, you are able to track running, cycling, and more with the most accurate data
Unisex Design: Both trackers are suitable both for women as well as men.
Activity Goal: By using the Fitbit app you can focus on your goals and have daily weekly and monthly reports to track how far are you to getting into the goal as well motivates you by watching your progress.
Color Options: You have a wide variety of color to choose from
Interchangeable Bands: You can swap out the bands for more stylish or sporty bands.
Wrist HRM: Monitor HR 24×7 and during workouts.
Workouts: You are able to monitor and track different sports and workouts such as cycling, running, yoga, HIIT, walking just to name a few.
Phone Notifications: Both models can display text messages, calls, as well as calendar notifications from your phone.
Below we leave you the announcement video for the Charge 3:
Design and screen
Fitbit Charge 3: 18.325mm wide, available in small and large sizes.
Fitbit Charge 2: 21.45mm wide, available in small, large and extra-large sizes.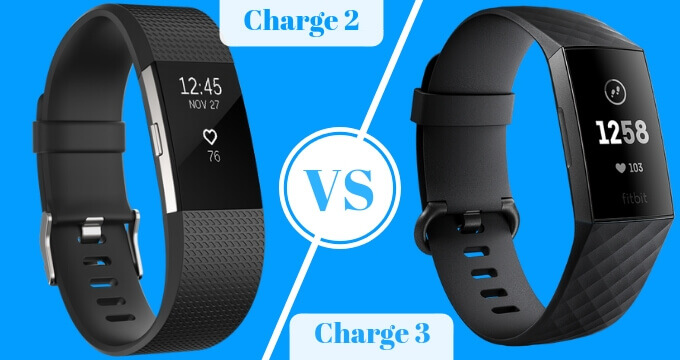 In terms of design, they are pretty similar. Both have a rectangular screen and a band that is as wide as the body, though the Charge 3 design has been refined and tweaked to make it look more futuristic.
One difference is that the newest Charge 3 is a bit thinner, looking better on your wrist and not so bulky. At the same time, it is lighter since it is made from aluminum instead of the stainless steel that the Charge 3 is built on.
But the biggest difference comes on the screen. The Charge 3 sports 40% bigger display than the Charge 2. One thing that was not improved is the black and white from the screen, although the Charge 3 has a resolution boost.
A cool improvement is that the display is now 100% touchscreen so you will be able to scroll down and choose apps, instead of the Charge 2 where you can only tap on the screen to switch what it is displayed but that is about it.
Check our Full reviews:
Fitness Tracking
The Fitbit Charge 2 is one of Fitbit best sellers for a lot of reasons. Firstly, it is affordable. Secondly, it comes with cool features such as heart rate monitor, step and calorie tracking, sleep tracking, and a SmartTrack that can recognize automatically your sport or exercises.
The Fitbit Charge 3 comes with all the same features but with one big improvement: it is waterproof up to 50 meters!. So now you can track your swims or wear the tracker 24/7 even in the shower.
The Sleep tracking function comes also with a boost on the Charge 3 and, later this year, Fitbit will add a Sleep Score into the mix with the next updates.
For those that love the goal settings, a cool addition on the Charge 3 is that you can now manage your goals from the watch without the need of heading into the app to do it.
The latest technology that comes with the Smartwatches ( Ionic and Versa) is also available in the Charge 3, with the addition of the Female Health Tracking function that will control the ovulation cycles and learn from them.
There are some extra functions that you can perform right from your watch, for example, you can set goals without heading to the app. Some versions of the Charge 3 also include the NFC payments so you will be able to use Fitbit Pay and pay for anything right from your wrist.
One thing to have in mind is that neither the Charge 2 or 3 comes with built-in GPS, so if you want to track your runs accurately, you will need to bring your phone to pair the watch with it and have GPS tracking on.
Smart Features
Fitbit has actually been introducing smartwatch-style features to its physical fitness trackers for some time currently. Now that it's playing in the smartwatch space, it's functioning to bring even more of those more advanced smarts to various other members of its wearable family members.
While the Charge 2 does a rather suitable perception of a smartwatch, there's a whole lot more going on in this department for the Charge 3 and also Fitbit has strategies to include even more wise abilities to the latest Charge too.
In the notification support department, the Charge 2 is restricted to allow individuals watch phone call, text as well as calendar informs on the tool. The Charge 3 will let you see signals from every one of your applications and also supplies the ability to send out quick replies to notices only on Android phones.
The Charge 3 does additionally provide some app support, although not to the extent of the Versa and Ionic smartwatches. You can select between 7 monochrome watch deals with, as well as the special edition Charge 3 includes NFC so you can utilize Fitbit Pay to make contactless payments from the wrist.
Notifications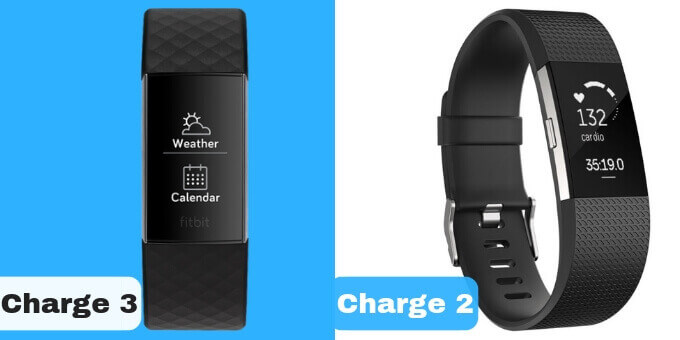 When it comes to notifications, both trackers are able to display your calls, messages, and calendar, but they are set to be more useful on the Fitbit Charge 3. For instance, the ability to accept and decline calls from the tracker is being added down the line as a software update, as it is Quick Replies, which allows you to reply to messages or calls with a pre-made message if you have an Android phone.
On the Fitbit Charge 2, you can not interact with notifications at all, so if you want to do more than reading them, you will have to get your phone out.
Having said that, there are some customer reviews that complain about the Charge 3 having at a glance only the time, your steps and your heart rate, and that you can not change the watch face. However, it is a new model that normally comes with some issues that Fitbit will take care in the long run.
Fitbit Charge 3 vs Charge 2: Battery life and Price
Just like most Fitbit models, the Charge 2 can go up to 5 days of battery without any problems. The Charge 3, on the other hand, can handle up to 7 days, which is a cool improvement.
Of course, depending on how much you use the tracker, the battery can go for extra hours. If you turn off the heart rate tracking and disable the notifications, your battery life can go longer than what it is expected.
In term of price, the difference is not so big as you can expect. You can get the Charge 3 at $149 and the Charge 2 for $159. Besides, there are always discounts available on Amazon so the price can go down some days.
Conclusion
When finding differences between the Fitbit Charge 3 vs Charge 2 there are a lot of good reasons to make the upgrade and go for the Charge 3.
The difference in price is not that big compared with the long-term life that you can get with both trackers. The Charge 3 is at the same level as the latest smartwatches from Fitbit, the Charge 2 instead comes with basic features that are great for now but maybe are not going to be so up to date in 2 or 3 years.
Related:
Resources: