The New Fitbit Ace is designed just for kids!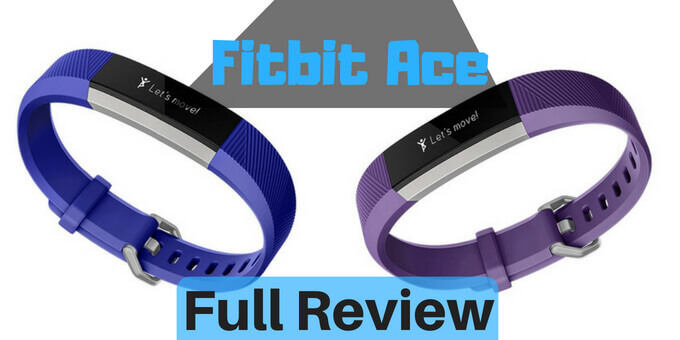 Fitness trackers just for kids is not something new, although the Fitbit Ace is the first one that has a big company behind it!
The Ace model was created with the purpose of encouraging kids from 8 years+ to start to think on health and fitness and get them out for runs instead of sitting at home playing video games or on their cellphones.
Analysis from the CDC says that one every five kids on the US are obese, and the HHS claims that just one every three kids are physically active on a daily basis. Making it a real problem that Fitbit is trying to approach with the Ace.
Is almost the same model as the Alta HR although it has a smaller and adjustable band designed for kids, and it doesn't have a heart rate monitor. Its splash and shower proof and can go for 5 days without the need for a charge.
Below we give you all the details on design, features, price and all that you need to know about the Fitbit Ace on our full review.
Fitbit Ace Release Date, and Price
The  Fitbit Ace release date is on June 10 so is already available to buy! And it cost $99.95 making it really budget friendly and cheaper than almost all of the Fitbit models and having in mind that this price is the launch one makes it even more interesting.
Fitbit Ace Review – Design and Display
The Fitbit Ace looks just like the Fitbit Alta HR. Its small and slick and is created especially for kids from 8 years old up to 16.
It's available in 2 colors Electric Blue and Power Purple for now, but Fitbit didn't release any information about if there's going to be more colors on the future
Just like The Alta HR, the Ace features the same vertical OLED screen that is controlled with firm taps of the display to scroll through the different screen's information that shows basic things like the time and step count.
In terms of design, Fitbit went with a model that is not so childish looking, they research show that most kids want a tracker that doesn't treat them like kids. Instead, they preferred a wearable that looks like something that a teenager or an adult would wear, that's why when it comes to looks the Ace seems more like a regular tracker instead of a smartwatch that appear to be out of a Disney movie.
It's water resistant too, so you don't have to be worried about your children running around with it on in the rain or if they get it soaked when washing their hands.
The intention is your children will be able to wear this all day long and see their basic stats as well as the time.
It'll also offer 10 different clock faces specifically designed for the Fitbit Ace so your child can customize the look of their fitness tracker.
Fitbit Ace Features
The Fitbit Ace includes almost the same experience that you get with a regular Fitbit but doesn't include some features to protect your child.
The Ace comes with a more limited feature set, but the idea is by gamifying their activity, kids will want to get out and run about more rather than sitting at home on a tablet or watching TV.
There's no GPS, heart rate tracker or top end tracking equipment in the Fitbit Ace. Instead, it's all about step count and the aim to encourage your children to move and get their active minutes up.
Another cool addition is the sleeping tracking feature that can monitor the duration of your kid's sleep as well the patterns and if they wake up at any time in the night you will have a complete review of their sleep, although the Ace won't be as capable of tracking sleep stats as the adult-focused Fitbit products.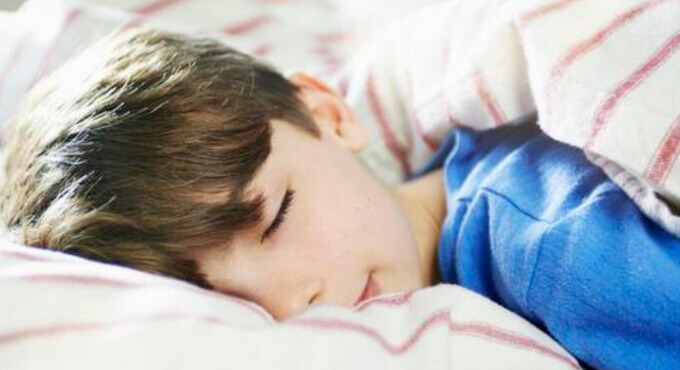 As we said at the beginning the battery life can go up to 5 days
The Ace can measure your kid's Steps, Distance that they move and the Active Time that they get.
Some of the features that we mentioned that are not part of the Ace are the calorie count and the ability to sync with the Fitbit Aria scales.
Its true that the whole point of the tracker is for kids to start a healthier life and having in mind child obesity as a big problem, but at the same time Fitbit think that you don't want to start your kids on a path were they going to be obsessed over how much weight they lose every week, or pushing them to get to worry about it and cause eating disorders that can truly affect your kids' lives.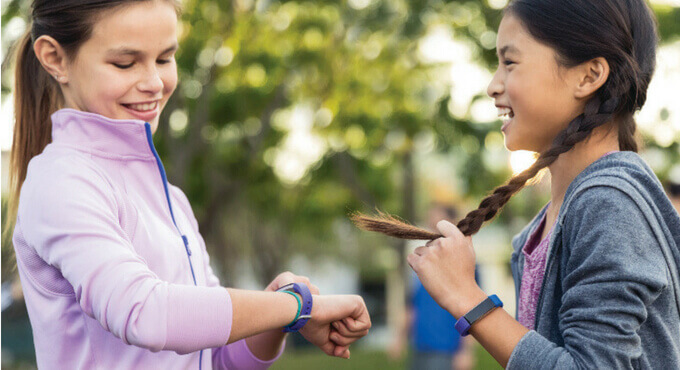 That doesn't mean that the kids are not going to be better by having a proper diet, but avoid causing your kids anxiety just cause they didn't hit the weekly weight goal.
What is included are the move reminders that will make your kid move 250 steps each hour. Making sure that your kids are going to be at least getting movement and starting a healthier lifestyle.
The tracker will also automatically recognize and record the exercises that your kids are going to be doing, so you can keep track of their workouts with no need to do anything, and the children are going to be rewarded with celebratory messages and fun, collectable badges.
The Ace allows kids to also check for phone calls but not text messages, but is something good to have in mind when you need to reach your kid's quickly you know that they will get a notification on their wrist.
On the downside, the tracker doesn't include an altimeter to measure Floors Climbed and it doesn't come with a heart-rate monitor either.
Features at a glance:
Tracks steps, active minutes and sleep and shows stats on a bright, tap display
Rewards kids for hitting goals with celebratory messages and achievement badges. Kids can challenge others to step competitions plus send each other messages or cheers
A showerproof tracker that survives splashes and spills with a secure, adjustable wristband for growing kids (one size)
Syncs stats wirelessly and automatically to iOS & Android devices and has a battery life up to 5 days (varies with use and other factors)
Fitbit Ace App
To use the Fitbit App parents need to create an account for the kids under a family account so they need the consent of an adult when they are under 13 years old.
For the Ace, Fitbit has created 2 different displays one meant to be used for the parents and the other one for the kids. Just like the App for adults, the children can win badges and trophies when they hit their activity goals.
So just for the Fitbit Ace kids under the age of 13 will be able to sign-up and use these settings and views with this tracker only. But parents will be able to control who their kids connect with.
Fitbit's goal is for kids to rack up at least 60 minutes of physical activity a day, which matches recommendations by the World Health Organization for children aged 7-17. Using the APP the Ace allows parents to set customizable daily step and active-minute goals.
Fitbit says it wants to make fitness fun, but there are no childish games added – just the usual Fitbit Challenges and Adventures, in which family members can compete against each other.
Kids can take part in daily and weekend Challenges against family members. The new Family Faceoff (coming soon) is a fun, five-day step challenge that allows members in a family account to compete against each other and win a virtual trophy.
A feature missing at the beginning is the on that allows children to compete with friends. Fitbit says that is "coming soon".
When it comes to Privacy the new Fitbit family account is compliant with the Children's Online Privacy Protection Act (COPPA) and other privacy laws, letting parents manage who their children connect with and what information they see in the Fitbit app.
The best of all is being part of the Fitbit ecosystem that allows you to use the amazing App that gives you all the different stats in charts and graphs, and it also gives you the chance to add individuals and groups in challenges and shared adventures. Ace automatically syncs to iOS & Android devices.
Should I Buy The Fitbit Ace?
Activity trackers are the best way that we have today to improve our health and the motivation to get fitter. On the Ace Fitbit now recognize that children also need some of the core functions that help people to get healthier and beat overweight or sedentarism
The Fitbit Ace is an amazing way to put your kids on a healthy pat, plus the family views and challenges will bring the whole family together. Children can also use any of the other Fitbit for kids that we list here, but have in mind that the Ace is the only that comes with the family settings and the ability to have a special account for kids and another one for parents to keep an eye on their children progress.
Fitbit Ace
Battery

Display

Performance

Software

Design
Summary
Fitbit's solution to the Sendetarism and overweight on kids problem is the Fitbit Ace, a new fitness tracker for kids aged 8 and above that looks like an Alta HR, minus the heart rate monitor.
It Features a five days battery life and a smaller, but adjustable band designed for kids' wrists.