Get ready for the most detailed Fitbit Comparison in 2019
We love fitness trackers and Fitbit is the best on the market, that's why we put the extra effort and start with a Comparison chart, and then we review each Fitbit model, and then compare them by features.
So be prepared to get the best Fitbit for your wrist and needs.  
Fitbit Comparison Chart 2019
This is a summary, just before we get into more details about features, price, battery life and much more.
Fitbit Model
The Good
The Bad

Fitbit Charge 3



- Heart Rate tracking
- Activity, and sleep tracking
- Swim proof to 50m
- Female Health Tracking
- Touchscrenn
- 7 days Battery life
- No GPS
- NFC pay only special edition


Fitbit Versa





- Great Design
- Color Touchscrenn
- Cheapest Smartwatch ever
- 4 days battery life
- Women health control
- Waterproof to 50m
- Battery life not as good as Ionic 
- No GPS built-in 

Fitbit Ionic



- Lightweight and comfortable
- Waterproof to 50m
- Fitbit Pay works well
- Great fitness features
- Solid battery life (5 days)
- GPS and GLONASS
- Heart rate and relative SPO2
- Little bit slow
- Shortage of apps

Fitbit Inspire HR



- 24/7 heart rate tracking
- Step, activity, and sleep tracking (the most advanced technology to date)
- Swim proof and water resistant
- Female health tracking
- Battery life of up to 5 days
- No swim tracking
- No NFC Pay

Fitbit Charge 2



- Bigger display
- Heart rate tracking
- Automatic workout detection
- Interchangeable bands
- Affordable price
- 5-day battery life
- Sleep Stages and Insights
- Not swim resistant
- Hard to see display in sunlight
- Limited phone notifications
- No GPS
- No ANT+ support

Fitbit Alta HR



- Slim design
- Heart rate monitor
- 7 Days battery
- Sleep tracking
- Comfortable
- Basic exercise tracking
- No GPS built-in
- Not waterproof

Fitbit Blaze



- On-watch workouts
- Affordable price
- Heart Rate monitoring
- Five-day battery life
- Comfortable design
- Large, readable display
- Display doesn't stay on
- It's wide
- No inbuilt GPS
- Not water resistant

Fitbit Flex 2



- Sleeker design
- Waterproof to 50m, lap counting
- Comfortable and light
- 5 Days battery life
- Solid swim tracking
- Great value for money
- Basic exercise tracking
- Basic notifications
- Slow to charge

Fitbit Surge



- Built-in GPS
- Heart-rate monitor
- Classic watch clasp
- Always-on display,
- LCD Display
- 7 days Battery life
- Slightly bulky body and strap
- Pricey for an activity tracker
- It can't be worn while swimming

Fitbit Charge HR



- Accurate heart rate tracking
- Simple, clean design
- Durable build
- Accurate step tracking
- Entry-level price point
- 5-day battery life
- Not waterproof
- Display is easily scratched
- Uses proprietary charging cable

Fitbit Zip



- LCD display
- Clip is sturdy and reliable
- Battery lasts 5-6 months
- Battery replacement cost $5
- Has a clock on the display
- Connects via Bluetooth
- No sleep tracking
- Can't be worn on the wrist
- No alarm feature
- No sleep activity tracker

Fitbit One



- Easy to read display
- 10 to 14 Days battery life
- Secure Clip almost too secure
- Altimeter for counting stairs
- Small and light
- OLED screen, with a clock
- Difficult to check current stats
- Vibration alarm is not strong
- Easy to forget before do laundry

Fitbit Flex



- Cheaper than the competition
- Water resistant
- Lightweight wristband
- Track activity and sleep
- Wireless syncing over Bluetooth 4.0
- Convenient, simple LED display
- Not as accurate as other Fitbits
- Display isn't informative
- Strap lacks design
- Few Android devices supported

Fitbit Alta



- 5 days battery life
- Movement reminders
- Sleek design
- Lightweight
- OLED, tap display
- Automatically tracks workouts
- Overly sensitive step tracker
- No GPS
- Not waterproof
- No heart-rate monitor
Best Fitbit For You
Fitbit is the leader on Fitness trackers and provides the latest Features and functions, such as multi-sport recording, GPS tracking and wireless syncing, all packed in a beautiful and durable package.
Another cool factor is that you will get your stats displayed in real time, one thing the competition can't claim. Their activity trackers exceed expectations: they do not just inform you when and how much you are moving, they also let you know if you're not moving enough to get you going.
In addition, the latest models feature Smartwatch functionalities that can give you extra flexibility such as paying right from your wrist. as well as e-mail and text capabilities, so you're able to stay in touch even if you are on the go.
But which one is the right one for you?
The range of Fitbit models is getting wider by the year but don't worry about it, we will explain the difference between the Fitbit's and compare all of them so you can pick the best Fitbit fitness tracker for your needs or for your loved ones.
Top Pick
Listed below we compare the various Fitbit models.
Check Todays price on Amazon >
But we find the Charge 3 to be the most versatile one, it is simple, slim, tracks effectively is affordably priced, and contains all the functions that most people will ever need.
With a touchscreen Display, high-end features, amazing battery life, heart rate tracking and much more. All these packed at an affordable price, there's no doubt that the Charge 3 is today's Best Fitbit to buy.
Fitbit Price
Let's begin with the main factor: Cost. The range of Fitbit models is wide as well as the price so we give you the list of the best Fitbit prices:
---
What is the Cheapest Fitbit?
Fitbit fluctuate in terms of price but today's best deal for a Fitbit tracker is the Fitbit Inspire that cost just $69.95
If you want to know more about the features go Here to Amazon where you will find all the information about it.

Check Our review of the Best Cheap Fitbit to buy
Compare Fitbit Models – 2019
Fitbit Charge 3
Price: $149.95 – from Amazon
Screen: Touchscreen | Heart rate tracker: Yes | Waterproof: Yes | Activity tracking: Yes | GPS: Only connected | Battery life: 5/7 days | Compatibility: Android/iOS/Windows
The best Fitbit when it comes to fitness tracking is the Charge 3, that is the updated version of the biggest BestSeller on Fitbit history the Charge 2.
The Charge 3 comes with a much larger screen compared to the last few versions of the Charge series and includes a few smart functions.
With a larger display and high end features the Charge 3 is a complete package, comes with fitness features such as a heart rate tracker, guided breathing, swim tracking and improved notifications.
Just like the Versa, the Charge 3 can be submerged underwater up to 50 meters. Although this model looks more like a traditional fitness tracker.
The Charge 3 has the look of a traditional tracker with a black and white display that supports tap and swipe actions and sits in line with the device's strap.
Best Features: The Charge 3 comes with high-end features like improved calorie burn measurements, a complete understanding of your resting heart rate plus the latest sleep tracking functions such as Automatically record time spent in Light, Deep and REM sleep stages and see activity trends, health insights, and personalized guidance.
You can also choose from 15+ exercise modes like run, bike, swim, yoga, circuit training and more. And is Swim proof and water resistant up to 50M.
Great for: Runners and Bikers that would like to get their Fitness to their next level
---
Fitbit Versa
Price: $199.95 – from Amazon
Screen: LCD | Heart rate tracker: Yes | Waterproof: Yes | GPS: Only connected | Battery life: 4 days | Activity tracking: Yes |Compatibility: Android/iOS/Windows
The Versa is the second smartwatch from Fitbit and includes all the amazing features that come along with the Ionic except the built-in GPS, but for this reason the price is cheaper, making it a great deal, having in mind all the other high-end features that come along.
Including smart features such as NFC payments and high-end fitness features like Fitbit Coach that will give you exercises and record your data to help you get quicker to the next level.
A cool addition on this smartwatch is the Female Health Tracking that will help women to monitor their cycles and prevent symptoms such as headaches – Read More on our Full Review–
Featuring a cool and sleek design that reminds us to the Apple watch being small and rounded that would look great on any wrist.
Check our Apple Watch 3 vs Fitbit Versa
With a battery life that can go up to 4 days and the ability to track your sleep, step count, heart rate and calories burned the Versa is a great companion to track your overall health and improve it.
Best Features: The Fitbit Versa is a prettier, cheaper version of the first smartwatch Ionic. It lacks built-in GPS and NFC payments, but you'll save $50. The Versa still boasts a comprehensive range of health-tracking features. It can automatically track your exercises such as biking, running and swimming since is waterproof up to 50 meters.
Great for: People who want a reliable smartwatch for a good price, as well as someone that would like to have the latest technology on fitness tracking and don't mind the lack of GPS.
---
Fitbit Ionic
Price: $299.95 – from Amazon
Screen: LCD | Heart rate tracker: Yes | Waterproof: Yes | GPS: Yes | Battery life: 4- 5 days | Activity tracking: Yes | Processor: Dual-core 1.0GHz | Compatibility: Android/iOS/Windows
The Ionic is the first true attempt from Fitbit into the smartwatch world. With a mindset of getting your health and fitness improved, the Ionic comes full of high-end fitness features as well as smart features that will give you the best of both worlds.
With onboard music, built-in GPS, and contactless payments this smartwatch is the first real contender against the Apple watch that was dominating the smartwatch arena. Is true that on the app department the Apple ecosystem is still a tough competitor, but when it comes to fitness tracking and battery life the Ionic is the winner.
If you would like to know more about the differences check our Fitbit Ionic vs Apple Watch review.
Presenting the latest high-end features the Ionic comes with the Fitbit Coach trainer that will give you on-screen workouts, of course, comes with a heart-rate monitor but also adds built-in GPS, water-proof up to 50m, music playback support, and a bright colorful OLED display that will make your stats really clear at any moment.
Best Features: Find the guidance to reach your goals with dynamic personal coaching, built-in GPS, and continuous heart rate. Stay motivated by storing and playing 300+ songs. Plus, get convenient access to popular apps, payments on your wrist and be part of the Fitbit community.
The Ionic syncs automatically and wirelessly to computers and Phones both iOS and. Receive Call and text notifications via Bluetooth 4.0, Music control via Bluetooth Classic on Android, iOS, and Windows devices as well.
Great for: People that are looking for a fitness watch that goes the extra mile in terms of features, you've got the added benefits of things like Fitbit Pay, but they're most useful as high end fitness tracker.
---
Fitbit Inspire HR
Price: $99.89 – from Amazon
Screen: Touchscreen | Heart rate tracker: Yes | Waterproof: Yes | Activity tracking: Yes | GPS: Yes, through phone | Battery life: 5 days | Compatibility: Android/iOS/Windows
The Fitbit Inspire HR is one of the newest models from the Fitbit family as a replacement from the beloved Alta 2.
The Inspire HR keeps the rounded design that comes with the Charge 3, and the similarities are even wider than that, this tracker can also be submerged in water up to 50 Mts, comes with automatic exercise recognition, and hourly reminders to move.
For those new on the fitness tracking world the Charge 3 and Inspire HR look almost identical. although the first big difference is the price that comes with the most affordable Inspire HR but has no NFC, tracking of floors climbed, or support for on-device quick replies.
Best Features: The Inspire HR has a full heart rate tracker is affordable and comes with a wide range of features such as activity tracking, sleep monitoring, and guided breathing exercises. There's also connected GPS.
Great for: Level entry fitness enthusiast.
---
Fitbit Charge 2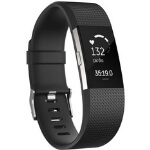 Price: $165.09- from Amazon
Screen: OLED | Heart rate tracker: Yes | Waterproof: No | GPS: Only connected | Battery life: 4- 5 days | Activity tracking: Yes | Compatibility: Android/iOS/Windows 
The Charge 2 is one of the best sellers from Fitbit and for a lot of good reasons. Having in mind the high end features that come along that will help you get your fitness to any level you want, as well help you monitor your heart rate and lose weight if you need it, and comparing with the competition there's no way you can get all this help for the $150 price mark.
This tracker comes with the PurePulse technology that not only will provide you with information on your heart rate but will also track your beats 24/7 and gather information on every step, and exercises that you make.
Another great function that comes along with the PurePulse technology is the Snap Shot Cardio that will give you an instant picture of your fitness level and score using your user profile, heart rate, and exercise data and calculate your VO2 Max level. This is amazing for those trying to lose weight.
With the Charge 2, you can also control your anxiety or stress levels by using the guided breathing sessions that will help you get relaxed and teach you how to control and level your breathing.
Best Features: The Charge 2 is a superior heart rate and activity tracking band with interchangeable accessories. It features an OLED screen with a tap display, heart rate tracking, text-call-calendar alerts, and GPS tracking when connected to your smartphone. The Charge 2 extends fitness to other areas of your life as well, including sleep monitoring and guided breathing sessions. It's water resistant but not swim proof!.
Great for: Runners and walkers who want a relatively slim tracking band that keeps tabs on all aspects of their fitness routine.
---
Fitbit Blaze
Price: $199.95 from Amazon
Screen: LCD | Heart rate tracker: Yes | Waterproof: No | GPS: Only connected | Battery life: 5 days | Activity tracking: Yes | Compatibility: Android/iOS/Windows 
The Blaze, Fitbit's newest device, a cross between an advanced fitness tracker and a basic smartwatch.
It was the first Intent from Fitbit to go Smart. The design of the Blaze looks like a watch, but the features are much like a fitness band.
The Blaze comes with some high end features such as SmartTrack, that will help you track your exercise even if you haven't started any function or press a button- allowing you to burn through those calories quickly and easily.
Best Features: This watch offers PurePulse heart rate readings, all-day activity tracking, sleep monitoring and workout summaries. Customers can take advantage of wireless syncing to many hundreds of devices, music control of mobile playlists, smart notifications (text, email, calendar) as well as a connected GPS system to map routes when synced with a compatible device.
Great for: Sophisticated athletes who aren't ready to make the leap to a more advanced smartwatch. The Blaze offers just enough smart features while keeping fitness the main priority.
---
Fitbit Flex 2
Price: $108.77 from Amazon
Screen: No | Heart rate tracker: No | Waterproof: Yes | Activity tracking: Yes | GPS: Only connected | Battery life: 5 days | Compatibility: Android/iOS/Windows
The Flex 2 is the best entry-level Fitbit, easy to use and uncomplicated? It was the first Fitbit able to be submerged underwater. You can swim with it and go as deep as 50 meters underwater with no problem you can also keep an eye on how well your dips in the pool are going. 
On top of that, it comes with all the other basic tracking features you'd expect plus a slim and light design too.
It's a bit cheaper than the Fitbit Charge 2 as well, so it may be the perfect Fitbit tracker for you.
Best Features: The Flex 2's super-small tracker is housed within Fitbit's slimmest wristband thus far, but you can remove it and place it in other bands or pendants depending on your preference. The Flex 2 offers text notifications and an LED progress display and it's also swim-proof and customizable. 
Great for: Swimmers who want a tracker that can keep pace in the pool. Priced under $100, the Flex 2 remains on the affordable end of Fitbit's spectrum while maintaining coveted features like text alerts and interchangeable accessories.
---
Fitbit Charge HR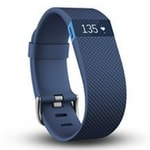 Price: $91.02 from Amazon
Screen: No | Heart rate tracker: Yes | Waterproof: No | Activity tracking: Yes | GPS: Only connected | Battery life: 5 days | Compatibility: Android/iOS/Windows.
The Charge HR is similar to the Fitbit Charge but also includes continuous heart rate monitoring.
It's a good level entry tracker for those that would like to keep track of their Heart rate
Similar to the Flex 2 is great for people that would like to start into the Fitbit world but are not familiar with high end trackers or don't want to spend too much to check if is a good fit, in this case is good for tracking your heart rate, instead of the Flex 2 that is recommendable for swimming.
Best Features: Like the Charge, it features caller ID, exercise tracking, wireless syncing, a water-resistant design and an OLED display.
Great for: Serious athletes who want a reliable and multifaceted fitness assistant, not more than $100.
Fitbit Comparison 2019 – Features
When we start our Fitbit Comparison we realized that all the Fitbit can monitor calories, distance, steps, and sleep, however, they are different in a few individual features, which we are going to focus on here.
Every gadget comes with an accelerometer that measures motion patterns to establish your calories burned, distance traveled, as well as the steps taken.
But this is a Comparison! Below we give you the difference between features and functions so you can understand on a deeper level which tracker is the best for your needs.
Go to: Best Fitbit for Men  – Best Fitbit for Women
Design
In terms of appearance, it is more than simply preference, as you need to think about comfort and flexibility as well.
Having in mind that the best way to track your stats properly is to wear the tracker 24/7, you would need a tracker that can feel comfortable all the time, but at the same time look adequate in the different occasions that you used to get into. Like going to the gym, going to work, going for a fancy dinner or going out at night.
So the design plays a big part of your decision, then you have to bear in mind that you want to have it on at night, so you can track your sleep patterns, so it needs to be comfortable also then, and in the best case scenario you want to wear it on the pool or when you take a shower, si is best if it is waterproof.
So now you may be wondering ok I'm done with this! How can I find a tracker that fits all these different needs?
No worries!
That's why we have this section on the review.
Let's start with the smaller and best fits for all needs the slim Inspire , Alta, Flex 2, and Ace (for kids) that come with a more discreet design that sits comfortably on your wrist and does not attract much attention.
Then you have the Charge HR, the Charge 2, and the latest Charge 3 that are more in the middle ground, they are slim but bigger than the previous ones, although they are way smaller compared with the rest of the trackers.
So for us the Charge 2 and 3 are the most versatile tracker from the bunch you, they look good in most situations, so you don't need to worry about looks at any time, in terms of features they are both great although the Charge 3 has the edge with some extra features and cooler design.
One thing to have in mind as well is that you can change the bands, and depending on the models you will have a wide range of bands to choose from and change the outlook of your tracker, so in case you want to combine your watch with your clothes or shoes you can.
On the other hand, the demand for fitness tracker is focused on higher performance and more accurate stats so you can't put all this high-end technology in a small or sleek body.
That's when the high-end tracker such as the Versa and Ionic came handy.
They are the Smartwatches from the Fitbit family and they both look good and appeal to different types of people, The Ionic has a more sharp design while the Versa is rounded for those that didn't look the Ionic design.
Then you also have the Blaze design that for us it looks great but in terms of features lacks compared with the Versa and Ionic and the price doesn't differ that much to be fare.
Display
When it comes to display or screen there are differences as well, we can divide them into 3 groups:
No screen

OLED 

Touchscreen
No Screen
So the first group is the No Screen that as you can imagine had no screen, but anyways they have lights that will inform you in case something important happens such as phone notifications, or milestones or whatever you program the watch to keep track on. 
The only trackers that do not have a screen are the Flex and Flex 2, the good thing is that the Flex 2 is waterproof up to 50 meters so you can get a cheap tracker that can be submerged underwater
OLED
Second, we have the trackers that comes with an OLED display, this is the case of the majority of the trackers from Fitbit, these trackers will display your stats bud depending on the size of the screen or the features that come along with the tracker you will have a different experience.
Trackers such as the Alta, Alta HR or Charge HR will display some stats but their screen is the smallest from the bunch so you will have to choose from the APP which stat you will prefer to get at a glance.
Then you have tracker such as the Inspire, Inspire HR, Charge 2, and Fitbit One, that will have a medium size screen where you will get extra stats and in some cases, you can even receive text notifications and reply right from your wrist.
The display will show you stats such as: Time; Steps; Heart Rate; Calories burned; Notifications such as Caller ID and texts; Exercise modes; Sleep; and Settings.
And last but not least you will have the trackers that come with a big OLED screen, such as the Blaze, Zip, and Surge, that will have an extra screen. Although even a wider screen when it comes to stats the big screen tracker can show as many stats as the medium OLED trackers, but with bigger numbers, and some extra room for maybe one extra notification.
Touchscreen
Now we go with the best displays, the touchscreen ones, that can show your stats but you can also make changes right from the screen of your watch, with the latest technology you will have a complete experience.
The Charge 3 comes with an OLED touchscreen that can show you Time; Steps; Heart Rate; Distance; Calories burned; Floors climbed; Very active minutes; Caller ID; Text Notification; and Alarm.
Then you have the Color touchscreen display, featured in The Versa and Ionic, that is even better for visual display of fitness stats. It will give you the most at a glance information as well in color, and you can make calls, send messages as well choose from different clock faces, and watch (and listen to) guided exercise workout training sessions.
GPS
Most Fitbit trackers can be connected with your phone GPS via Bluetooth whats is commonly known as Connected GPS
The Fitbit Surge features 8 sensors and it was the first tracker that came with built-in GPS, meaning that you can use GPS tracking without having to use a smartphone to be linked. 
Now you have Built-In GPS also on the Ionic.
You can easily track distance, pace and elevation climbed, and review routes and split times. This defeats the Apple Watch, which utilizes a phone for GPS. The advantage of having a GPS on your device is that you can track exactly where and for how long you run and walk. In addition, it makes all the stats far more accurate.
Heart rate monitor
Most of the latest trackers come with Heart rate monitor, the Inspire HR, Charge 3 Ionic and Versa. Then from the Fitbit bunch, you also have the Alta HR, Charge 2, Blaze and Surge that can also monitor your heart rate from your wrist. They use Fitbit's PurePulse technology that gives continuous, automatic, wrist-based heart rate, plus simplified heart-rate zones.
The Fitbit Surge is a perfect selection in case you workout frequently and practices different sports, It also comes with GPS to work together with the heart rate monitor. As we said before GPS increases accuracy, and with the Surge, you can also change the heart rate monitor depending on your specific activities.
The Charge HR and Blaze do not have built-in GPS, but they both have top-notch heart monitoring that tracks you every second of the day and provides a snapshot of your cardiovascular fitness. Based on estimated VO2 Max – calculated by your user profile, heart rate, and exercise data – you can see how your fitness level relates to others of the same age and gender, and get guidance on how to improve over time
A cool addition to the The Charge 3, Versa and Ionic is the Sp02 sensor that can also monitor the amount of oxygen in the blood that is a really important health indicator.
Best Waterproof Fitbits for Swimming
In the beginning, the only Fitbit that you can you swim with was the Flex 2, But since last year the Ionic and Versa models appear to the market to help you track your swimming.
The latest models are Smartwatches so they can also identify your strokes and track all your data from each swimming lap. Helping you to improve not only your strokes but also your resistance.
Now in 2019 you have some extra model to choose from as well, The Inspire series is also swimproof up to 50 meters and the Charge 3 as well.
Unfortunately not one of the other Fitbit activity trackers can keep track of your swimming. And not only one of the other Fitbits are pleased being wet. The Fitbit One, Zip, Alta, Charge2, Blaze, and Surge are splash resistant, but really should not be immersed far more than one meter.
The Flex 2, Ionic and Versa are waterproof up to 50 meters, which happens to be rated as 5 ATM (Atmospheres).
The Alta, Charge 2, Charge HR and Blaze are waterproof to just one ATM, so in theory, could be immersed as much as 10 meters (33ft). Having said that, watch experts suggest that a gadget with this particular level of resistance is protected from accidental contact with water; such as splashes, sweating or unintentional immersion; and state that it shouldn't be exposed to any water pressure.
The Fitbit Surge is water resistant to 5 ATM, which indicates it's wearable around home kitchen sinks when actively playing sports activities and even though swimming in shallow water. Specialists advise for you to not use it while showering, scuba diving or snorkeling.
Check our full review for the Best Waterproof Fitbits for swimming.
Battery
Battery lifespan can be quite important, depending on the use that you will give to the tracker, is not the same to have it for counting your steps, as if you should want the tracker to help you on outdoor adventures.
With all the different models the Alta Hr and Flex will give you by far the most for the money, with Seven days of battery lifespan. Having said that, the Zip contains an exchangeable battery that lasts 4-6 months, a fascinating solution if you do not want the inconvenience of charging your device.
The Blaze, Charge HR, Charge 2, Charge 3, Inspire and Flex 2 all have 5 days of battery life.
Which Fitbit has the best battery life?
The Zip is simply the most effective for battery lifespan but you will have to get a new battery two to three times per year. The 3V coin (CR 2025) battery is affordable, although – you can get a pack of 5 for less than US$3. The other models have rechargeable batteries.
You can Also Check Our Fitbit Battery Life Review
Here is roughly the span of time each and every Fitbit will last between charges:
Alarm
All the models except the Zip also contain a vibration motor, which allows it to vibrate when alarms are set to go off.
Automatic Sports Recognition
Most trackers use the multi-sport exercise tracking feature like the Inspire HR, Charge 2 and 3, Versa, Ionic, Alta HR, Blaze and. 
They will know  if you are riding a bike, running, hiking or taking part in sports activities such as football, tennis, and basketball. The Fitbits will also identify cardio exercises like Zumba, cardio-kickboxing and dance routines, and record the workout in the Fitbit app together with a workout summary.
By using the SmartTrack feature they will automatically recognize and record your workouts and captures all of the stats: how long you were active, calories burned and heart rate zones.
Text Messages and Caller ID
The Alta, Alta HR, Charge 2, Blaze and Surge will all show Caller ID when linked to a smartphone. All the wristbands display text notifications on the screen, and the Blaze and Surge allow you to control your music from the touchscreen display.
All the latest Tracker such as the Charge 3 Ionic and Versa can receive calls from your watch. As well update  control your music from the touchscreen display.
Move Reminder
This is available on all the Fitbit trackers. It encourages you to meet a mini-step goal of 250 steps each hour (approximately 2-3 minutes of walking). These prompts can be personalized to your schedule; for example, they can be put on "Do Not Disturb" during long meetings or appointments.
Sleep tracking
Every one of the Fitbit's, except for the Zip, track your sleep, too. They calculate the time you spend asleep and check the quality of sleep – observing if you are stressed or get out of bed through the night. 
Fitbit's Sleep Stages measurements is available in the Inspire HR, Charge 3, Versa, Ionic Alta HR, Charge 2 and Blaze will use a heart-rate variation to calculate how much time you spend in Light, Deep, and REM sleep, together with time awake every single night, to improve and comprehend your sleep quality.
Relax Guided Breathing
The Inspire HR, Charge 3, Versa, Ionic, Charge 2 and the Blaze offer the Relax Guided Breathing sessions feature that can help calm your body and mind through two to five-minute sessions personalized to your breathing rate. The advantage of a guided breathing practice is that they are meant to reduce anxiety and stress, along with lower the blood pressure level.
Floors climbed
Most Fitbits such as the Versa, Ionic , One, all the Charge models, plus the Blaze and Surge boast an altimeter that measures stairs climbed. On the other hand the Alta, Ace 2, Inspire and Versa Lite do not include the altimeter.
Female Health Tracking
All the newest trackers except the Ace 2 offer the Female Health Tracking, a cool feature that will help women understand their body by using the tracker with the Fitbit app to follow their cycle, record symptoms and more and once the data start to be collected the App will be able to predict symptoms such as headaches, it will also give you data on where is you cycle, days that you may be more fertile or when you are going to have your next period
Fitbit App
Yes. All of them utilize the exact same iPhone, Android, and Windows Phone App. Also, you can see the data on Fitbit's website and synchronize a tracker with a laptop or PC utilizing the included Bluetooth USB dongle.
The App looks fantastic and display your complete daily and historical statistics in beautiful graphs that expand in landscape orientation and also display in portrait view.
The desktop dashboard is another visually appealing and educational spot to keep track of your exercise and fitness statistics.
And as a motivation you are able to link with friends, family members and co-workers to compete against each other on the leaderboard, become involved in daily or weekly Challenges, and earn badges based on completing goals, and historical milestones. These features of the Fitbit system is what really makes the difference between Fitbits and any other tracker.
What colors are available?
The Fitbit Zip is available in 5 colors: White, Black, Green, Pink, and Blue! Without a doubt a great variation of Fitbit styles
The Fitbit One is among the best Fitbit models available and you can find them in either Burgundy or Black.
The Flex 2 wristband is available in four colors: Black, Lavender, Magenta and Navy Blue.
You can also buy extra bands for the Flex 2 (without the tracker) in packs of three.
The Fitbit Alta is available in a classic strap (extra US$29.95) in Black, Blue, Plum or Teal; in leather in Graphite or Blush Pink; or in Stainless Steel Links (extra US$129.95).
The Fitbit Alta HR is available in a classic strap (extra US$29.95) in Black, Blue Gray, Fuchsia or Coral; in leather in Lavender, Indigo or Brown; or in Stainless Steel Links (extra US$99.95) or Gold Plated (extra US$129.95).
The Fitbit Charge 2 is available in its Classic Band model in Black, Plum, Blue, and Teal.
There are also Special Edition models of the Charge 2, available in Lavender/Rose Gold and Black; and Luxe Leather in Brown, Blush Pink, and Indigo.
The Fitbit Blaze is available in a classic strap in Black, Blue or Plum; in leather in Black, Camel or Mist Grey; or in Stainless Steel Links (extra US$129.95).
The Fitbit Surge is available in three colors: Black, Blue, and Tangerine. But it's no longer sold on the Fitbit store, only on Amazon and other online sellers.
---
Best Fitbit for Men
We have a full review of the different Fitbits for men depending on Smart features, best for running, for sport, the most affordable and more. So if you would like to check the full review click the link below:
Anyways we choose our Top Picks for the Best Fitbit for men. In terms of Smart Features the Ionic is today most full Smartwatch from Fitbit, and When it comes to high end tracking for running and Sports the Charge 3 is today most versatile Fitbit watch.
Fitbit Ionic
The Ionic is today the Best High-end fitness tracker from Fitbit, as well the Smartest watch from the company.
With the possibility of NFC payments that will allow you to pay right from your wrist, The Ionic comes with functions such as Fitbit coach that will provide you with guided coaching for a wide variety of sports and exercises.
It is also one of the only trackers that come with built-in GPS giving you the most accurate data possible, so is great for professional athletes as well.
Fitbit Charge 3
The Charge 3 is today most powerful fitness tracker, with all the features that made the Charge 2 Fitbits most successful bestseller period. Plus some great additions such as a cooler design, 15+ exercise modes to choose from like yoga, bike, swim, just to name a few. It's also swim-proof up to 50 meters and comes with a larger display to show you extra notifications in a touchscreen display.

Is also cheap having in mind all the features that come along. Plus has a Heart rate monitor, guided breathing, swim tracking and improved notifications.
Best Fitbit for Women
We also have a full review about which Fitbit is the Best for Women, but at the same time, we choose our top picks.
You can check the full review on the link below:
Fitbit Inspire HR
The Inspire HR is our top choice since is today most affordable tracker that comes with Heart rate tracking plus the female health tracking  feature making it a top choice for women.
It also a slim watch that looks great and will feel comfortable on a woman's wrist.
Is also one of the latest trackers from Fitbit so it comes with all the high end features to track your exercises plus Automatic workout detection and 15+ Goal-Based Exercise Modes.
Versa
The Versa is the best Smartwatch for women, with all the features that make the Ionic a full smartwatch but with a better design.
The only downside compares with the Ionic is that doesn't include a built-in GPS, but you can paired with your phone GPS and you will have the same results. And is also cheaper than the Ionic is also a plus for us.
The Versa comes in 3 different editions the Lite Version that is the cheapest from the Versa bunch and includes all the high-end features such as female health tracking but it doesn't include some smart features such as NFC payments, then you have the regular Versa that is the one that we were talking about, and last but not least you have the Versa Special edition, that includes all the features plus a cooler design, NFC payments and some extra features.
Check Our Full Review for more information about the Versa
What Size Fitbit Should Women Get?
Fitbits come in three standard sizes small, large and X Large. It's kind of weird that there's not a medium or regular size. Fitbit breaks down wrist sizes based on their circumferences (the distance around the outside of your wrist) and ties those with the different product sizes. This makes it easy to buy a Fitbit and know that it will fit your wrist properly, even if you can't try it on.
WRIST SIZES
Small 5.5″–6.7″ 140 mm–170 mm
Large 6.7″–8.1″ 170 mm–206 mm
X Large 8.1″–9.3″ 206 mm–236 mm
Check here where you can find a band to print and use in your wrist to know the perfect size for your wrist.
What is a Fitbit?
A Fitbit is not just a fitness tracker or a smartwatch is much more than that. You can think that there's a lot of brands and models around so what makes a difference between Fitbit and the competition?.
The reason to buy a Fitbit is not for the gadget. It is really for the software. The Fitbit app for Android and iOS has become the simplest to use. It has the biggest social base, so you're able to compete with family and friends, and syncs with a wide range of other services. The app also supports numerous tracker and will automatically identify whenever you change from one device to a different one.
The best thing is that you are able to test-drive the Fitbit app without the need of buying any new hardware. The free app can be downloaded on your iPhone or Android phone and can track steps, distance as well the calories burned.
If you want to go ahead and take the Fitbit jump, there is only one problem: deciding on one of the 8 versions that the company offers (which includes some which are years old). It can be confusing at the beginning, but we have created this convenient cheat sheet to help you.
Fitbit Smartwatches vs Fitness Trackers
So you hear a lot about the different Fitbit models but which ones are smart and what is the difference with the fitness trackers.
So to play it simply the main differences are that the smartwatches can perform smart functions such as NFC payment (  you can pay right from your watch) as well advance health tracking functions such as the female health tracking.
The Smartwatches can be submerged underwater and track your swimming laps, there are a few apps that are only available for the Smartwatches.
But the Fitness trackers are not behind, don't you think that simply because the smartwatches can track high end exercises the Fitness trackers cant.
One of the most advanced fitness trackers on today's market is the Fitbit Charge 3, that comes with all the features that made the Charge 2 the best seller on Fitbit history but it also adds cool functionalities such as the ability to choose from 15+ exercise modes like run, bike, swim, yoga just to name a few, as well it can track your Deep and REM sleep stages and see activity trends, health insights, and personalized guidance.
Fitbit Benefits
Regardless of what fitness tracker you decide on you'll get your money's truly worth. These trackers will vary in terms of the bells and whistles but they all give you a precise readout of your day to day activities. It all comes down to who you are and who you are shopping for: moms will love the Charge simply because they could be reached rapidly if their kids will need them, while entrepreneurs will enjoy the Surge since they can look at work e-mail or send a fast text message while working out. Every one of the gadgets has these key benefits:
Modern Design

Each and every model were created to look sharp and sleek. Because of top-notch materials, you will not even notice you're using one as they are so light and portable.

Develop a Routine

They keep you motivated to workout and shape up with their fun apps and enhancements that will get you excited about fitness. Also, the tracking ability allows you to personalize your exercise so you take action the right way- no longer guessing if you are getting rid of calories, now you know.

Monitor your health

They make you aware of how physically active you're (or are not!), to help you boost your entire overall health.

Superb Efficiency:

These gadgets go well beyond the typical calorie/step-counters that are available on the market. There are encourages when you have been sitting or idle for a long time, Gps navigation to plan and keep track of your runs, monitor your heart rate when you exercise and a lot more. Like an added bonus, battery lifespan is about 1 week or longer, so you aren't hassled by having to charge it on a regular basis.

Revolutionary Technology:

With 8 built-in sensors, strap-free heart tracking, split-screen comparisons and smartwatch features this gadget get the most recent, innovative technology to help make daily life simpler.

Price

Besides all these fantastic features, the Fitbit is fairly priced: no matter if you wish to spend a little or a lot, there is a Fitbit for everybody on your gift list.
Conclusion
After this Full Fitbit Comparison, buying the right tracker for you is going to be a breeze. You will have no challenge finding the right Fitbit fitness tracker since you now understand what every one of them can do.
From the different Fitbit models, the Charge 3, and the Versa emerged as the top 2 choices among buyers, for several good reasons.
The Ionic is the Best when it comes to Smartwatch since comes with High-end fitness features as well Smart features such as NFC payments and Built-in GPS, it could be ou top pick but the design is not for everybody.
For kids, the only tracker is the Ace, that we didn't cover in this review but you can learn all about it HERE.
As we said at the beginning the Cheapest Fitbit is the regular Inspire but it lacks some features such as altimeter to measure floors climbed, multi-sport functions, heart rate, and GPS tracking. So for a few extra bucks you can get the Inspire HR that includes swim-tracking, heart-rate, Cardio Fitness and sleep analysis.
One thing is for Sure every person who has ever used a Fitbit says the same thing: there's no greater exercise tracker available on the market.
Fitbit simply cannot be beaten in price, packaging or use. Regardless of whether you are new to the health club scene or a veteran you are going to love Fitbit and all it has to offer.
You can always come back and check this Fitbit reviews and Fitbit comparison table whenever you need to get a Fitbit for your self or your loved ones.
Related: 
References